McCarthy gets 'standing ovation' during House GOP meeting after leaked audio tapes
McCarthy held a meeting with Republicans following leaked phone calls where he said he would recommend Trump resign
NEWYou can now listen to Fox News articles!
House Republican Leader Kevin McCarthy got a "standing ovation" at a House GOP meeting Wednesday, as the conference appears to be rallying behind him after leaked phone calls.
"Standing ovation and Kevin will be speaker," Rep. Nancy Mace, R-S.C., said to reporters.
CHENEY, SCALISE DENY INVOLVEMENT AFTER LEAKED RECORDINGS REVEAL MCCARTHY RECOMMENDED TRUMP RESIGN
"Yes," Rep. Jay Obernolte, R-Calif., said when asked by Fox News Digital about the ovation.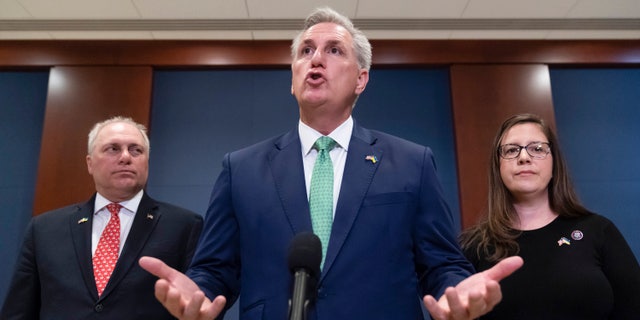 "He addressed them and I think the conference is satisfied," Obernolte added of what McCarthy said about the tapes.
The New York Times has recently published recorded phone calls showing McCarthy disparaging former President Donald Trump, including one in which he said he would call for him to resign in the wake of the Jan. 6 attack on the Capitol by his supporters.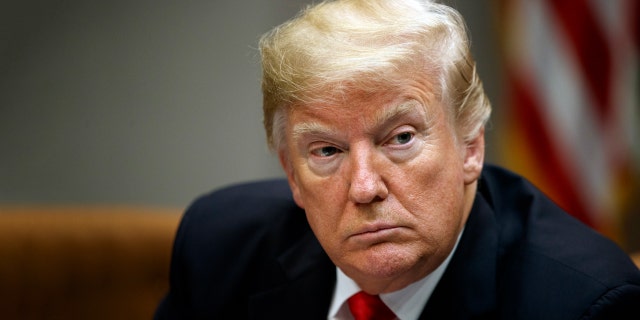 McCarthy also said that some of his members may be putting people in danger with their rhetoric, particularly on Trump's false claims the 2020 election was stolen.
OHIO SENATE SHOWDOWN: MATT GAETZ, MARJORIE TAYLOR GREENE TO CAMPAIGN WITH JD VANCE BEFORE KEY GOP PRIMARY
Top House Democrats Wednesday attacked Republicans for their continued support of Trump, and for some, his election claims.
Republicans, House Democratic Caucus Vice Chair Pete Aguilar, D-Calif., said, "continue to support the big lie, lie about everything else, lie when they're caught, and then giving standing ovations."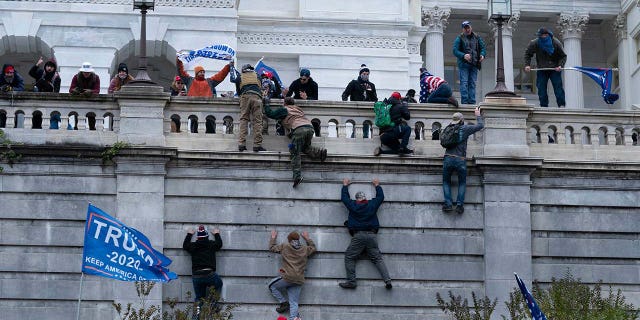 "The radical right playbook is simple. It's not complicated," House Democratic Caucus Chair Hakeem Jeffries, D-N.Y., said. "It's a five point playbook. Number one, lie. Number two, lie. Number three, lie. Number four, lie. Number five, lie again."
Jeffries continued to say that Republicans, "lie with impunity. Facts don't matter. Hypocrisy is not a constraint to their behavior. And they think that shamelessness is a superpower."
Not all Republicans appeared to accept McCarthy's explanation Wednesday. Rep. Matt Gaetz, R-Fla., was asked if he has confidence in McCarthy.
"No more or less than usual," Gaetz said.
The rabble-rousing Republican has often criticized McCarthy and this week slammed the GOP leader for the content of the phone calls.
During the meeting, Gaetz spoke up and was very upset – "rightfully so", Rep. Marjorie Taylor Greene, R-Ga., said – about House Minority Whip Steve Scalise, R-La., suggesting in one call reported by the New York Times that Gaetz broke the law with some of his comments.
MUSK COULD TURN TWITTER 'UPSIDE DOWN,' DEMS SAY, WHILE REPUBLICANS CELEBRATE: 'THE LEFT'S GOING CRAZY'
The Florida Republican already blasted Scalise and McCarthy on Twitter as "weak men" after the New York Times reported on their private comments following the Jan. 6 attack.
Greene also spoke at the meeting saying leadership should apologize.
"I said that I would like to hear an apology because I've had to be held accountable … for my words," Greene told Fox News.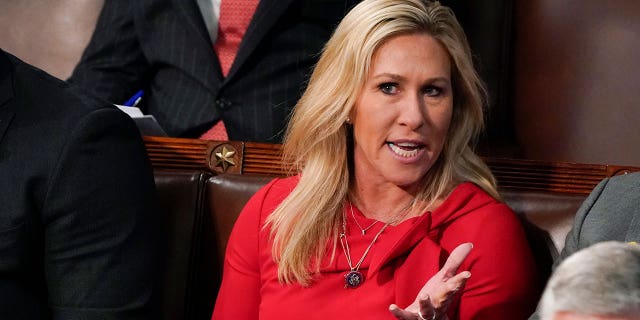 "It's appropriate at times that we show humility, and that's a good thing to apologize to one another when we have wronged one another and said something we shouldn't say."
Greene said everyone wants to know who released the audio tapes. If it was a staffer, he or she should be fired, she said.
After McCarthy and other members addressed the leaked conversations, Greene said Republicans left the meeting on a more positive note.
CLICK HERE TO GET THE FOX NEWS APP
A source in the room also told Fox News Digital that Greene thanked McCarthy and his lawyer for helping her in an effort to restore her personal Twitter account, which was permanently suspended by the platform.
"But I still think there's more conversations that need to be had and I want to see it come together," Greene said. "I don't want to see people staying mad."
Asked if she got the apology, Greene didn't mention getting one on the spot. "I just said I think the appropriate thing to do is if you said something you didn't mean to or offended Matt Gaetz or anyone else [is to] apologize. I think that's the right thing."
McCarthy has rebutted the Times reporting as "totally false and wrong" and maintains that he has never asked Trump to resign. Trump and McCarthy remained on good terms last week following the first leaked audio tapes, according to a source familiar.