McCain: Obama is Ignoring Border Violence Threat to U.S.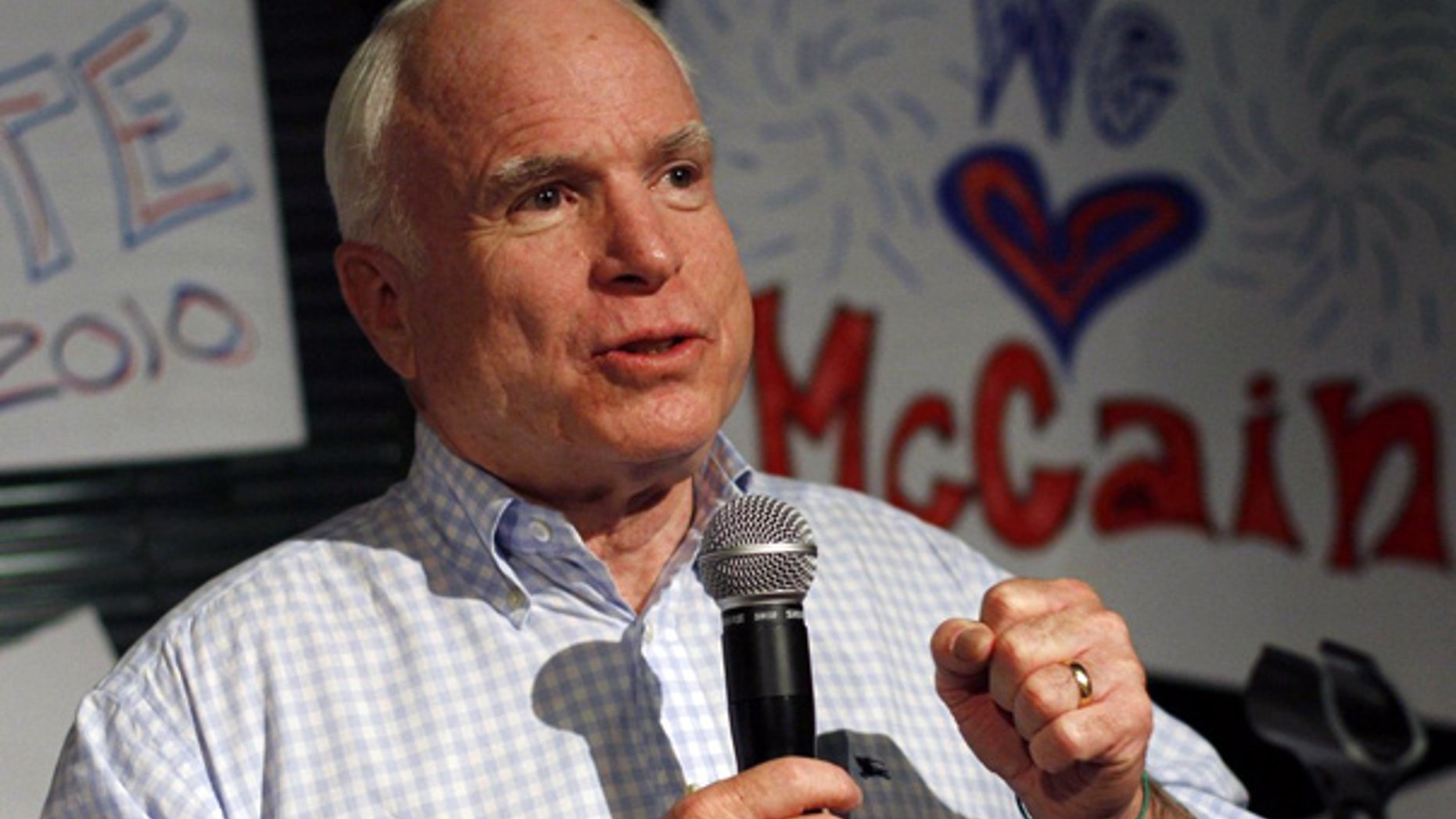 Some measures on illegal immigration to the United States have improved, but the Obama administration is ignoring violence spilling into the U.S. from Mexico, Arizona Sen. John McCain said Sunday.
The 2008 Republican presidential candidate noted that 28,000 Mexican citizens have been murdered in the drug war in Mexico, with 72 individuals, including 14 women, killed in one attack just last week. That violence is a threat to U.S. security, McCain said.
"The people who live in the southern part of my state do not have a secure environment. To wit, there are signs that the government put up that say, 'Warning. You are in a drug smuggling area and a human smuggling area,'" McCain "Fox News Sunday."
"The police chief of Nogales, Arizona, has been told that his police officers will be murdered if they interfere with the drug cartels. And that funnel is coming up through the state of Arizona," he said.
A Pew Hispanic Center study recently found that the annual flow of illegals into the United States is actually two-thirds of what it was five years ago, and the total number of illegals in the U.S. is down 8 percent from three years ago.
But McCain said the high level of violence is the chief reason to put up a fence, add surveillance capability and beef up the National Guard presence along the U.S.-Mexico border.
Anybody who "hasn't seen what's going on south of our border, they have been oblivious to the terrible, terrible struggle that's going on down there," McCain said. "The incredible violence down there is spilling over onto our side of the border if we don't get our border secured."
McCain said President Obama needs to walk the Arizona-Mexico border and see for himself the destruction caused by an explosion in drug and human trafficking.
"Unfortunately, he hasn't had time to do so," he said.
McCain, who had sponsored immigration legislation in 2006 that critics called a pathway to "amnesty," said he hasn't made a late-night conversion on immigration issues, but the biggest threat from illegal immigration has changed.
Last week Arizona Gov. Jan Brewer filed an appeal to a judge's ruling in favor of a Department of Justice petition to stop an Arizona immigration law that would have allowed state and local police to request visa papers from individuals stopped for questioning on other matters.
Nearly a dozen states filed a legal brief Friday in support of that law, arguing that the judge erred in ruling that the law interferes with the executive branch's immigration enforcement priorities.
McCain said he's disappointed by the Justice Department's decision to get involved in the first place.
"For the federal government to sue the state of Arizona because the federal government hasn't carried out its responsibility and the state of Arizona is trying to get its border secured is really remarkable," he added.