Mass shooting puts presidential campaign on hold, candidates mourn victims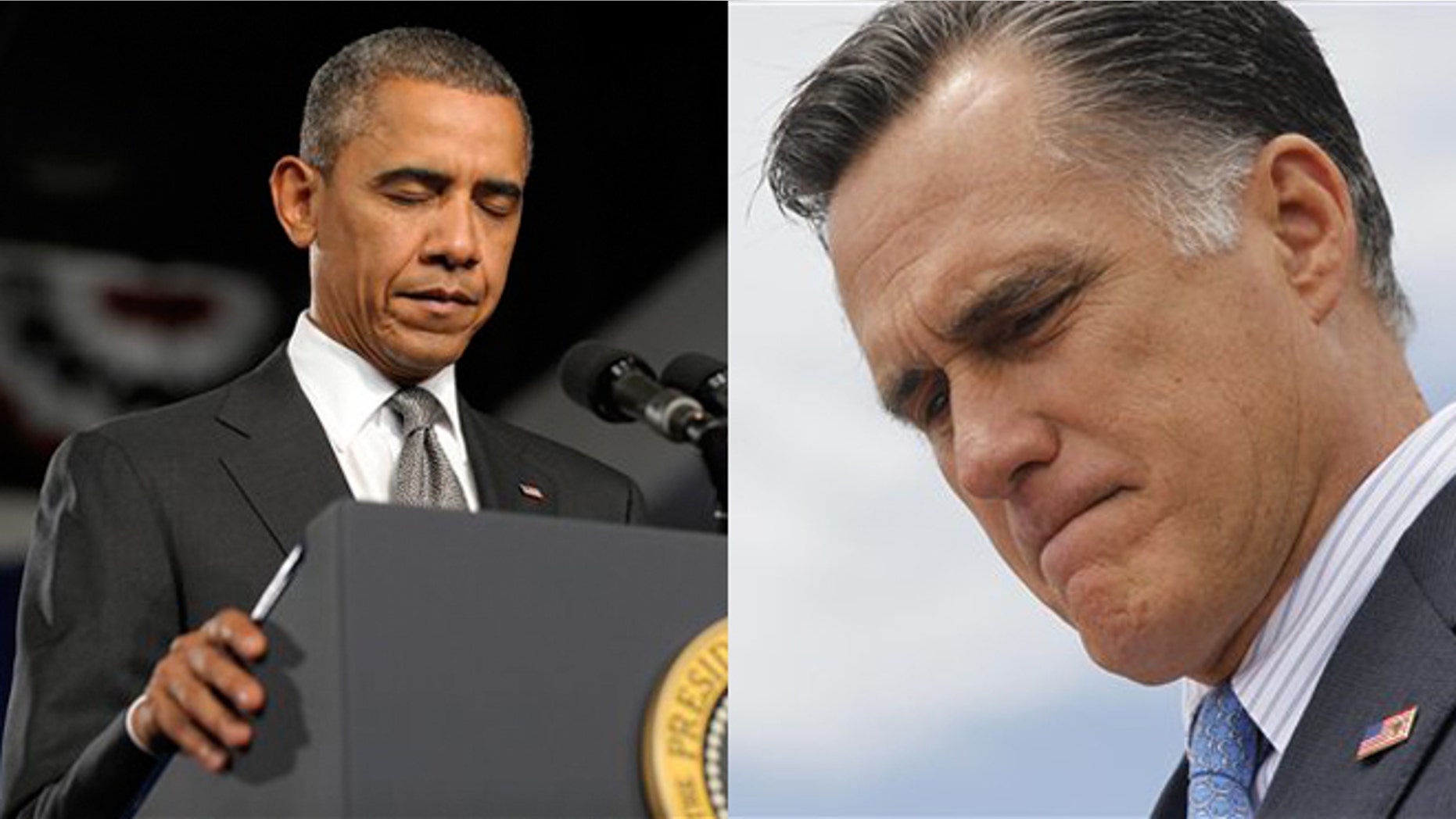 The mass shooting overnight in Colorado put the presidential campaign on hold Friday, as both candidates canceled political events and used previously scheduled rallies to mourn with the nation for the victims.
"There are going to be other days for politics. This, I think, is a day for prayer and reflection," President Obama said Friday morning.
Speaking in Fort Myers, Fla., Obama condemned the mass shooting as a "senseless" act and said of the victims' families: "We have to embrace them."
The president said the tragedy "reminds us of all the ways we are united as one American family."
Mitt Romney, speaking a little later in New Hampshire, said he joins the president and others in offering their "deepest condolences" for those "whose lives were shattered in a few moments, a few moments of evil."
"There will be justice for those responsible. That's another matter for another day," Romney said. "Today is a moment to grieve and to remember -- to reach out and to help."
The shooting at a Colorado movie theater left 12 dead and nearly 60 wounded. Authorities have the suspect in custody but are still investigating, as wounded victims are being treated.
Amid the tragedy, Obama cut short his campaign schedule in Florida to return to Washington for briefings. Romney also canceled all interviews for the day, and devoted his New Hampshire remarks only to the shooting.
Both campaigns, after expressing their condolences to the families of victims, said they would be pulling down ads in Colorado until further notice.
Obama, in remarks that lasted less than 10 minutes, said Friday that the country may never understand what leads someone to "terrorize their fellow human beings like this." He described this moment as a reminder to take stock of what matters in life.
"Such violence, such evil is senseless. It is beyond reason," he said. "If there's anything to take away from this tragedy, it's the reminder that life is very fragile ... and what matters at the end of the day is not the small things. It's not the trivial things which so often consume us in our daily lives. Ultimately, it's how we choose to treat one another, and how we love one another."
Romney offered a similar message. "This is a time for each of us to look into our hearts," he said, "and remember how much we love one another."
The president, in an earlier written statement, urged the nation to keep the people of Aurora, the site of the shooting, in their prayers.
"We are committed to bringing whoever was responsible to justice, ensuring the safety of our people, and caring for those who have been wounded. As we do when confronted by moments of darkness and challenge, we must now come together as one American family. All of us must have the people of Aurora in our thoughts and prayers as they confront the loss of family, friends, and neighbors, and we must stand together with them in the challenging hours and days to come," he said.
The suspect, believed to be a lone gunman, is in custody. The gunman opened fire at a movie theater during a showing of "The Dark Knight Rises."
Obama was notified of the shooting at 5:26 a.m. by adviser John Brennan, according to the White House. He later spoke by phone with Colorado Gov. John Hickenlooper.
Romney also released a statement Friday saying he and wife Ann are "deeply saddened by the news of the senseless violence."
"We are praying for the families and loved ones of the victims during this time of deep shock and immense grief.  We expect that the person responsible for this terrible crime will be quickly brought to justice," Romney said.
Department of Homeland Security Secretary Janet Napolitano said federal, state and local law enforcement are responding to the "horrific event." She said she's directed the department "to provide any support necessary in the ongoing investigation."