'Marco Rubio scares me,' Democrats worry about a Clinton-Rubio matchup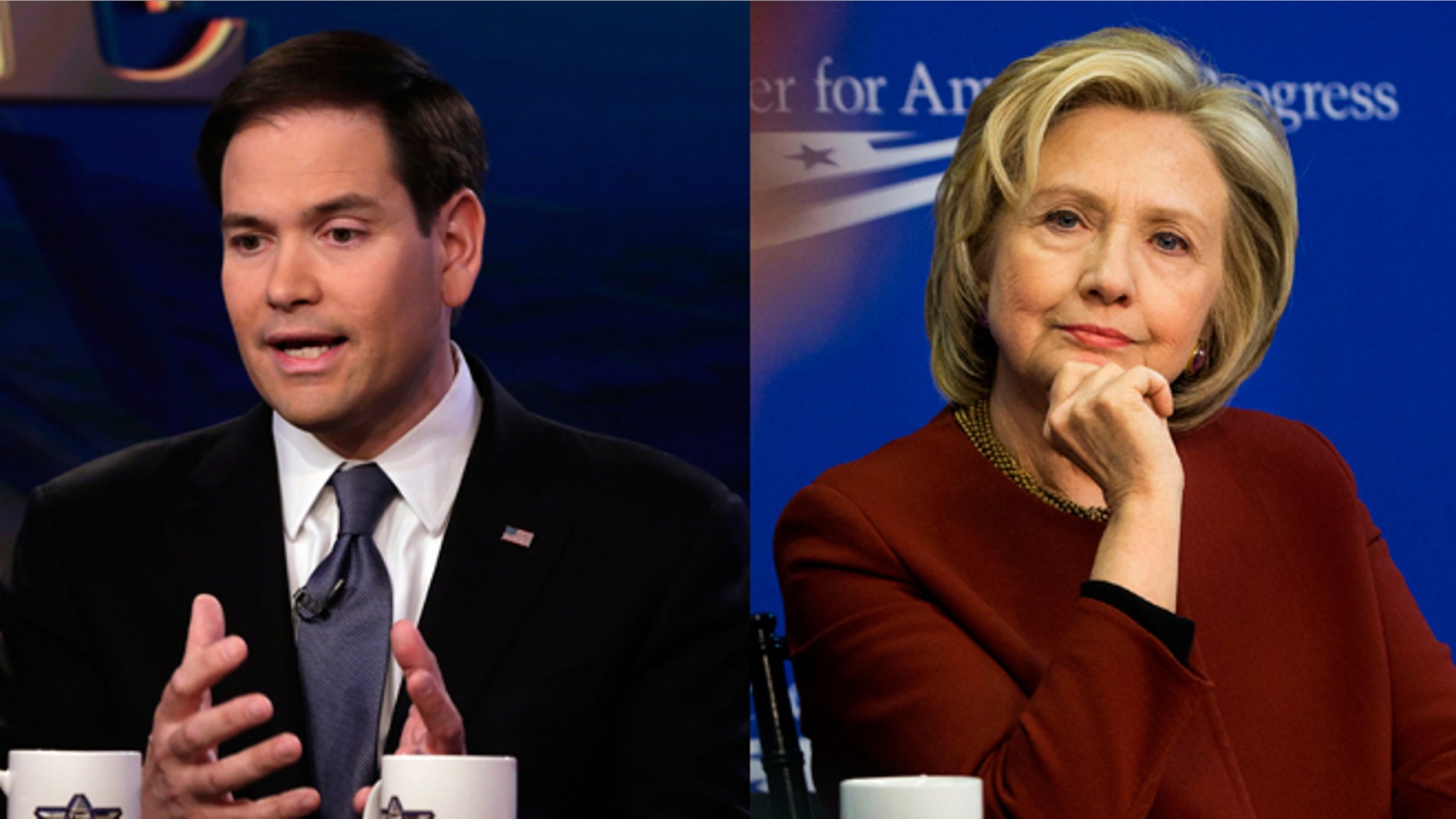 Her camp is, so far, feeling pretty confident when they look out at the Democratic field of declared and potential presidential contenders.
It's the shiny object on the other side of the aisle – namely, Sen. Marco Rubio – that largely is stressing out Hillary Clinton's campaign staff and supporters at the moment, according to The New York Times.
Rubio's youth (he's 43), photogenic appeal, rags-to-near-riches story, and oratorical heft almost begs for a comparison with the polar opposite of Clinton. She will be 69 when the 2016 election rolls around, she grew up in a suburb of Illinois and attended prestigious schools, including Wellesley College, where she was senior class resident, and Yale Law School, graduating with honors.
"Marco Rubio scares me," wrote a Florida Democratic Party strategist recently.
The strategist, Steve Schale, recalled how Democratic leaders in the Florida legislature fretted over then-Florida House Speaker Rubio and his appeal.
With Florida's importance in national elections, and its demographics, Rubio could be a nightmare for any Democrat aspiring to the Oval Office, Shale wrote in a memo, according to the Times.
"Losing a point among whites means winning Hispanics by about 5 percent more just to make up that loss," Schale wrote, adding about Rubio, "He should be the one you don't want to face."
When Clinton announced her presidential candidacy in April, some wondered whether she had stolen thunder from Rubio, who announced the following day. But Rubio used the former Secretary of State's timing to his advantage, portraying her as a product of yesteryear, and himself as the future.
He also told the story of his struggling, Cuban immigrant parents – his mother was a maid, his father a bartender – and how they had come to this country believing in America's promise.
He also had a message to those who around the world who wondered how someone who did not grow up privileged – a veiled reference, many believe, to both Clinton and his potential GOP rival former Florida Gov. Jeb Bush – could run to be president of the United States.
Rubio answered the question by saying that in this country, you could do that if even if you had all the odds he did growing up.
"It's hard to get more compelling than that," the Times quoted former Florida Gov. Charlie Crist as saying.
Crist should know – Rubio beat him in a 2010 Senate race.
A Democratic donor, John Morgan, who will be holding a fundraiser for Clinton, told the Times that he plans to speak about Rubio with her.
Rubio's "theme will be, 'We don't want to go back; we need to go forward,'" he told the Times. "I think they do underestimate him. He's energetic, he's photogenic, and he will say whatever you want him to say."
But others are not so sure that Rubio can seduce Latino voters so easily.
Former New Mexico Gov. Bill Richardson, a Democrat, says that many Latinos won't soon forget or forgive Rubio's about-face on comprehensive immigration reform.
Rubio was a main sponsor of the bipartisan Senate comprehensive immigration reform bill in 2013. But after it passed and then was discussed and panned in the House, where Republicans had a majority and denounced it as amnesty, Rubio began to dial down his support for the bill, especially the part giving undocumented immigrants a path to legal status.
"His own Hispanic potential would defeat him," Richardson said.
Hillary Clinton, meanwhile, has embraced comprehensive immigration reform, saying she would go even further than President Barack Obama's executive action suspending deportation for undocumented immigrants. She also has hired for her campaign a former undocumented immigrant who was a high-profile activist for giving those without papers a chance to legalize.
Like us on Facebook