Marco Rubio Retains Popularity Despite Family Controversy, Poll Shows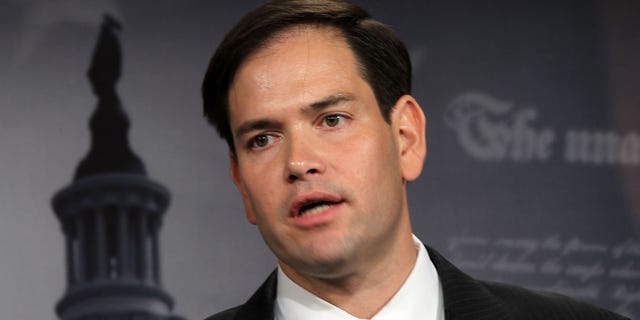 The controversy surrounding Republican U.S. Senator Marco Rubio's remarks about when his family emigrated from Cuba has had virtually zero effect on his approval ratings, according to a new Quinnipiac University poll.
Forty nine percent of Floridians surveyed say they approve of Rubio's job performance as senator, while 29 percent disapprove -- the same as previous polls, with a slight dip in his disapproval ratings.
Florida Latinos, a key voter demographic in the fourth most populous state in the country, also approve of the Cuban-American's job performance, with 52 percent saying they like the way he is "handling his job."
Last month, a controversial Washington Post article accused Rubio of "embellishing" his family's history. The story challenged previous claims that his parents came to the United States after Cuban leader Fidel Castro came to power in 1959. Rubio's family had received U.S. residency two years before the Communist strongman overtook the island nation, 90 miles away from Florida's coast.
The Washington Post claimed that Rubio did this in part because, as a candidate, he thought being "connected to the post-revolution exile community gives a politician cachet that could never be achieved by someone identified with the pre-Castro exodus, a group sometimes viewed with suspicion."
Rubio has adamantly denied the allegations. In an op-ed column for Politico.com he wrote: "If The Washington Post wants to criticize me for getting a few dates wrong, I accept that. But to call into question the central and defining event of my parents' young lives - the fact that a brutal communist dictator took control of their homeland and they were never able to return - is something I will not tolerate."
Rubio has been discussed as a potential vice presidential pick for the eventual 2012 Republican nominee because of his conservative credentials, his Hispanic heritage, and his popularity in Florida – a key swing state in next year's presidential election.
The poll found that would-be voters agree he would be asset on the ticket – 46 percent said they would vote for a nominee that chooses Rubio as their No 2, as opposed to 41 percent who would pick a Obama-Biden ticket.
Serafin Gómez is the Miami Bureau Producer for FOX News Channel.
Follow us on twitter.com/foxnewslatino
Like us at facebook.com/foxnewslatino