Marco Rubio, opponent throw jabs during final debate for Florida senate seat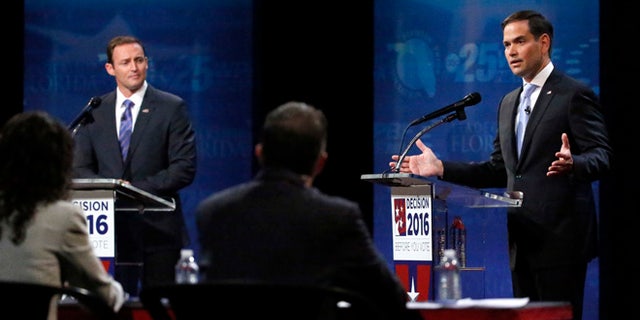 Sen. Marco Rubio did not hold back the jabs went he went toe-to-toe against his re-election opponent, Congressman Patrick Murphy, in their final scheduled debate before Election Day.
The first-term senator from Florida accused Murphy of being ineffectual and accomplishing little in Washington — an accusation that was thrown back at him on Wednesday night. Rubio also said Murphy never sponsored a bill that passed throughout his four years in Congress and that he has done little to help their state.
As for Murphy, he challenged Rubio's attendance record during his unsuccessful run for the Republican presidential nomination, pointing out that the opponent missed 40 percent of the Senate's votes during his campaign.
Rubio went after Murphy for saying when he ran for Congress four years ago that his experience as an accountant would be beneficial, but said Murphy didn't have his Florida CPA license. He also disputed Murphy's claim that he got $2 billion for the Everglades and his work to save Medicare Advantage, saying Murphy did nothing and those bills would have passed without him.
"Why does he make things up? You make things up because you don't have anything real to point to," Rubio said.
Murphy shot back, "Senator, if you voted as much as you lied, you might actually be a decent senator." He said fact checkers have backed his claims.
Murphy, who is trailing in the polls, also repeatedly tried to tie Rubio to GOP presidential candidate Donald Trump while Rubio tried to attach Murphy to Democratic nominee Hillary Clinton and President Barack Obama.
While Rubio is projected to win the race, his stature among his fellow Latinos has fallen, with a recent CBS News/YouGov poll showing him tied with Murphy among Florida Hispanics at 40 percent.
The debate came days after Rubio was booed and jeering by a crowd at Calle Orange - a street festival in Orlando aimed at the city's burgeoning Puerto Rican community.
___
SUPREME COURT
Murphy attacked Rubio and the Senate's Republican majority for refusing to vote on Obama's Supreme Court nominee Merrick Garland, who was nominated in March to replace the late Justice Antonin Scalia.
"Merrick Garland, by all accounts, is as qualified as anybody to be on the Supreme Court but there hasn't been a hearing. In fact, Sen. Rubio hasn't even taken the time to meet with Merrick Garland. I guess he is too busy running for president," Murphy said.
Rubio said he would support any nominee who follows the Constitution as its writers envisioned.
"I want a record that they understand what the proper role of the Supreme Court is," Rubio said. "The Supreme Court's role is not to write laws. That is the role of the legislative branch."
___
LAW ENFORCEMENT
Rubio and Murphy both agreed that more needs to be done to improve relations between police officers and the nation's minority communities. While both praised police officers, both called for them to be equipped with body cameras as a way to protect them and the public as encounters would be videotaped.
"It is impossible to ignore that there are many communities in this country, primarily minority communities, who do have a terrible relationship with police departments and a huge level of distrust," Rubio said.
Murphy agreed.
"There is no question there has been a breakdown in trust in many of our communities," Murphy said. "Not only does this tear apart a community, it tears apart an entire family. We have to do more."
The hour-long debate at Broward College near Fort Lauderdale was sponsored by the Florida Press Association and Leadership Florida, a group founded by the state chamber of commerce.
Based on reporting on the Associated Press.
Like us on Facebook
Follow us on Twitter & Instagram