Marco Rubio Introduces Bill To Delay Penalty For Those Who Don't Sign Up For Obamacare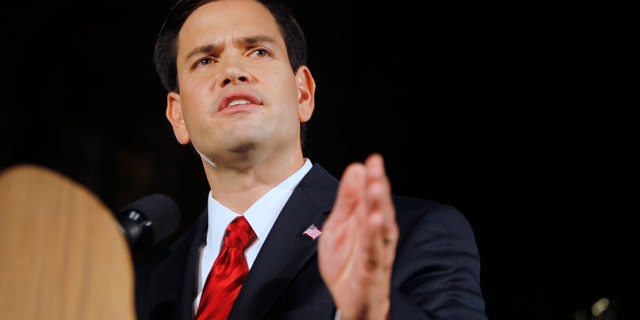 U.S. Sen. Marco Rubio introduced a bill Monday that would delay the penalty that the people who do not buy insurance under the Affordable Care Act would have to pay.
Rubio introduced the bill with fellow Florida Republican U.S. Rep. Trey Radel. If it passes, it would delay the individual mandate of the new health care law until six months after the exchange website – the site where people sign up for health insurance – is free of any major glitches, according to a statement from Rubio's office.
Rubio, a staunch opponent of the Affordable Care Act, announced last week that he would introduce his legislation because people should not be punished for not buying the insurance by next March when major technical problems have affected the online sign-up process.
Rubio's measure, titled the "Delay Until Fully Functional Act," is co-sponsored by Senators Orrin Hatch (R-UT), James Inhofe (R-OK), Jerry Moran (R-KS), Pat Roberts (R-KS), Roger Wicker (R-MS), Thad Cochran (R-MS), John Boozman (R-AR) and Mike Johanns (R-NE).
"It is unacceptable that Americans will soon be forced to pay a fine for not purchasing insurance when the very websites they are supposed to use for purchasing it have been rendered useless from numerous glitches and technical errors," said Rubio in the statement. "Americans already have too many financial burdens for Washington to go adding another useless and unjust tax, especially when that tax punishes the American people for the government's own errors."
Those who support the new health care law say that it addresses the fact that millions of Americans have no coverage. About 30 percent of Latinos lack health insurance. The Spanish-language website for the Affordable Care Act is not yet fully functional either; people cannot yet sign up for insurance on the site.
House Democrat leader Nancy Pelosi, of California, acknowledged last week that the new system has glitches.
"This has to be fixed, but what doesn't have to be fixed is the fact that tens of millions more people will have access to affordable, quality health care," she said in a recent interview with ABC, "that no longer having a pre-existing medical condition will bar you from getting affordable care, that all of the initiatives that are going to be positive for a healthier life, liberty to pursue your happiness, not chained to a policy but following your passion — all of that is in place."
Follow us on twitter.com/foxnewslatino
Like us at facebook.com/foxnewslatino