Marco Rubio calls Venezuela ban a 'badge of honor,' LatAm country to limit U.S. diplomacy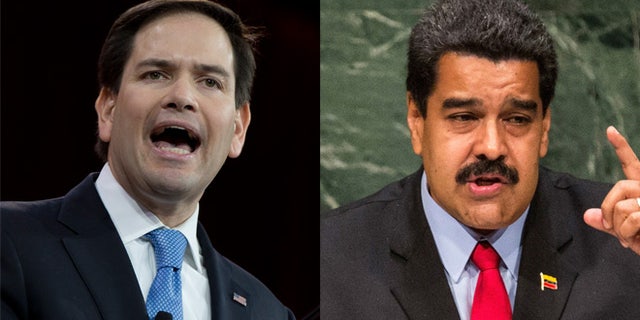 NEWYou can now listen to Fox News articles!
Sen. Marco Rubio called his inclusion on a list of U.S. politicians banned by Venezuelan President Nicolas Maduro a "badge of honor," while Rep. Ileana Ros-Lehtinen says she was "proud" to be banned.
The Florida Senator, who has been very critical of Maduro's policies and called the country a "human rights catastrophe" on Friday, told Fox News on Saturday that he loves the people of the South American country and wants them to be free from Maduro's reign.
"I want it to have human rights and to be banned by a dictator like Nicolas Maduro is, to me, a badge of honor," Rubio said.
Maduro announced Saturday that a selected list of U.S. officials were barred from the country including Rubio, Ros-Lehtinen along with former President George W. Bush, Rep. Mario Diaz-Balart and Sen. Bob Menendez.
In response, Ros-Lehtinen tweeted that she was proud to be "banned from Venezuela" and that she would continue to fight for human rights in the Latin American country.
"I'm in good company: banned from entering #Venezuela by autocrat #Maduro w @SenatorMenendez @marcorubio @MarioDB + George W #Bush #SOSVzla," she continued.
Diaz-Balart tweeted: "I've always wanted to travel to a corrupt country that is not a free democracy. And now Castro's lap dog won't let me! #quepena #maduro"
And Mendendez tweeted: "I will continue to speak out against #humanrights abuses in #Venezuela, even if I am banned from travelling there. #SanctionedByMaduro"
In addition to the bands, Maduro said Venezuela would be shrinking the size of the U.S. Embassy staff, limiting the activities of U.S. diplomats and requiring American visitors to obtain a tourist visa.
Maduro, speaking before a crowd that rallied to protest imperialism, said that "gringo" meddling had forced him to adopt the series of restrictive measures, which include requiring U.S. diplomats to seek approval from the Foreign Ministry for meetings they conduct here.
Maduro said he was imposing the new tourist visa requirement for national security reasons, saying that in recent days authorities had detained several U.S. citizens who he alleged were involved in espionage, including an American pilot.
The president and other officials gave no specific information on any Americans in custody, and the U.S. Embassy did not respond to a request for comment. Earlier in the day, Venezuela released four missionaries from North Dakota who had been detained several days ago for unknown reasons. They were banned from coming back for two years.
Relations between the two countries have been rapidly deteriorating as Maduro blames U.S. plotting for the host of economic and social woes plaguing the socialist-governed country. He recently accused the U.S. of working with local opposition groups to stage a coup that involved bombing the presidential palace. Washington called the accusation ludicrous.
The two countries have not exchanged ambassadors since 2010, but have continued to exchange diplomatic staff. On Saturday, Maduro said the U.S. has far more officials in Venezuela than his government has in the U.S.
Maduro addressed Obama directly, saying the U.S. president has "arrogantly" refused to engage in conciliatory talks.
"I'm very sorry, Mr. President, that you have gone down this dead end," he during a speech that all Venezuelan television and radio stations were required to carry.
Venezuela will charge Americans the same tourist visa fees that the U.S. charges Venezuelans and it will require payment in dollars, which are increasingly scarce in Venezuela.
The U.S. State Department said it had not received any communications from Venezuela and couldn't comment yet on the new restrictions, which come after the U.S. recently imposed a travel ban on a list of top Venezuelan officials accused of human rights violations.
In a statement, it also again rejected Maduro's claims that the U.S. is plotting against Venezuela.
"We are aware of reports that President Maduro repeated a number of inflammatory statements about the United States during a televised political rally today. The continued allegations that the United States is involved in efforts to destabilize the Venezuelan government are baseless and false," said the statement, which was emailed by an official who was not authorized to be quoted by name.
Americans have been staying away from Venezuela as crime has soared, exchange rates have become difficult to navigate and Maduro has stepped up attacks on the U.S. government. Just 36,000 U.S. citizens visited in the first nine months of 2014, about half the number that visited two years earlier, according to Venezuela Tourism Ministry data. Overall, some 950,000 foreigners visited Venezuela last year.
The move could have a bigger impact on business travelers than holiday-goers. As one of the world's largest oil producers, Venezuela remains an important destination for executives, and the new restrictions could affect U.S. companies investing here.
Maduro also announced that he was cancelling a trip to Uruguay, where he had been expected to celebrate the inauguration of a fellow leftist politician as president. He cited the "political situation" in Venezuela.
Earlier in the day, Venezuelans took to the streets of Caracas in dueling demonstrations, with one group calling attention to a crackdown on government opponents and another showing support for the embattled socialist administration.
Government supporters marched to the presidential palace to express their rejection of imperialism and commemorate the 26th anniversary of a convulsion of violence in Caracas widely seen by government backers as evidence of the brutality of pre-socialist administrations.
Opposition activists, meanwhile, gathered to denounce the arrest of Caracas Mayor Antonio Ledezma earlier this month and the death on Tuesday of a teenager who was shot during an anti-government protest.
In San Cristobal, where the 14-year-old was fatally shot during an anti-government protest, thousands of people massed in the streets of the Andean town known for sparking the country's protest movements.
Based on reporting by The Associated Press.
Like us on Facebook
Follow us on Twitter & Instagram