Marc Short's hiring at University of Virginia protested by faculty, students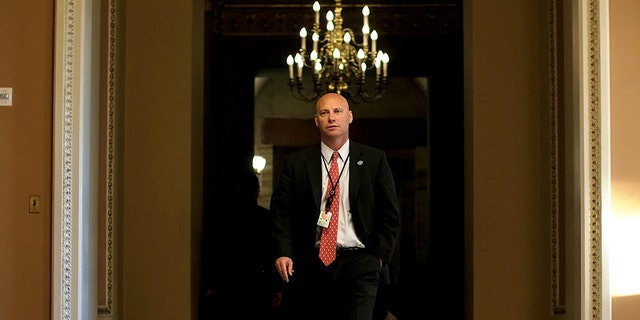 Marc Short is trading the White House for the University of Virginia (UVA) – but not all of his new colleagues are thrilled about that.
Short, who has served as the White House director of legislative and intergovernmental affairs, will join the Miller Center for Public Affairs at UVA in Charlottesville as a senior fellow in August, the school announced.
"It's an honor for me to welcome Marc Short to the Miller Center," William Antholis, Miller Center director and CEO, said in a statement. "Marc is widely respected in both parties. We had the privilege of getting to know Marc through the presidential transition and the Trump administration's first year, and have been impressed by his professionalism, effectiveness, and collegiality."
But 150 UVA faculty and students signed a petition calling for the university to revoke the hiring of Short. An identical Change.org petition has also gathered more than 500 signatures as of Friday afternoon.
"While we do not object to dialogue with members of this administration, we do object to the use of our university to clean up their tarnished reputations," the petition read. "No one should be serving at the highest levels of this administration, daily supporting and defending its actions one week, then representing UVA the next."
A LOOK AT THE TOP OFFICIALS WHO HAVE LEFT THE WHITE HOUSE UNDER THE TRUMP ADMINISTRATION
Before he entered the White House, Short, 48, worked for Vice President Mike Pence and a group affiliated with the conservative Koch Brothers' political operation. Economic aide Shahira Knight will replace Short as director of legislative affairs, the White House said.
Those in opposition to Short criticized Trump's handling of the aftermath of a white nationalist demonstration in Charlottesville that turned deadly when a man allegedly rammed his car through a group of people protesting the white supremacists, killing one woman.
Trump initially blamed the violence "on many sides," but two days later, he disavowed racists while speaking from the White House. He later returned to blaming "both sides" for the deadly attack, however.
"It is unconscionable that we would add to our university a person who served in a high-level position for the administration that first empowered, then defended, those white nationalists," the petition states.
"We are a community still in the process of healing, and someone who defended the president's remarks after the violence here is a barrier to that process, a source of trauma in a still-traumatized community," the petition continued.
Short told Politico he is "sympathetic to the pain in the community."
"I think we could have done a better job expressing sympathy for the victims and outrage at those who perpetrated this evil," he said.
TRUMP ON CHARLOTTESVILLE: FROM BLAMING 'BOTH SIDES' FOR ATTACK TO BERATING THE MEDIA
He also said he's visited Charlottesville and UVA for sporting events since he was young and has a "particular bond and closeness" to the area.
"I think that there is, as well, a cherished tradition at Thomas Jefferson's university, hopefully, of welcoming diversity of opinion," Short told Politico. "I hope that the message isn't that anyone who worked in the administration can't work at a university."
A spokesman for the Miller Center said it is "committed to nonpartisan and bipartisan study of the presidency."
"The addition of Marc Short, a senior Trump Administration official with intimate knowledge of interactions between the White House and Congress, deepens our scholarly inquiries into the workings of the American presidency. And his presence reinforces our commitment to nonpartisan and bipartisan dialogue among scholars and practitioners of good will who may nevertheless hold strongly opposing personal political viewpoints," Howard Witt, director of communications for the Miller Center, said in a statement to Fox News. "Moreover, Short can offer insights into the Trump Administration that are not currently available to our scholars or the public at large."
"We understand and respect those UVA faculty members and other critics – even some from within the Miller Center – who disagree with the decision to name Marc Short a senior fellow," Witt continued. "One of our core values is fostering robust, but civil, debate across our nation's bitter partisan divide."
Short's last day at the White House is July 20.
The Associated Press contributed to this report.