Manafort mugshot revealed after he's moved to new jail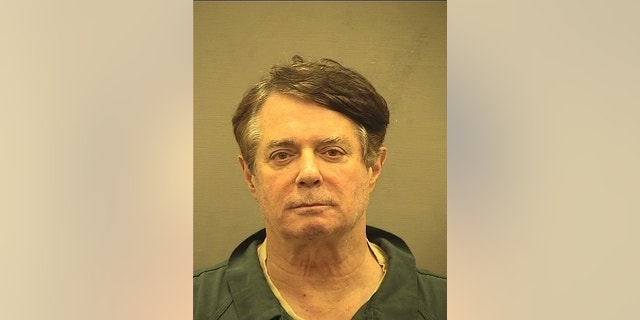 NEWYou can now listen to Fox News articles!
Paul Manafort seems to have lost his polish, a new mugshot reveals, showing the once-dapper, well-coiffed power player with gray hair and facial stubble.
Manafort, who served as President Trump's campaign manager from June to August 2016, was booked into Virginia's Alexandria Detention Center Thursday amid an ongoing courtroom tussle over his confinement. He checked out of his "VIP" jail cell as he awaits trial for alleged financial crimes uncovered during the investigation by Special Counsel Robert Mueller.
"Because he is a high-profile inmate, Mr. Manafort will be placed in protective custody which limits his interactions with other inmates," Alexandria Sheriff Dana Lawhorne said in a statement. "Specific details about Mr. Manafort's confinement will not be made public due to security and privacy concerns. We will work closely with the U.S. Marshals to ensure his proper care while he remains in our custody."
Manafort's house arrest was revoked last month amid witness tampering allegations and he was booked into the Northern Neck Regional Jail in Warsaw, Va. Despite saying in monitored phone calls that he is being treated like a "VIP" while behind bars, Manafort's lawyers have argued that they cannot properly prepare for a trial scheduled to start this month with a client jailed two hours outside of Washington, D.C.
On Wednesday, U.S. District Judge T.S. Ellis III directed that Manafort be moved to the Alexandria Detention Center, where the federal courthouse is located, so that he can be closer to his lawyers. Ellis insisted this week that the transfer proceed even after Manafort's lawyers, citing concerns Tuesday about his safety and adjusting to a new jail so close to his trial date, asked that he stay put.
Manafort reportedly was moved just after midnight Thursday.
Manafort's lawyers called the statements from Mueller's office "self-serving and inaccurate" and want their client's trial postponed. Manafort is scheduled for trial on July 25 on assorted charges arising from his Ukrainian political work.
In their court filing Wednesday, prosecutors sought to pick apart Manafort's arguments that he needs to delay the trial because of his jail conditions.
They pointed out that he has had a personal telephone in his unit at the Northern Neck Regional Jail and has had more than 100 phone calls with his lawyers in the last three weeks as they prepare for trial. He has a personal laptop on which he can review materials from the case and access to his own workspace to meet with his legal team, they said. Visitors' logs show Manafort having multiple visits each week with his lawyers, according to the prosecutors.
Though Manafort's lawyers have said he spends nearly all of his days in solitary confinement, prosecutors described his living arrangements as a "private, self-contained living unit, which is larger than other inmates' units" with its own bathroom and shower.
"Among the unique privileges Manafort enjoys at the jail are a private, self-contained living unit, which is larger than other inmates' units, his own bathroom and shower facility, his own personal telephone, and his own workspace to prepare for trial," the latest filing from Mueller's office, obtained by Fox News, stated. "Manafort is also not required to wear a prison uniform. On the monitored prison phone calls, Manafort has mentioned that he is being treated like a 'VIP.'"
Manafort was jailed last month after Mueller alleged he and an associate "knowingly and intentionally attempted to corruptly persuade another person... with intent to influence, delay, and prevent the testimony of any person in an official proceeding."
That filing was Mueller's third superseding indictment against Manafort, which came just days after the special counsel accused the former campaign chairman of witness tampering.
"Mr. Manafort is innocent and nothing about the latest allegation changes our defense," Manafort spokesman Jason Maloni said. "We will do our talking in court."
According to court documents, Manafort reached out to would-be witnesses in February after his superseding indictment was unsealed. Manafort allegedly tried to make at least three phone calls and send at least two encrypted text messages to a potential witness "in an effort to secure materially false testimony..." the special counsel claimed.
The court documents said that the person was trying to avoid contact with Manafort and "understood Manafort's outreach to be an effort to 'suborn perjury.'"
The special counsel said Manafort's actions violated federal law, and therefore violated the terms of his pretrial release. Manafort's past charges remain.
"The five previously charged counts against Manfort remain unchanged: conspiracy against the United States, conspiracy to launder money, unregistered agent of a foreign principal, false and misleading FARA [Foreign Agents Registration Act] statements, and false statements," the special counsel's spokesman said last month.
Brooke Singman and The Associated Press contributed to this report.