Maine Approves Health Insurance Overhaul, Critics Warn Elderly Will Face Higher Costs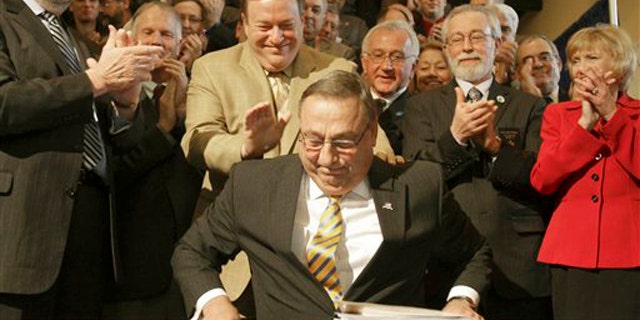 NEWYou can now listen to Fox News articles!
Maine's majority Republicans ushered through a sweeping health care overhaul this week, shaking up the insurance market in a move supporters say will lower costs and critics say will burden the elderly with painful premium hikes.
Gov. Paul LePage signed the bill into law Tuesday, calling it a "win-win" for the state which would fuel competition and drive down the cost of premiums for individuals and businesses. The bill would allow residents to shop for individual policies outside of Maine in other New England states, and allow businesses with fewer than 50 workers to band together into pools to extract better rates.
"More choice and competition will drive down the high costs of insurance premiums making coverage more affordable to everyone," the governor said. "I'm pleased to see Maine moving in the right direction."
He said the new law is based on "proven systems" in other states where rates are lower.
But the bill would also allow companies to charge more based on age and location, a shift critics say will lead to higher rates for elderly residents, especially in rural parts of the state.
"There are certainly people that will benefit from this, and those are young people in southern Maine ... but for the vast majority of the state of Maine, this is a terrible deal," said Mike Tipping, spokesman with the Maine People's Alliance, which is testing the waters for possibly launching a referendum veto campaign against the bill.
Under existing law, insurance companies could charge older residents 50 percent more than they charge younger, healthier residents. The new law would eventually phase in a framework allowing them to charge 400 percent more for older customers.
The new law would also create a high-risk insurance pool for more vulnerable Maine residents, funded by a $4-a-month fee on Maine residents with private coverage.
But Democratic critics claimed the fee violated Republicans' no-tax pledge.
"Republicans, after a generation of unrelenting rhetoric about the evils of raising taxes for any reason, to now impose a $24 million tax on Maine people, after only five months in power, is hypocrisy of the highest order," Maine Democratic Party Chairman Ben Grant said in a statement.
Critics also griped that the legislature did not have adequate time to consider the package.
According to the Maine Center for Economic Policy, a proposal to make the Whoopie Pie the official state treat took 52 days to go from a public hearing to a House vote, while the health bill took nine days to make the same legislative trek.
A handful of Democrats ended up supporting the package, despite complaints from leadership and the state party that it was a handout to insurance companies. Three Democrats in the Senate and two in the House backed the bill.
One of those Democrats, Sen. Elizabeth Schneider, told the Bangor Daily News she hopes lawmakers can return to "fix" the bill if it doesn't achieve the goal of lowering costs.
Republican Senate President Kevin Raye described criticism of the bill as "scare tactics and misrepresentations."