Magliocchetti Case Involving Late Dem Draws Less Coverage Than Abramoff Scandal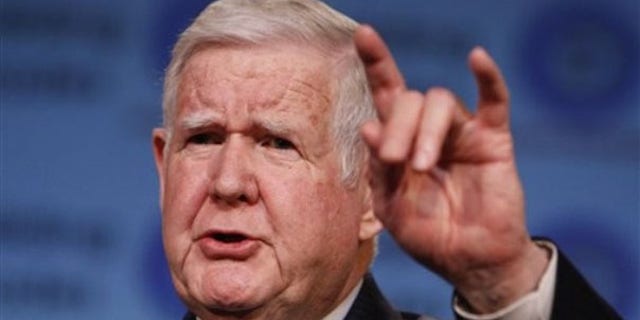 The financial scandal that dogged Rep. John Murtha until his death in February has reached a climatic point following the arrest Thursday of a former aide to the Pennsylvania Democrat. But as the case sparks comparisons to the infamous Jack Abramoff scandal, the story has yet to generate as much attention.
Paul Magliocchetti, the owner of a now-closed lobbying firm that represented defense clients, was arrested Thursday on charges of making hundreds of thousands of dollars in illegal campaign contributions.
The charges against Magliocchetti, brought in federal court in Alexandria, Va., included making false statements to the Federal Election Commission.
But the coverage of Magliocchetti has drawn scant media coverage. By comparison, the Abramoff scandal, which involved Republican lawmakers, captured national attention.
Tim Graham, director of media analysis for the Media Research Center, noted that the Washington Post ran a front page story Friday on the Magliocchetti, but he slammed the broadcast news stations and newsweeklies for not offering as much prominent coverage.
"They're not going to do anything that would put a Democratic member of Congress on the cover of a magazine," he said. "They run in a pack and the pack isn't mindless. They have a narrative they want and they're going to stick to it."
Abramoff was sentenced in 2006 to nearly six years for a fraudulent Florida casino deal and got a four-year sentence in 2008 for conspiring to defraud the U.S., corrupting public officials and defrauding his clients in a separate case.
Even Abamoff's release from prison in June has generated more media coverage. Abramoff landed a job at Tov Pizza, a kosher pizzeria in Baltimore soon after his release.
Graham said "it's very easy for a partisan media" to largely ignore the Magliocchetti case.
"Too difficult. Congressman dead. No one cares," he said. But he added "there's elements that could make a compelling television news story but they just don't want to do it."
As part of his plea deal, Abramoff cooperated in a long-running Justice Department investigation that led to the convictions of former Rep. Bob Ney, R-Ohio, former Deputy Interior Secretary J. Steven Griles and several top Capitol Hill aides.
Although he has expressed remorse, Abramoff also cooperated with the author of a 2008 book, "The Perfect Villain: John McCain and the Demonization of Lobbyist Jack Abramoff," in which he blamed Sen. John McCain, R-Ariz., for making him the fall guy.
He is the subject of a documentary film, "Casino Jack," released this year. A fictionalized version, "Casino Jack and the United States of Money," starring Kevin Spacey, is in the works.
The charges against Magliocchetti also are filled with juicy details.
Magliocchetti's PMA Group in Washington's Virginia suburbs was shuttered last year after the FBI raided its offices. The Justice Department and House investigative committees conducted separate investigations of the PMA donations, but no action has been taken against lawmakers.
The federal indictment unsealed Thursday said Magliocchetti orchestrated the scheme to enrich himself and his firm by increasing PMA's influence, power and prestige -- among clients and elected officials.
The federal campaign organizations that received these funds were unaware of Magliocchetti's alleged scheme, the indictment said.
The Federal Election Campaign Act limits the amounts individuals can contribute to campaigns and political campaign committees. It prohibits corporations from making contributions, either directly or through officers of the corporation.
To evade the limits on individual contributions and the outright ban on corporate donations, the indictment alleges, Magliocchetti caused straw donors to make contributions to scores of federal campaign committees.
The money actually came from Magliocchetti or PMA, rather than the named donor. The people masquerading as donors either received the money in advance or were reimbursed by Magliocchetti, the indictment said.
The Office of Congressional Ethics, an investigative panel of non-lawmakers created by Congress, turned over evidence to the Justice Department on PMA-related contributions earlier this year.
The Justice Department has investigated members of the House Appropriations defense subcommittee who received a flood of campaign money over the years from the lobbying firm and its defense contractor clients. The subcommittee had been chaired by Murtha, D-Pa., who died in February.
The House ethics committee has already concluded that lawmakers who received PMA money did not violate any congressional standards of conduct.
The 11-count indictment charged Magliocchetti with four counts of making illegal campaign contributions in the name of another; four counts of making illegal campaign contributions from a corporation; and three counts of causing federal campaigns to unwittingly make false statements in their public reports.
The story could still ignite a political firestorm if Magliocchetti decides to cooperate with the Justice Department instead of battling it out in court.Then the probe could spill over onto Capitol Hill.
For now, prosecutors have only the cooperation of Magliocchetti's son Mark, who pleaded guilty in the same investigation on the same day his father was indicted.
The Associated Press contributed to this report.