Maduro Opponents Take To The Streets In Venezuela In A Nationwide Protest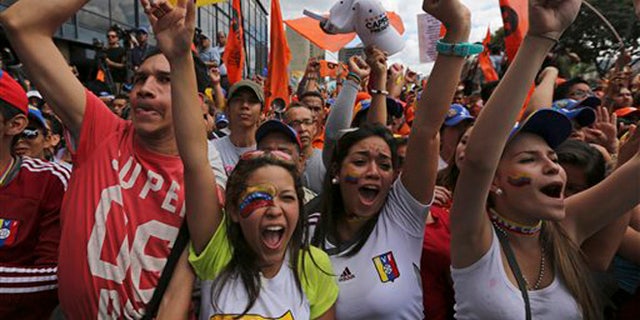 Caracas, Venezuela (AP) – Thousands of opponents of Venezuelan President Nicolas Maduro took to the streets on Saturday to express outrage over the country's deepening economic crisis, seeking to rebuild momentum sapped after a string of electoral defeats.
The nationwide day of protests was the first called by opposition leader Henrique Capriles since he lost by a thin margin to Maduro in April's snap election following the death of Hugo Chavez and came just two weeks before key mayoral elections.
Reflecting a certain fatigue that besets both sides in this deeply polarized nation, only about 5,000 people gathered at Plaza Venezuela in Caracas to march with Capriles — a far cry from the masses that flooded Caracas's avenues during his final rally during the presidential campaign. Still, turnout was greater than recent government-organized acts.
Government intimidation, internal power struggles and virtually no access to televised media have disheartened many in the opposition, leaving it in a weaker position to challenge Maduro even as the president's approval ratings have declined.
"A lot of people fought against a powerful and popular rival like Chavez," political analyst Edgar Gutierrez wrote in an email to the AP. But paradoxically, "against a weaker and much less popular adversary, there's a sense of hopelessness."
As protesters were gathering Saturday morning, Capriles said that a close aide was roughed up by military intelligence officers and hauled away from his hotel room overnight.
The whereabouts of Alejandro Silva, the coordinator of Capriles' busy schedule of rallies across the country in the run up to next month's vote, were unknown, the opposition leader said in messages posted on Twitter. The military intelligence agency refused to comment when contacted by the AP but Tourism Minister Andres Izarra said on Twitter that one of Capriles's "fascist henchmen" had been captured.
The opposition is trying to frame the Dec. 8 elections as a referendum on Maduro's rule, which has been marked by widespread shortages of basic goods like toilet paper and milk, and inflation that's now running at a two-decade high of 54 percent.
"If they win the 8th of December, all the chaos we're experiencing will worsen," Capriles told the crowd assembled in Caracas.
Among those in attendance was Mari Carmen Calderon, who like many heads of households has watched as prices have risen in recent months even as salaries for the vast majority of Venezuelans remain unchanged.
"We women are here because we know what things cost," the 53 year-old special education teacher said. "We're the one ones suffering every day."
While it will be nearly impossible for the opposition to win the majority of Venezuela's 335 municipalities, many of them far-flung villages dependent on government patronage, it hopes to win the combined majority of votes nationwide with a strong showing in large metropolitan areas such as Caracas, where it currently holds just one of the five electoral districts.
Maduro, who celebrated his 51st birthday Friday night with a serenade by Mexican singer Juan Gabriel, has called on his supporters to ignore the protests and instead join officials in a weekend-long, nationwide audit of retailers to ensure they're complying with new rules capping prices and profits.
Two weeks after Maduro ordered the military to occupy several retail chains and slash prices on refrigerators, televisions and other appliances, long lines of bargain hunters continue to form outside stores in Caracas and elsewhere. The president has vowed to use emergency decree powers granted by Congress this week to deepen the crackdown against businesses he accuses of gouging consumers and sabotaging the South American country.
On Friday night, he said he had ordered the arrest of two members of the opposition, saying they were plotting to stir violence at the protests and then frame pro-government groups, though he did not name them. Opposition leaders have denied the charges and called on the government to identify those who were allegedly detained.
Follow us on twitter.com/foxnewslatino
Like us at facebook.com/foxnewslatino