Maduro Agrees To 'Good Faith Witness' To Mediate With Venezuelan Opposition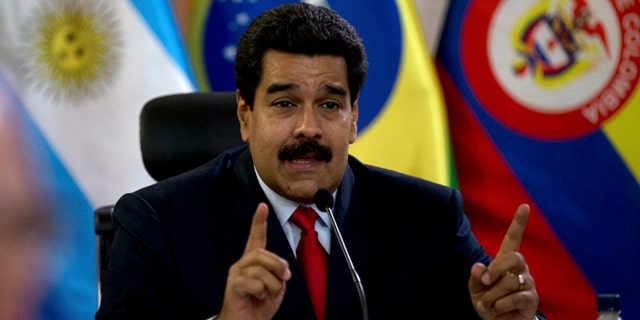 CARACAS, Venezuela (AP) – President Nicólas Maduro has agreed to enter talks with Venezuela's opposition with the help of an outside facilitator, a group of visiting South American foreign ministers said Thursday.
The announcement came after two days of meetings the foreign ministers held with government officials, student protesters and human rights groups aimed at bringing about dialogue after weeks of deadly unrest.
The diplomats didn't say where the "good faith witness" would come from, but Maduro has said he was open to international observers. He even floated a name: Cardinal Pietro Parolin, the Vatican secretary of state, who was the Holy See's ambassador to Venezuela until he was summoned to Rome late last year.
Diplomats were still working out the details of the talks. Both sides have said they doubt their counterparts are genuinely willing to negotiate in good faith.
Alternating between statesman and the joker Venezuelans have come to expect, Maduro also offered to stop calling protesting students "Chuckys," after the diabolic doll of Hollywood fame.
"I've going to treat you softly so that you come to Miraflores," Maduro said in a whispered tone, referring to the presidential palace. "Come humbly, as I come humbly."
Opposition politician Andrés Velásquez said he hoped the outside facilitator would seek common ground, and added that he believed Maduro was finally taking outside pressure into account.
Maduro's socialist administration also accepted another of the delegation's suggestions: the creation of a human rights commission that will report directly to the president and look into allegations of abuse by security forces.
His year-old government has been widely criticized for its tough crackdown on opponents protesting galloping inflation, rampant crime and shortages of basic goods like toilet paper and corn flour. Weeks of clashes between protesters and loyalists have left at least 32 people dead on both sides.
In their statement, the foreign ministers call on all parties to renounce violence.
Hours before the announcement, the U.S. State Department issued its strongest comment yet on the troubles in Venezuela, saying it would consider imposing sanctions if Maduro didn't reconcile with his opponents.
The State Department's top official for Latin America said sanctions could become an "important tool" to pressure Maduro.
"If there is no movement, no possibility of dialogue, if there's no democratic space for the opposition, obviously we have to think about this, and we are thinking about this," Assistant Secretary of State Roberta S. Jacobson told reporters in Washington.
She added that the U.S. would work with its partners in the region to impose any such measures.
Maduro's administration responded that it categorically rejected U.S. interference in Venezuela's internal matters.
Also on Thursday, a spokesman for the International Monetary Fund warned Venezuela that it must restore balance to its economy and offered technical assistance to tame inflation that hit 57 percent in February.
Follow us on twitter.com/foxnewslatino
Like us at facebook.com/foxnewslatino