Libertarian presidential candidate, Gary Johnson, asked to leave Miami restaurant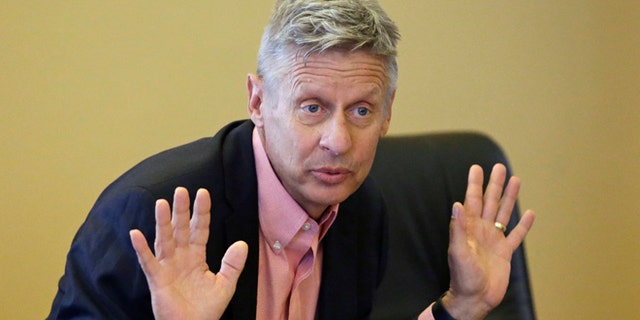 NEWYou can now listen to Fox News articles!
Never mind the presidential debates this fall, Gary Johnson can't even get a seat at a restaurant.
The Libertarian presidential candidate got the boot from Miami's famous Versailles restaurant on Thursday after showing up with a gaggle of reporters to hold an impromptu press conference.
Apparently candidates who come to Versailles – a popular stop for candidates stumping in the Sunshine State – generally let the management know beforehand that they, and a horde of reporters, will be dropping in. That way, the restaurant can block off a room where the candidate can hold forth.
Johnson, however, just strolled in and found the first open seat available as the space normally set aside for candidates was taken over by a large party.
"We had heard from someone in his team that he might be stopping by on Wednesday," Nicole Valls, vice president for the corporation that runs Versailles, told the Miami Herald on Thursday. "We let the G.M. [general manager] know and asked him to let us know when he arrived so the family can welcome him into the restaurant. Unfortunately, he didn't show up yesterday, and the G.M. was off today."
The Libertarian candidate seemed to take being asked to leave in stride and, wearing a seersucker blazer and white Cuban-style guayabera shirt, went outside, where he told voters and the media that he was "available to mingle."
Before heading into the restaurant, Johnson ordered a cafecito at the counter outside and took a few questions from the press.
"The new manager wasn't aware of the situation, and since we typically require authorization if there are film crews inside the restaurant, he thought he was doing the right thing," Valls said. "We have always and will continue to welcome all candidates to Versailles. We would love to have him back to meet him and have a cafecito."
Johnson has been fighting for more than a month to try to get himself onto the presidential debates along with Republican and Democratic candidates Donald Trump and Hillary Clinton. An online petition has collected more than 500,000 signatures, but the Commission on Presidential Debates announced this week that only candidates receiving more than 15 percent in five national polls.
Currently the Libertarian is averaging just under 10 percent in those polls.