Liberal group accused of meddling in Colorado GOP race with ad boosting Republican Tancredo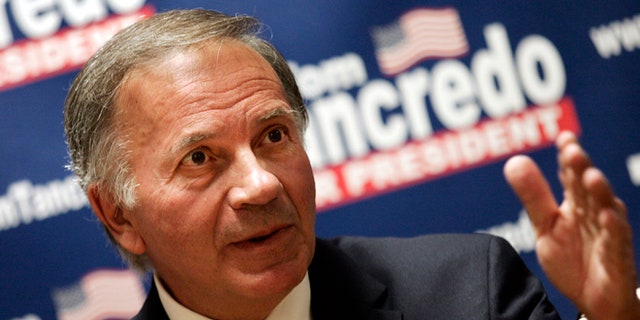 A liberal-leaning political group is being accused of meddling in the Colorado GOP gubernatorial primary by running TV ads aimed at boosting Republican candidate Tom Tancredo.
The group apparently considers Tancredo more beat-able in November than his main primary rival, former Rep. Bob Beauprez. The nonprofit group, Protect Colorado Values, has one TV spot that appears to puff him up by portraying the former Republican congressman as staunchly anti-ObamaCare, which remains largely unpopular in parts of Colorado.
"He's still of the country's strongest opponents of ObamaCare" says the ad's narrator, who closes by saying Tancredo is "too conservative for Colorado" -- a line Democrats would expect to lure Republican primary voters to the polls June 24.
Another ad attacks GOP candidate Beauprez, whom Democrats seem to think is a bigger threat to Democratic Gov. John Hickenlooper's reelection effort. The 30-second ad points out Beauprez once backed the individual mandate that's now part of ObamaCare and attacks his fiscal-conservative credentials by saying he supports spending bills while the national debt "ballooned $2 trillion."
A recent poll commissioned by the Beauprez campaign shows its candidate trailing Tancredo 25-to-27 percent, a statistical dead heat, in a four-way race with Secretary of State Scott Gessler and former state Senate Minority Leader Mike Kopp.
The state Republican Party in a statement called Protect Colorado Values a "shadowy" and "liberal" special interest group whose ads attempt to influence the primary outcome and appear backed by deep-pocketed liberals.
Beauprez has appealed to Hickenlooper to stop the "desperate attempt" to manipulate Republican voters.
"Hickenlooper and his allies have resorted to dishonest, negative attacks and underhanded tactics intended to do one thing - take away the right of honest Republicans to choose their own nominee for Colorado governor, Beauprez told FoxNews.com on Monday. "The simple fact is that Hickenlooper and these liberal attack groups believe I can beat Hickenlooper in November."
However, the firebrand Tancredo has publicly stated that he's largely pleased with the free advertising, with the exception of the "too conservative" tagline.
Protect Colorado Values was started just days ago with the stated purpose of supporting and opposing Republican and Democratic candidates in the governor's race, according to documents filed with the Colorado campaign finance office.
However, the registering agents are listed as Julie Well and Jim Alexee. Wells has registered at least 27 liberal-leaning political groups in Colorado and is a registered Democrat, according to the group MediaTrackers.com
Alexee has worked for the Ohio Democratic Party and was a presidential program comptroller for powerful Democratic supporter Service Employees International Union, according to his online resume.
Neither returned requests for comment Monday from FoxNews.com
The news website Complete Colorado reports their group has invested at least $89,000 in running the ads on a Denver-area TV station.