Legislative Push to End California Gold Rush Has Miners Panning Environmental Rules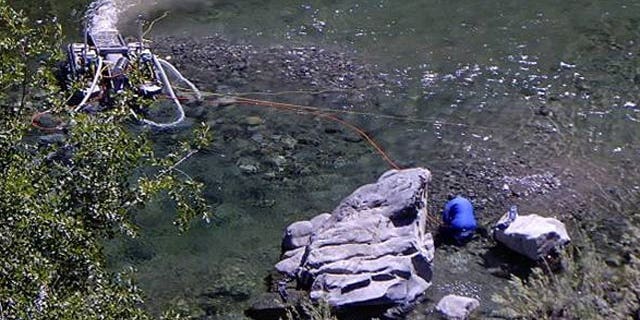 NEWYou can now listen to Fox News articles!
Fortune seekers hoping to strike it rich in California's ongoing gold rush may find their dreams dashed by new environmental rules that state lawmakers say are too costly to enforce.
Mining groups that outfit treasure hunters say an economic analysis by the California Department of Fish and Game shows at least $23 million per year is generated from small-scale miners trying their luck at locating gold in river beds.
But California's Legislature is trying to slash funding after learning that new rules devised by regulators to protect fish would cost taxpayers $1.8 million each year for permitting, administration, inspection and enforcement. The state collects only $373,000 in permit fees, creating a deficit that lawmakers say is too costly to overcome.
A draft outline to slash the mining program passed budget subcommittees in both chambers. The full Legislature has to approve it before the cuts are finalized and the independent fortune hunter is denied permitting.
"This is extraordinarily reckless legislation," Mike Dunn, owner of Gold Pan California, a gold mining supply shop, said in a written release.
Dunn says that the end of the small-scale gold mining industry would affect small businesses in at least 14 sectors, including grocery, restaurants, lodging, fuel and hardware. Most of the $23 million or more generated from these economic activities stay in low-income, rural areas where the booty is hiding.
Already, mining companies were suffering under two moratoria -- one legislative and one court-ordered -- against "suction dredge mining" enacted in 2009. Those bans were to be lifted in November after new regulations devised by the state's Fish and Game Department went into effect. The budget cuts would essentially keep the moratorium in place permanently.
Proline, a mining equipment manufacturer, said it sustained a 40 percent loss when the moratoria were first enacted.
"We are very fortunate to have overseas sales to help sustain our business," Jeff Kuykendall said. "But if this legislation passes, my retailers will be forced out of business. The Legislature hasn't even considered how broad the closures will be."
According to a description provided by the Karuk Tribe, which opposes the mining, suction dredges require prospectors to go under water and suck out whatever gold they can find at the bottom of rivers with vacuum hoses. The vacuum hoses suction up gravel and sand from the river bottom, which then passes through a sluice box that traps the heavier gold particles. The rest of the gravel is dumped back into the river.
Environmentalists say the practice destroys fish habitat and cite scientific studies that show dredging can release toxic mercury locked in the riverbed. Supporters strongly dispute that, pointing to a preliminary environmental review released in February by the Fish and Game Department that declared the practice is not "deleterious to fish."
Craig Tucker, a spokesman for the Karuk Tribe, told FoxNews.com that Fish and Game redefined "deleterious" so it could keep issuing permits. Under the government's definition, he said, a whole class of fish would have to be destroyed -- instead of just being harmed in a subtle way -- to be considered problematic.
Mark Stopher, a spokesman for Fish and Game, told FoxNews.com that the definition is based on maintaining population sustainability, just like other activities, including whitewater rafting and bridge maintenance.
"And it's our view that suction dredging can be regulated in a way that we don't have deleterious effect on fish at the population level," he said.
The Karuk Tribe, whose members were trampled by the original Gold Rush of the 1850s, has been leading the campaign against the practice, including filing the lawsuit that led to the court-ordered moratorium in 2009. The tribe cheered the proposed budget cuts.
"California is in the midst of an historic financial crisis. Taxpayers can no longer afford to subsidize this environmentally destructive hobby," said Leaf Hillman, director of the Karuk Tribe Department of Natural Resources.
But gold mining groups says the state can't afford not to allow mining, even though the California Department of Fish and Game issued fewer than 4,000 permits per year just before the 2009 bans went into effect.
Stopher said whatever the dispute, he's not happy about the prospect of the budget cuts negating the $1.2 million spent on the environmental review.
"Nobody likes to have done their very best for two years to deliver what the court and Legislature told us what to do and have an outcome where you say never mind," he said.