Lawyer linked to Trump campaign who pleaded guilty in Russia probe released from prison, turned over to ICE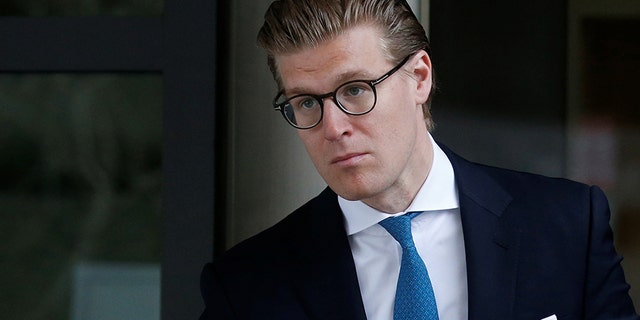 NEWYou can now listen to Fox News articles!
Alex Van Der Zwaan, the Dutch lawyer linked to the Trump campaign who pleaded guilty in February to misleading federal investigators, was released from prison Monday morning and turned over to Immigrations and Customs Enforcement officials, Fox News has learned.
Van Der Zwaan, 33, the son-in-law of Russian oligarch German Khan, was charged by special counsel Robert Mueller's team with knowingly making false statements to investigators during an interview about his time working for a major law firm hired by the Ukraine Ministry of Justice in 2012.
He became the first person to be sentenced as part of Mueller's ongoing Russia probe in April, when U.S. District Court Judge Amy Berman Jackson handed him 30 days in prison, two months of supervised release, and $20,000 in fines.
Van Der Zwaan's former law firm, Skadden, Arps, Slate, Meagher & Flom LLP, has an expansive international practice, and has been a central target of Mueller's sprawling Russia investigation. The firm said in a statement last year that it had fired Van Der Zwaan and was cooperating with investigators.
Skadden attorneys drafted a report that was used to justify what many critics charged was the politician prosecution and jailing of Ukrainian politician Yulia Tymoshenko -- one of the leaders of the Orange Revolution, and a fierce political rival of Russia-aligned President Viktor Yanukovych.
Both former Trump campaign manager Paul Manafort and former Trump adviser Rick Gates were accused of secretly using offshore accounts to funnel $4 million to Skadden to pay for the report, according to The New York Times.
"What I did was wrong. I apologize to my wife and my family."
Van Der Zwaan was specifically accused of lying about his comunications with Gates, who was indicted in October along with Manafort on several charges related to their work and business dealings in Ukraine. Gates has pleaded guilty to federal conspiracy and false-statement charges.
WATCH: GINGRICH SAYS MUELLER PROBE IS REALLY FIVE SCANDALS IN ONE
Van Der Zwaan said he "did not know why an email between him and Person A in September 2016 was not produced to the Special Counsel's Office" and that his last communication with Gates was in August 2016. It also says he claimed that his last communication with an unidentified "Person A" was in 2014.
But Mueller's team said that Van Der Zwaan spoke with Gates and Person A in September 2016, and that he deleted "and otherwise did not produce emails" sought by Mueller's office -- including an email between him and "Person A" in September 2016.
In court in April, Van Der Zwaan was apologetic for misleading investigators.
"What I did was wrong," he said. "I apologize to my wife and my family."