Lawsuit aims to ban swimming with manatees in Florida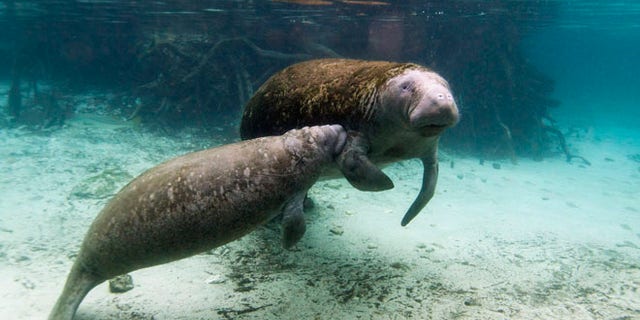 NEWYou can now listen to Fox News articles!
The U.S. Fish and Wildlife Service is about to be sued over an animal that isn't exactly "endangered."
ECO-LAWSUIT: The Public Employees for Environmental Responsibility, a Washington, D.C.-based group, wants several tough new restrictions on human activity in manatee areas.
The Public Employees for Environmental Responsibility, a Washington, D.C.-based nonprofit, filed an Intent to Sue notice this week accusing the federal agency of mistreating "the endangered Florida manatee."
PEER, which last month sued FWS to stop dirt bike and off-road vehicle noise and air pollution in California, says the agency is "facilitating significant physical harassment" of manatees by allowing the public to swim with the animals in the Crystal River National Wildlife Refuge.
The Crystal River National Wildlife Refuge was established in 1983, and it's the only refuge created specifically for the protection of the Florida manatee, according to FWS.
By issuing special-use permits to local dive shops that lead manatee swim tours, PEER says the environmental agency is harming the animals.
The effort has the appearance of an overreaction. Natural events such as cold water and toxic red-tides have done far more to harm manatees in recent years than human contact. In the overlapping period, the animals have made impressive gains.
In 2007, Fish and Wildlife biologists estimated the manatee population in Florida was about 3,300. As a result, they recommended that manatees be "down listed," as they were no longer considered endangered. That didn't happen.
Click for more from Watchdog.org.