Lawmakers Scramble to Keep Voice of America On Air in China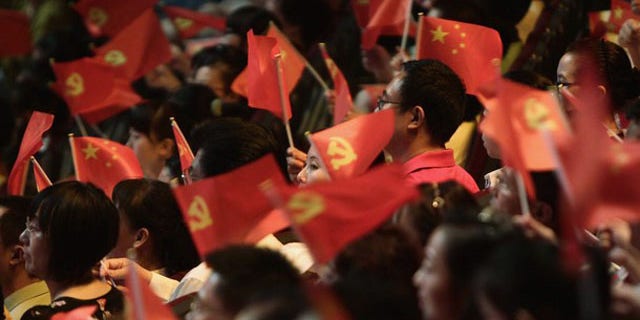 Congressional lawmakers are scrambling to prevent America's international media arm from going off-air in China, arguing that a plan to shift much of its reporting to the Internet won't do much good in a country notorious for its web censors.
The group at the heart of the dispute is Voice of America -- part of the network of U.S. government-backed broadcasters that together reach more than 100 countries -- the American institution that has beamed news around the world since the '40s. Reflecting a broader shift from radio to digital media, a plan unveiled earlier this year called for overhauling Voice of America's China services to bring most of its media off air and online.
The Broadcasting Board of Governors, which oversees Voice of America, argues that it only makes sense to go digital in a country with the largest Internet-using population in the world. Board officials claim the existing shortwave radio broadcasts don't have the audience they used to and that the Chinese government is jamming them anyway. In changing platforms, the board projects it will save $8 million and eliminate about 45 positions.
But critics of the move, including Rep. Dana Rohrabacher, R-Calif., say the United States is setting itself up to cede vital territory in the battle of information abroad.
"We've used Voice of America to pump in Democratic messages for years," Rohrabacher spokeswoman Tara Setmayer said. "Now it's another area where it looks like we're succumbing to the wants of the communist Chinese."
A House panel moved last month to try and save those radio and TV broadcasts. The House Foreign Affairs Committee voted unanimously for a bill containing a provision that would allocate nearly $14 million exclusively for Voice of America's Mandarin and Cantonese radio and satellite TV stations.
"Such funds may not be used for any other purpose," the provision says.
The language, if approved, may not compel Voice of America to sustain its China broadcasts, but the thinking is that $14 million will be hard to turn down. Lawmakers are racing against the clock to get the language included in the complementary appropriations bill, given that the changes in China are scheduled to take place in October.
In a bipartisan letter to the House Appropriations Committee in May, Rohrabacher and several House colleagues urged the panel to follow suit as it crafts the funding bill. They argued that the radio and satellite broadcasts remain "one of the best ways to communicate directly" with the Chinese people.
"We believe the administration's proposal will hinder indigenous democracy movements in China and damage the long-term security of our own country," they wrote. "Sacrificing U.S. broadcasting abilities while China's authoritarian regime expands its broadcasting and public diplomacy efforts in the United States is the wrong answer."
The debate comes as the United States fights to be heard overseas. Secretary of State Hillary Clinton warned earlier this year in congressional testimony: "We are in an information war and we are losing that war."
A Rohrabacher aide said the restructuring only hurts the United States in that war. "It's very penny wise and pound foolish," the aide said.
BBG spokeswoman Letitia King declined to comment on the implications of the budget process, noting it is still in the works.
But she disputed critics' claims, saying the underlying goal is to reach "new and bigger audiences in China, where government-controlled media don't provide full and accurate information."
Under the plan, VOA Mandarin would move from radio and television to a "web-only platform," where some audio and video programs would continue to be posted. Funding would also increase for mobile device content. Separately, the affiliated Radio Free Asia would continue to broadcast in Mandarin.
In addition, the board would eliminate VOA's Cantonese Service. According to the board's proposal, Radio Free Asia would continue to broadcast in Cantonese.
Justifying the changes, King said shortwave radio listening has become "almost nonexistent" in China.
The BBG cited a survey showing one-tenth of 1 percent of Chinese listen to VOA in Mandarin, with radio ownership on the decline. Another survey showed computer and Internet usage on a steep upswing.
Though expanding on the Internet raises concerns about censors, King said the Chinese can use proxy servers to access their websites already and noted that the BBG has been developing anti-censorship technology to evade Chinese filters.
"Using mobile proxies under development now, VOA expects its reach in China to increase," King said.
Indeed, the Broadcasting Board of Governors has been testing technology in order to bust through Chinese web censors to deliver news. A round of recent testing demonstrated how certain technology can get around those filters via email, as well as transmit proxy web addresses which users can access to browse an uncensored version of the Internet.
But Ted Lipien, a former VOA executive who now runs Free Media Online, complained in an op-ed earlier this year that aside from the threat of censorship, two-thirds of China's population does not even have Internet access. He accused the BBG of turning its back on human rights activists who rely on radio for information.