Lawmakers Return to White House for Debt Talks but 'Grand Bargain' is Elusive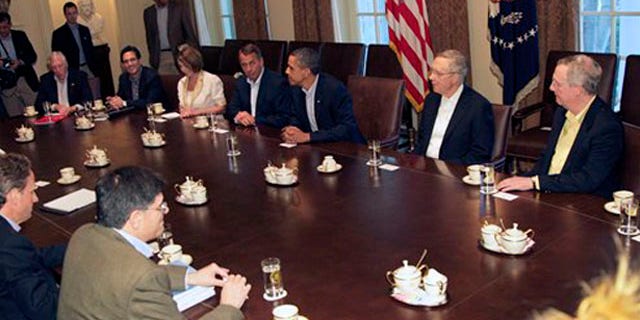 NEWYou can now listen to Fox News articles!
President Obama is meeting with congressional lawmakers at the White House again on Monday after negotiations the day before deadlocked over a plan to cut $4 trillion from a 10-year budget blueprint that Democrats insist include $1 trillion in tax hikes.
Obama suggested lawmakers come back to the table every day until a deal is done. But the "grand bargain" is unlikely to pick up any Republican support as long as the administration seeks tax increases to pay for the gap between spending and revenues in Washington.
The president will hold a news conference Monday at 11 a.m. ET to discuss the status of the debt talks, as the Aug. 2 deadline looms. Obama has indicated that any deal must extend the debt limit until at least Jan. 1, 2013.
House Speaker John Boehner said during Sunday's meeting that he believes the package based on negotiations reached while Vice President Biden led a working group a few weeks ago would be the "most viable option at this time for moving forward," a Republican source familiar with the talks told Fox News.
That deal would be worth about $2 trillion to $2.4 trillion. The source said Boehner, R-Ohio, concluded that there is "no path" for a bigger deal because Republicans demand a "dollar-to-dollar" ratio of cuts to debt ceiling increase.
A senior congressional Democratic source told Fox News that Republicans are "refusing to take yes for an answer because of their ideological adherence on revenues."
Democrats, however, are still "on the same page" and prefer to "see the big deal" that Boehner pulled off the table Saturday night, the aide said.
"We came into this weekend with the prospect that we could achieve a grand bargain. We are still hopeful for a large bipartisan agreement," House Minority Leader Nancy Pelosi said in a statement.
Ideologically speaking, Democrats also refuse to make changes to entitlement programs that make up the bulk of federal government spending.
"The members will meet again tomorrow, though it's disappointing that the president is unable to bring his own party around to the entitlement reform that he put on the table," said Don Stewart, a spokesman for Senate Minority Leader Mitch McConnell, R-Ky. "And it's baffling that the president and his party continue to insist on massive tax hikes in the middle of a jobs crisis while refusing to take significant action on spending reductions at a time of record deficits."
Senate Majority Leader Harry Reid's spokesman says the GOP is trying to take the "easy way out."
"Senator Reid remains firmly committed to getting the most robust deal possible. He stressed the need for an approach that is balanced between spending and revenues, in terms of timing, specificity and dollars. Senator Reid believes the stakes are too high for Republicans to keep taking the easy way out, and he is committed to meeting every day until we forge a deal, however long that takes," spokesman Adam Jentleson said in a statement.
House Democratic Whip Steny Hoyer said in a statement that he was "disappointed" that Republicans "have indicated they're not in favor of a compromise deal that would address the fiscal crisis in a serious way."
Before Sunday's meeting started, the president said a debt deal with Congress needs to be worked out in the next 10 days as the Aug. 2 deadline to raise the nation's debt ceiling looms.
As the meeting opened, Obama and the leaders sat around the table in casual dress. Asked whether the White House and Congress could "work it out in 10 days," Obama replied, "We need to."
Earlier in the week, Democrats had been sparring with the White House over its perceived willingness to deal with the GOP on entitlement reform. But Boehner's statement on a smaller deal turned Democratic focus back to hammering Republicans for their insistence on no tax hikes in the deficit talks.
"Everything has to be on the table. But pretty quickly, my Republican colleagues said, everything should be on the table except taxes. That doesn't seem fair," Rep. Xavier Becerra, D-Calif., told "Fox News Sunday."
On the other side, Sen. Jim DeMint, R-S.C., accused Obama of "gaming Republicans."
"It's hard to take him seriously here," he said on "Fox News Sunday."
Treasury Secretary Timothy Geithner reiterated Sunday that a failure to negotiate a package and raise the debt ceiling by Aug. 2 would have "catastrophic" consequences for the economy.
However, he and other officials expressed confidence that no matter the course of negotiations, Congress will ultimately vote to lift the cap.
The Associated Press and Fox News' Chad Pergram contributed to this report.