Lawmakers Jarred by Giffords Shooting Weigh Additional Security Measures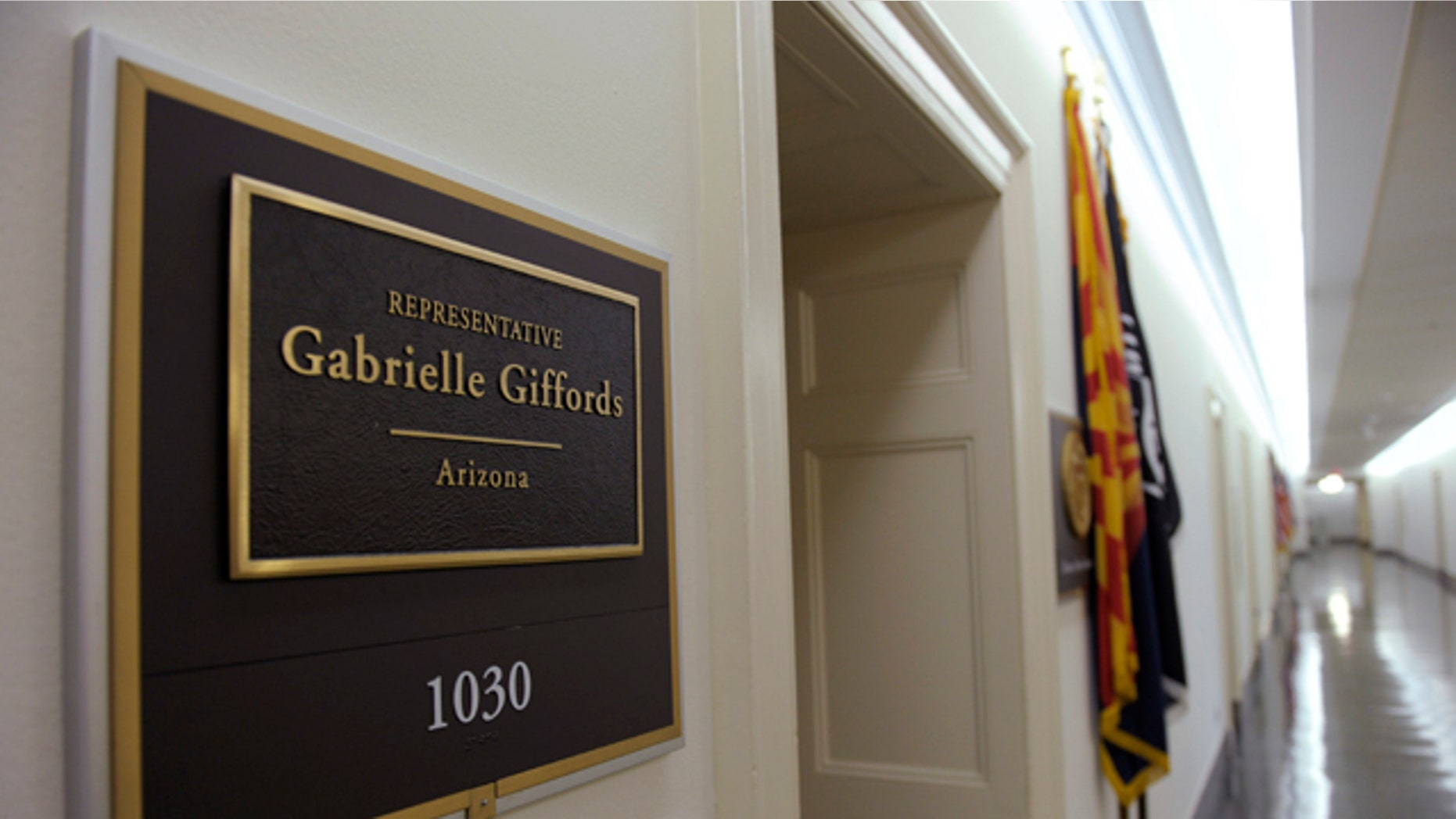 A "solemn" and "unique" conference call Sunday among House members and officials on Capitol Hill emphasized security in Washington, D.C., as well as at home for lawmakers jarred by Saturday's attempted assassination on one of their own.
Rep. Gabrielle Giffords, D-Ariz., is in critical condition after being shot in the head by a gunman whose motives are still being uncovered. But lawmakers, their spouses and staffs convened a conference call Sunday afternoon to discuss ways to beef up security.
"The primary thing here is to make sure all members are coordinating their efforts with local police officials, which a lot of members do routinely," but also designating a special coordinator in each congressional office to deal with emergency procedures, Rep. John Larson of Connecticut, who heads the House Democratic Caucus, said after the conference call of more than 800 participants.
One Democratic leadership aide said the call was the most bipartisan moment he had witnessed in almost a decade of working on Capitol Hill. The aide said House Speaker John Boehner spoke beautifully about standing together as one body in this dark time. Minority Leader Nancy Pelosi spoke about her conversation with Giffords' husband, Mark Kelly.
Also speaking on the call were House Sergeant at Arms Bill Livingood, U.S. Capitol Police Chief Phil Morse, Giffords' Chief of Staff Pia Carusone and Dr. Christina Malekiani of the Office of the Attending Physician.
Only one member, Rep. Susan Davis, D-Calif., asked a question during the briefing -- on what lawmakers could do to help Giffords' district during her convalescence. However, a source said that the discussion of traveling to Tucson to offer assistance to Giffords' staff was considered not a good idea right now with so much already taking place there.
Normal business of the House of Representatives is postponed this week, but House Majority Leader Eric Cantor, R-Va., announced that in consultation with Democratic leadership, he will submit a resolution on Wednesday honoring Giffords and those killed, including U.S. District Judge John Roll and Gabe Zimmerman, a member of Giffords' congressional staff.
Cantor said he'd like the resolution to be a voice vote though "we cannot assure that a recorded vote will not be requested." Cantor also urged lawmakers to return to Washington for the vote and "to receive any necessary security briefings from the U.S. Capitol Police."
Giffords was one of 20 people victimized in a Saturday attack outside a Tucson Safeway that targeted a town-hall style meeting organized by Giffords called "Congress on Your Corner."
Besides Giffords, 13 others were injured and six were killed, including Roll, Zimmerman, 9-year-old Christina-Taylor Green, a pastor and two women, the last three of whom were in their 70s.
Earlier in the day, House Speaker John Boehner urged members of the House to keep "Gabby" in their thoughts and said no matter how "heinous" the attack, lawmakers should not be deterred from performing their duties.
"An attack on one who serves is an attack on all who serves," Boehner said in a brief statement from Ohio. "Public service is a high honor. But these tragic events remind us that all of us, in our roles in service to our fellow citizens, comes with a risk. This inhuman act should not, and will not, deter us from our calling to represent our constituents and to fulfill our oaths of office."
In an e-mail Saturday evening, Livingood said the Tucson attack did not appear to be part of a larger threat against Congress. Still, as a precaution, he advised each House member's office to get in touch with local law enforcement. FBI, Livingood and U.S. Capitol Police plan another briefing for members on Wednesday.
A senior Democratic leadership aide told Fox News that Capitol Police said no other threats have been reported in the wake of Saturday's incident, nor was there an uptick beforehand in the threat level.
Still, the incident has lawmakers on edge as several say they've received threatening calls in the past, including Cantor, who like Giffords is Jewish and whose religion may be a motive in the attacks. Last year, shots were fired at Cantor's office in his home district. No one was hurt.
One lawmaker told Fox News after the conference call that the incident "is very upsetting to members -- to be doing your job meeting with people and then be slaughtered." The same lawmaker worried that "people will no longer want to have town meetings any more ... people just come and scream at you."
Separately, Rep. Raul Grijalva, D-Ariz., has called for a beefing up of security around the Capitol. Rep. Maxine Waters, D-Calif., told Politico Saturday night that there's no real way to protect lawmakers.
"We can be shot down in our district, but we can also be shot walking over to the Capitol," she is quoted saying. "We have a lot of people outside who appear to be fragile emotionally. So we don't know when one will walk up and shoot us down. We're vulnerable."
Rep. James Clyburn, D-S.C., the assistant minority whip, told "Fox News Sunday" that he was appreciative that state law enforcement officials reached out to him in the hours after the shooting, and he noticed additional security around his home on Saturday. But he noted, "They can supplement, they cannot substitute."
Cathy McMorris Rodgers, R-Wash., who appeared with Clyburn, said the most shocking part of the shooting is that Giffords was doing exactly what all congressional members do -- meeting with constituents.
"We're all just trying to get our arms around it until we know the best way to respond," McMorris Rodgers said.
She added that the U.S. Capitol Police do a great job of advising ways for lawmakers to be careful when they are back in their district.
"We need to make sure we really are smart and we respond appropriately to this incident. I am concerned about putting up more walls between myself and those people I represent," she said.
The last time a congressional member was shot and killed was in 1978, when Rep. Leo Ryan, D-Calif., tried to leave Jonestown, Guyana, with members of Jim Jones' cult, who would soon participate in a mass suicide.
Six members of Congress have been murdered as well as two senators -- Huey Long in 1935 and Robert Kennedy in 1968. Five members of Congress were injured when Puerto Rican nationalists shot up the House chamber on March 21, 1954.
Fox News' Mike Emanuel and Chad Pergram contributed to this report.