Lawmakers Divided on Whether to Target Qaddafi for Assassination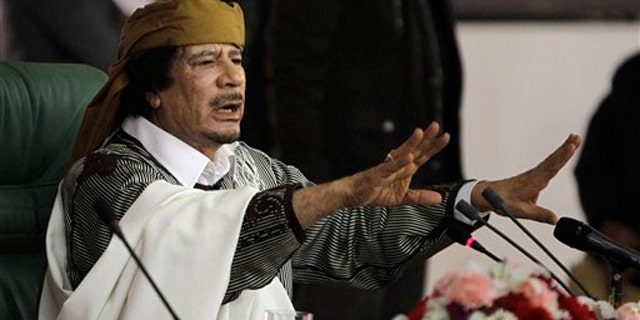 NEWYou can now listen to Fox News articles!
The divide in Washington over how to proceed in Libya widened Sunday, as a prominent GOP lawmaker called for NATO to turn Predator drones on Muammar al-Qaddafi while others suggested giving the rebels more space to topple the regime in Tripoli.
The debate intensified as the Libyan government claimed the Western-led coalition had already made an assassination attempt against Qaddafi. Though NATO would not confirm it, a Qaddafi spokesman said a missile strike in Tripoli killed one of Qaddafi's sons and other relatives. The spokesman said Qaddafi and his wife were in the building but unharmed.
Sen. Lindsey Graham, R-S.C., speaking on "Fox News Sunday," suggested Qaddafi himself is fair game for an attack by the Predator drones President Obama has authorized for use in the country.
"He is not a foreign leader. In my view, he's a murderer," Graham said. "He's the source of the problem. He is not the legitimate leader of Libya. He should be brought to justice or killed."
Other officials, though, suggested the coalition should stop short of an outright assassination attempt, expressing concern about the difficulty of such an operation and its implications. Though the military mission has stretched into its seventh week, raising anxiety about the possibility of a stalemate, some warned that putting Qaddafi on a hit list could create more problems than it solves.
Sen. John McCain, R-Ariz., who is often aligned with Graham, said assassinating world leaders is "not as easy as you think." He urged the Obama administration to instead deploy top U.S. military aircraft back into the fight while lending more support to the rebels.
"We should be taking out (Qaddafi's) command and control, and if he is killed or injured because of that, that's fine," McCain said on CBS' "Face the Nation."
Former National Security Adviser Stephen Hadley, speaking on CNN's "State of the Union," said the "command-and-control elements" are legitimate targets, but that NATO should heed the "narrative" they want to emerge from the conflict.
"The narrative we want to come out of this is that the Libyan people overthrew a dictator, not that we came in and toppled a despot. And that's the problem with going after command and control if it results in the death of Qaddafi, because what we really want him to do is for him to leave or to die at a Libyan hand, not an American hand," Hadley said.
Sen. Kent Conrad also said there are "legal issues" with targeting Qaddafi for assassination.
He agreed that "Qaddafi's got to go," but said the coalition should target "the pillars of his power" to weaken him. Conrad, D-N.D., said NATO should target the regimens controlled by his sons and the mercenaries brought in from other countries, as well as Qaddafi's money and tribe.
"It is stated policy that we are not targeting an individual, but we can target the pillars of his power," Conrad said.
Obama administration officials repeatedly have said the NATO mission is to protect the Libyan people and that it is U.S. policy that Qaddafi should go. Those concurrent, but presumably separate, goals have frustrated lawmakers who say the U.S. military needs a clearer mandate.
Graham praised NATO for the apparent missile strike on Tripoli.
"This is the way to end this. Thousands of people are subject to dying the longer this takes. No one in the world is going to regret Qaddafi being replaced, however you do it," he said.