Latino vote may be deciding factor in tight Georgia Senate race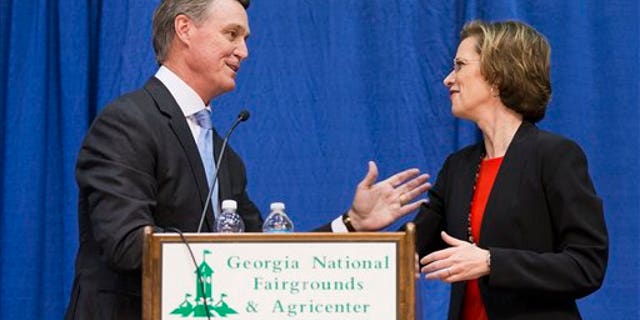 NEWYou can now listen to Fox News articles!
The growing Latino population in Georgia could decide one of tightest Senate races in the country.
With more than 9 percent of the Georgia population identifying themselves as Hispanic or Latino, the Senate race between former non-profit executive Michelle Nunn, a Democrat, and American businessman David Perdue, a Republican, is now more influenced by Hispanics than ever before.
It is one of the races where political analysts and members of the Latino community have noted that the percentage of Latino voters in the state could make a game-changing difference.
"As tight and competitive as the Senate race is in Georgia, I think that the Latino vote has the potential to determine the outcome of the election," said Jerry Gonzales, Executive Director of the Georgia Association of Latino Elected Officials.
The most recent polling data average from Real Clear Politics shows Purdue leading Nunn by more than three points.
"Every indication is that the Senate election in Georgia this year will be very close. So although Latinos are a small component of the electorate, if they vote cohesively for one candidate or the other, it could provide the margin," said University of Georgia political science professor Charles Bullock.
Political experts say that what is happening in Georgia is a microcosm of what is happening throughout the country – Latino voters are becoming more important in elections across the country as their populations increase in size.
The Purdue and Nunn campaigns did not respond to requests for comment.
One of the most important topics surrounding the Latino community, some experts said, is immigration.
In 2011, Georgia passed a law making the state the strictest when it comes to illegal immigration. HB 87 cracked down on illegal immigration by increasing some law enforcement powers and requiring many employers to check the immigration status of new hires. The law penalizes people who transport or harbor undocumented immigrants.
"The candidates should be aware that immigration is still a very important issue to Latinos. The issue of how they address immigration is a way in how we judge who we will likely vote for in the election," said Gonzales.
While both candidates have ideological differences on immigration, both are calling for "a more secure border" and are vague on how to carry out the state's strict immigration law.
Nunn believes "we need comprehensive immigration reform that secures our borders and provides an accountable pathway to citizenship that requires those currently living here go to the back of the line, pass a background check, learn English, and pay back taxes," her website page says.
Perdue places more of a focus on securing the border, saying on his website page "the debate in Washington over illegal immigration has become unnecessarily complicated…simply put, we need to strictly enforce current laws and any new laws should be straightforward, focusing on true border security."
Both parties are heavily reaching out to Latino voters in their effort to clinch the seat as Republicans and Democrats nationwide fight for control of the Senate.
A poll focusing on Latino voters came under criticism after it showed that Hispanics in the states were heavily backing the Republican candidate. A Survey USA/NBC-11 Atlanta poll recently reported Latinos favoring Perdue, 44 to 32 percent, with an article entitled "Hispanic voter buck assumptions, back GA GOP candidates." The 12-point difference could significantly influence the election.
But Matt Barreto, one of the most prominent Latino pollsters in the country, has heavily criticized the poll, claiming it is not credible.
"The poll is garbage," said Barreto, a professor of political science at the University of Washington and co-founder of the polling and research firm Latino Decisions.
Barreto told Fox News Latino that Survey USA's sample size of Hispanic voters is only 7 percent, which equals about 38 Latino voters out of the entire 550 likely voters in the survey.
Barreto said Georgia's Latino population is over 900,000, and a sample size of only 38 people is "not appropriate for estimating Latino vote preference in Georgia.
The margin of error for the Hispanic sub-sample group in the Survey USA poll is plus or minus 16 percent, according to Barreto.
But Georgia Republican strategist Todd Rehm defended the poll.
"When you start looking at sub-groups, you got to keep an eye on the fact that as the number of respondents goes down, your margin of error goes up," said Rehm said.
But the political parties say they are not worried about polling data, they are just focusing on making sure they adequately reach out to minority groups.
"Regardless of what one poll may show—just as they have in previous elections—Latinos will play a key role in this election in helping to spread the word of the shared priorities between the Democratic Party and their community," said Rebecca DeHart, executive director of the Democratic Party of Georgia.
Republican Party officials say they have 17 field offices in the state, over 40 full-time staffers, and nearly a thousand grassroots leaders organizing in neighborhoods and communities around the state. But, they said, they are not concentrating on one group.
"Every people group - no matter how large or small - will impact the results of this election," said Ryan Matthew Mahoney, a spokesman for the Georgia Republican Party. "For that reason, the Georgia Republican Party continues to engage with traditional Republican voters as well as African American, Latino/Hispanic, and Asian voters in Georgia."
The increasing Latino and Hispanic population numbers does not necessarily mean more of them will show up at the polls on Election Day.
"Despite the fact that the Census data reports the Hispanic population growing pretty quickly, that hasn't necessarily translated into strong showing at the polls as far as we can tell, Rehm said. "If you look at the Secretary of State's numbers, it has hovered around 2 percent of the electorate in the last several general elections."
Gonzales said his group, GALEO, is encouraging Latinos to vote early and to encourage their friends to vote.
"We are doing this specifically in the Latino community because the state of Georgia has a citizenship verification process that people have to overcome in order for them to exercise their right to vote," Gonzales said. "So if they vote early, they will have a longer time to address any issues that may come up in proving citizenship."
The Senate candidates are fighting to replace Georgia's current Senator Saxby Chambliss, who announced earlier in 2013 he would not be running for a third term.
Follow us on twitter.com/foxnewslatino
Like us at facebook.comfoxnewslatino