Latino liberals decry Ted Cruz's presidential campaign, conservatives laud it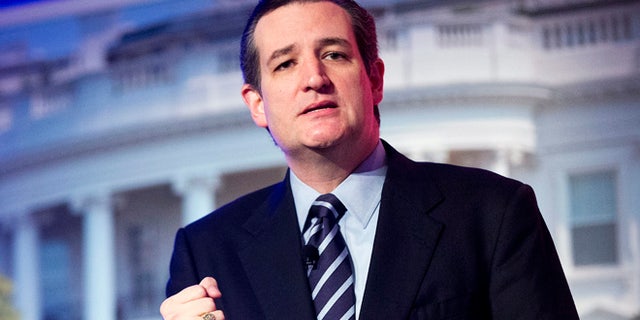 NEWYou can now listen to Fox News articles!
He may be poised to become the first Latino president in the United States, but Latinos have mixed reactions to Sen. Ted Cruz's announcement Monday that he is running.
Latino groups such as the Dream Action Coalition, which favors more lenient immigration policies, balked at the Texas Republican's announcement, and lamented that his vociferous opposition to, say, giving undocumented immigrants a path to legal status made it impossible to cheer a fellow Latino's candidacy for the Oval Office.
In his most recent fight against breaks for undocumented immigrants, Cruz has been a leading opponent of President Barack Obama's executive action suspending deportation for three years for those here illegally who meet certain criteria.
"The only policy of Ted Cruz that Latinos hear is that he wants to do away with DACA for the dreamers, block (the associated) DAPA (program) for our parents and obstruct immigrant reform for years longer," said the co-directors of the coalition, Cesar Vargas and Erika Andiola, in an interview with Efe.
One part of the executive order renews the 2012 Deferred Action for Childhood Arrivals (DACA) – which targeted undocumented immigrants brought to the United States as minors – and expands the deportation relief period from two to three years.
Another major part of the order extends the three-year deportation relief to undocumented parents of people who were born – or have legal permanent residence – in the United States. That program is known as the Deferred Action for Parents of Americans and Lawful Permanent Residents (DAPA).
Cruz, like many Republicans, says he is against giving undocumented immigrants a break because that is tantamount to rewarding law-breakers. Cruz also says that Obama's executive order is unconstitutional and an end-run around Congress.
"Although Ted Cruz has a Latino name and immigration in his past, there the similarities between the Latino community and him end," said Vargas and Andiola to Efe.
Ted Cruz's campaign released a Spanish-language video to announce his campaign. The video's narrator focuses on Cruz's faith in the American Dream, but unlike the English-language version, makes no mention of his opposition to Obama's healthcare plan or comprehensive immigration reform.
On the Internet, some Latino conservatives posted comments of support for Cruz. Indeed, some Latino Tea Party groups have sprouted in the U.S.
Quique Carbonero, founder of RallyForce.org, a conservative group, says he supports Cruz for president because he is not afraid of challenging establishment lawmakers, whether they are on the left or the right of the political spectrum.
Carbonero, who is from Texas and of Cuban descent, added that Cruz "is honest, he does what he says he's going to do. He is courageous, he is not afraid to buck his own party for his beliefs … He's walked in the shoes of a foreigner. He understands the predicament of Latinos and other foreigners wanting to become part of this country — legally."
Cruz's Canadian roots, Carbonero said, gives him an added perspective.
"He can help unite the continent. The fact that he is of Latin descent, but born in Canada, should help him identify with the issues on the entire continent."
CASA in Action, however, views Cruz as out of touch with constituents.
CASA in Action, an organization that pushes for liberal immigration policies, said that even people in Virginia, where Cruz made his announcement, are mainly in favor of a comprehensive reform of immigration that would include a path to legal status for some undocumented immigrants.
"If they don't turn their policies around, Virginia Republicans are facing political oblivion. Accepting anti-Latino and anti-immigrant candidates like Ted Cruz is not a recipe for survival," said Lindolfo Carballo, the Virginia director for CASA in Action, to Efe.
Like us on Facebook
Follow us on Twitter & Instagram