Latina activist presenting Jeb Bush: 'He turned me into a Republican'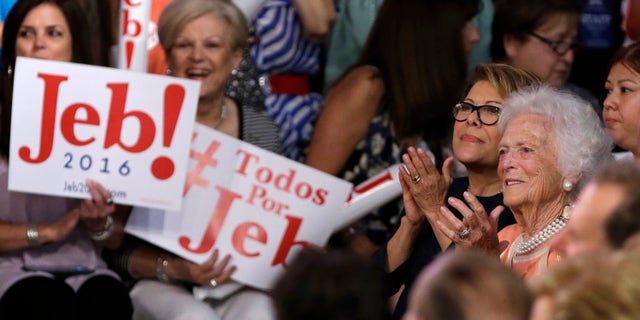 NEWYou can now listen to Fox News articles!
Before Jeb Bush became governor of Florida, Berthy De la Rosa-Aponte challenged him to change the public policy regarding people with disabilities.
The Colombian-American advocate wanted a better life for her youngest daughter Luz – she calls her Lucy – who is heavily handicapped. Back then, in the late 90s, she asked Bush to make it better for Lucy and others with disabilities.
"I challenged him to get to know our family, our struggles," said Aponte on Monday at the Miami-Dade College, during Bush's presidential campaign announcement. "I wanted him to learn and he did."
She said that when Jeb met Lucy, it was special. "Even though she couldn't speak to him, Jeb understood her," she said.
"He actually delivered," she said, adding that after becoming governor, Bush "transformed policies for people with disabilities." She called him "relentless."
"There aren't a lot of politicians like Jeb Bush," Aponte said to frequent applause. "He doesn't care about where you were born … he doesn't care about the color of your skin. He will serve everyone."
She added: "He turned me into a believer. He turned me into a Republican because Jeb Bush is a man of his words."
According to her LinkedIn page, Aponte has been an advocate for people with disabilities for decades. She worked in the 1980s and 1990s as a guidance counselor, first at Cuyahoga Community College in Cleveland, Ohio and then at Broward County Public School System in Florida.
From 2001-2004, Aponte was the principal investigator of the Juntos Podemos (Together We Can) Project in Florida as part of the Administration on Developmental Disabilities with the U.S. Department of Health and Human Services.
On Monday, Aponte said her daughter was her greatest teacher and could only praise Bush for his work to help their family and other Florida families while governor.
In Spanish, Aponte said: "En 2016, Jeb va ser nuestra voz (Jeb will be our voice). El sabe como nosotros nos sentimos (He knows how we feel)."