LAPD arrests anti-Trump Los Angeles councilman among protesters blocking entrances to ICE detention facility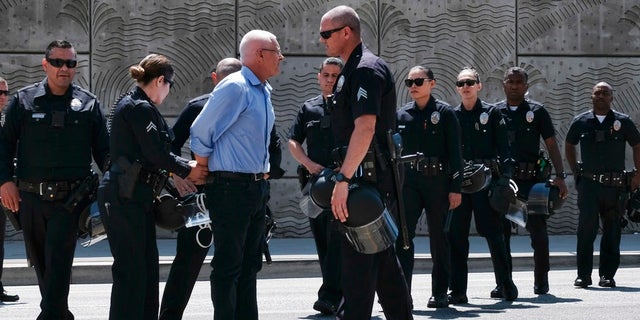 The LAPD arrested a Democratic Los Angeles councilman on Monday after he and other demonstrators blocked the entrances to a downtown Immigration and Customs Enforcement (ICE) detention center for about an hour.
Dramatic footage showed Mike Bonin, a fierce critic of President Trump, being led away in plastic zip-tie handcuffs shortly before noon, after police informed protesters they were engaged in an unlawful assembly.
Images and videos posted to social media showed dozens of demonstrators waving signs and chanting slogans, with several blocking access to the detention center's driveways and entryways.
Eighteen protesters were arrested in total, according to local reports. Bonin's office acknowledged that the councilman had blocked the entrances to the ICE facility, and said that those arrested by the LAPD, including a local rabbi, were released shortly after they were booked.
TOP DEMOCRATIC SENATOR BUCKS CALLS TO ABOLISH ICE
The government "is putting children in baby jails" and "internment camps," Bonin told reporters before his arrest. "Our government is inflicting knowing, intentional trauma upon the most innocent and the most vulnerable." The White House has said Democrats share the blame for the crisis at the border; Trump signed an executive order last month aiming to end family separations.
Bonin did not elaborate on particular policy proposals he would like to see. Pressed for specifics, Bonin spokesman David Graham-Caso told Fox News that the councilman would "like to see the federal government not ripping babies away from their mothers and not putting families in internment camps -- that would be a start."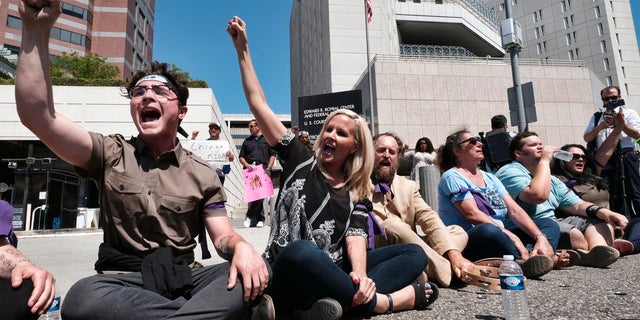 After Trump signed the executive order, Bonin wasted no time declaring that the move wouldn't stand in the way of his planned demonstrations.
"This BS exec order ain't fooling anyone," Bonin tweeted June 21, just one day after the White House announced the order. "Our Saturday demonstration is ON."
TRUMP PREDICTS ELECTORAL SHELLACKING FOR DEMS WHO RUN ON ABOLISHING ICE
He went on to call President Trump "evil" and referred to him as the "kidnapper-in-chief."
The public demonstration marked the latest high-profile episode in which Democrats have taken the immigration fight to the streets.
In June, seven Democratic lawmakers gained entry to an immigration detention center in New Jersey after "arguing" with the police and "literally banging on the door," one of the congressmen posted on Twitter.
Earlier that month, Oregon Democratic Sen. Jeff Merkley recorded his unsuccessful attempt to enter a Texas ICE facility. An official there could be heard telling him to "please go away."