Land grab? Local officials blast move by Obama to set aside 500,000 acres in NM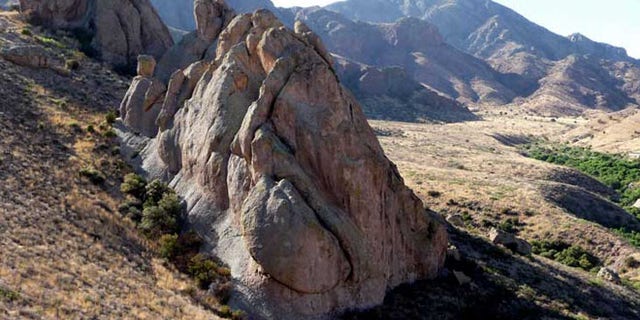 WASHINGTON – Local officials in New Mexico warn a move by the Obama administration to designate nearly a half-million acres as a national monument could open up a crime corridor making it easier for illegal immigrants to cross the border and for drug cartels to operate undetected.
President Obama made the announcement Wednesday afternoon, setting aside 498,815 acres of land as the Organ Mountains-Desert Peaks National Monument. Unlike national parks which must be approved by Congress, the president has the power to designate national monuments.
"I'm not finished," Obama said during Wednesday's ceremony. The New Mexico national monument is the second one he's designated this year.
He added, "I am here to pick up a little bit of the slack because there is no time to waste to preserve precious resources and give a shot in the arm to local economies."
But Dona Ana County Sheriff Tom Garrison told FoxNews.com the monument will likely hamper law enforcement's ability to patrol the area. That's because nearly half of the land will be set aside as wilderness. When that happens, the area will be largely closed off to vehicles, including police cars.
Garrison said his concerns have fallen on deaf ears, and says he's been shut out of the process.
"They tell the media they have talked to law enforcement, but they haven't talked to local law enforcement," he said. "They haven't talked to me. They talk to Border Patrol and Border Patrol tells [lawmakers and media] whatever Washington tells them to say."
The White House, in explaining the designation, cited the historic and scientific value of the land, under powers granted to the president under a more-than-100-year-old law called The Antiquities Act.
The law, signed by Theodore Roosevelt, was originally passed out of concern for protecting Native American artifacts but allows a president to set aside land for "historic and prehistoric structures, and other objects of historic or scientific interest."
But Garrison argues the designation hurts his deputies' abilities to keep the area safe. Garrison said while his deputies will not be legally allowed on the land, it is unlikely smugglers will suddenly start obeying the rules.
"The cartel is smart. It's not a stupid operation," Garrison said.
Following the designation ceremony, House Speaker John Boehner, R-Ohio, called out Obama for failing to include additional protections for border security.
"At a time of continued cartel violence in Mexico, we should not be putting any additional restraints on efforts to protect our borders," he said in a written statement.
Citing "unresolved security gaps along the border," Rep. Rob Bishop, R-Utah, asked Obama to reconsider the monument designation.
"National parks, monuments and wilderness areas along our southern border have become prime drug-trafficking corridors for violent criminals and drug cartels," Bishop wrote to Obama in a May 19 letter.
Bishop, chairman of the Natural Resources Committee's public lands subcommittee, said it is "irresponsible" for the administration to focus on new land designations rather than address existing criminal activities at the border.
The White House, though, says the new national monument could generate more than $7.4 million in new annual economic activity.
The money, the White House said in a written statement, would come from "new visitors and business opportunities while preserving access for sportsmen, ranchers and recreational users."
The area is known for its petroglyph-lined canyons of the Sierra de las Uvas Mountains. It's also the old stomping grounds of Billy the Kid and Geronimo and was once the training ground for the Apollo Space Program.
New Mexico Republican Rep. Steve Pearce initially supported a much smaller 54,800-acre monument – about one-tenth the size of the one being declared Wednesday. But the state's two Democratic senators, Tom Udall and Martin Heinrich, lobbied for the much larger land deal.
In a recent Facebook posting, Henrich thanked "the local community's tremendous grassroots efforts over the last decade," in pushing to have the Organ Mountain-Desert Peaks designated as New Mexico's newest national monument.
Local ranchers have also expressed concern and say they are worried the designation will cut into their grazing rights.
In April, Nevada rancher Cliven Bundy gained national attention after claiming grazing rights to federally owned land. The Bundy case drew media coverage after armed militia groups forced the Bureau of Land Management to abandon its roundup of his herd.
Calls to the Border Patrol were not returned. Calls to the Bureau of Land Management, which operates under the Department of Interior, also were not returned.