LaHood Gives Air Traffic Controllers Extra Hour of Rest, Opposes Breaktime Napping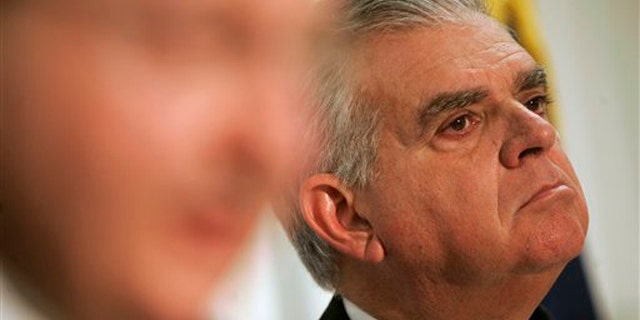 NEWYou can now listen to Fox News articles!
Transportation Secretary Ray LaHood on Sunday announced new safety changes for air traffic controllers after several of them were caught sleeping on the job, leaving pilots to land on their own.
Among the changes, LaHood said the department will give controllers an extra hour of rest in between shifts. But he said he would not permit workers to take naps while on break, something other countries like Germany allow.
"Controllers will not be paid to take naps," the secretary said.
Speaking on "Fox News Sunday," an animated LaHood said the schedule changes should make a difference, but stressed that the department would continue to fine-tune if necessary. He said that even as the department makes changes to the rules, air traffic controllers need to take more "personal responsibility" on the job.
"I don't know when I've ever been madder. I'm outraged about this," LaHood said. "We're doing everything we can 24-7 to correct this problem."
LaHood announced several key changes on "Fox News Sunday." He said air traffic controllers would be required to take at least nine hours off, instead of eight, between shifts, and managers would have to be more available in the late night and early morning hours. Controllers would also be prohibited from swapping shifts unless they adhere to the nine-hour buffer; and would not be able to switch into an unscheduled midnight shift after a day off.
Controllers were known to set up schedules that crammed in a combination of evening, day and overnight shifts, separated by just two eight-hour rest periods. The schedule gave them a three-day weekend, but could, as recent incidents suggest, leave them vulnerable to fatigue.
"We thought controllers really were getting the rest that they needed," LaHood said, when asked why the department didn't pick up on the problem earlier.
The series of incidents involving sleeping air traffic controllers has raised questions about whether the problem has been going on for years, but LaHood said it's the first he's heard about it. He repeatedly said he's "mad" about the incidents and pledged a "top-to-bottom review" to correct it.
The Federal Aviation Administration said in a statement after the interview that the changes had already been put in place and would be in full effect by week's end.
The announcement is the administration's latest attempt to deal with the problem of dozing radar operators. Since March, there have been known instances of controllers falling asleep on duty at six U.S. airports. The latest, at Miami, occurred over the weekend.
LaHood stressed that despite the changes, he would not allow air traffic controllers to take sleeping breaks during overnight shifts. That conflicts with the findings of a fatigue study -- the report on air traffic controllers, which has not yet been formally released, recommends allowing controllers to sleep on their breaks.
Earlier, the FAA announced it would no longer permit single staffing at some airport towers during the overnight shift. The FAA chief in charge of air traffic controllers also resigned amid the controversy last week, as lawmakers called for changes in the system.
Over the next several weeks, transportation officials plan to visit air traffic offices across the country to review safety standards.