Labor Board Dials Back Union Proposal Amid Shutdown Threat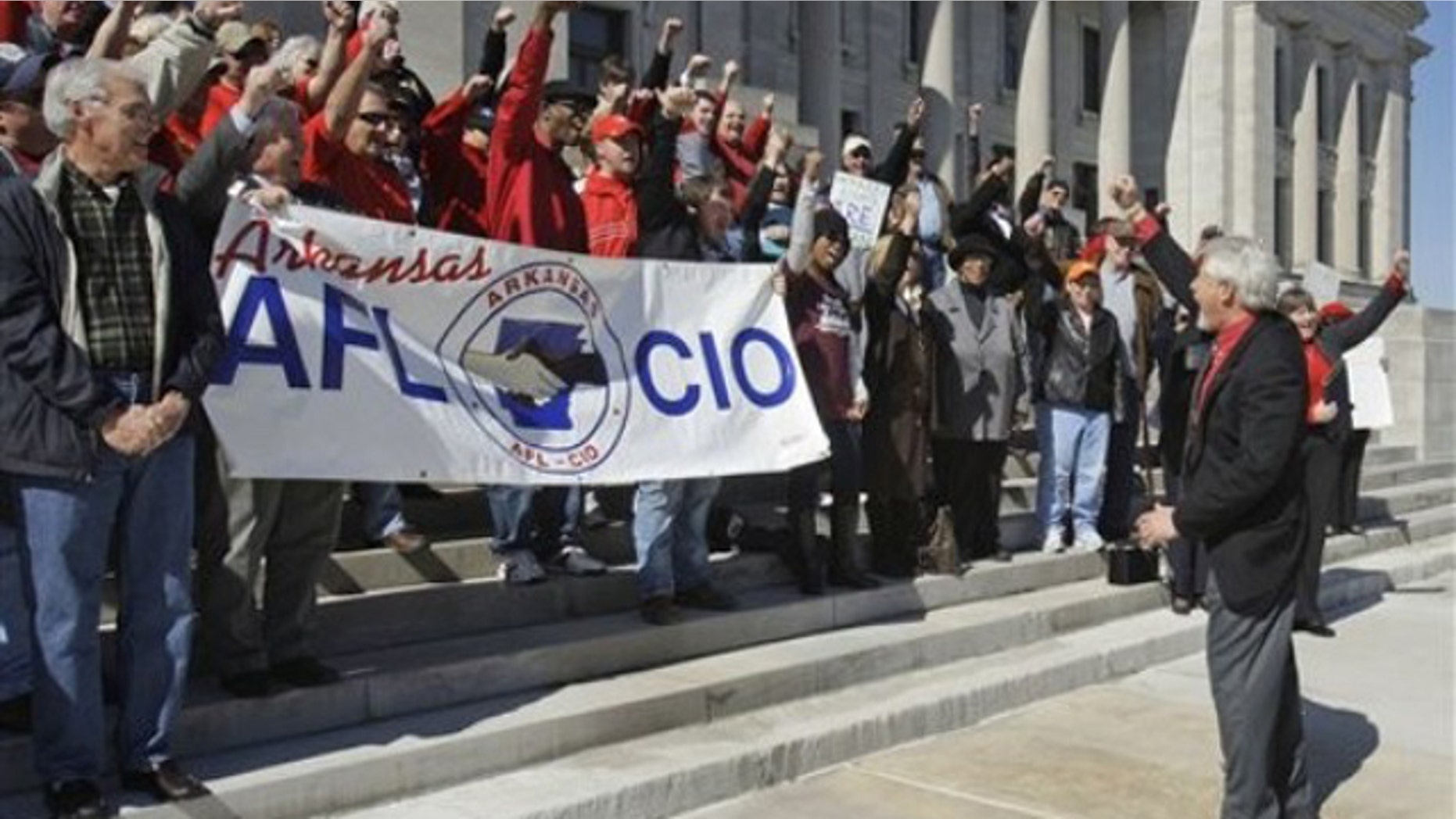 The chairman of the National Labor Relations Board has dialed back a proposal that had members of the board on a collision course ahead of a meeting Wednesday.
The original proposal would speed up and simplify union elections. In protest, the panel's lone Republican member had threatened to resign -- a move that would effectively shut down the board and prevent the vote on union organizing.
But board Chairman Mark Pearce on Tuesday presented what he described as a "more limited resolution." He said it would only apply to "the minority of elections which are held up by needless litigation" and other disputes. He said other changes to the election process should stay on the table for future consideration.
It's unclear whether the Republican member, Brian Hayes, would in turn reconsider his threat to resign -- a threat Pearce claims he made weeks ago.
If the board were at full membership, the resignation of one member might not be a problem. But the NLRB, which is supposed to have five members, currently has only three. Hayes' resignation would deprive the board of a quorum and in turn disallow it from issuing regulations and rulings.
Even without Hayes' resignation, the board already is careening toward that scenario, with Democratic member Craig Becker's recess appointment set to expire at the end of the year without action by Congress.
The standoff has resulted in a rapid-fire exchange of accusations over the past several weeks. The NLRB is much-loathed by Republicans, who see it as a vehicle for passing pro-union decisions favored by the Obama administration. The independent federal agency is meant to look after and protect the rights of workers to improve their working conditions
Democrats are concerned the entire operation of the NLRB will get caught up in this feud.
Hayes, who has the backing of Republicans in Congress, claims his Democratic colleagues are not giving him enough time to prepare his response on the union-elections proposal. He alleges they initially kept him in the dark about the elections proposal, before offering a "take-it-or-leave-it" deal. Hayes also claims the board is bent on violating the practice of requiring three 'yes' votes to overrule precedent.
"I have substantial doubts about the legal viability of my colleagues' proposed course of action," Hayes wrote in a Nov. 18 letter to Rep. John Kline, R-Minn., chairman of the House Education and the Workforce Committee.
But Democrats and union officials suggest Hayes is being pressured to step down in order to hamstring the board -- which is a favorite bogeyman among conservatives, particularly in light of an attempt by a board attorney to stop Boeing from opening a production line at a non-union site in South Carolina.
South Carolina Gov. Nikki Haley and others earlier had suggested Hayes resign.
Rep. George Miller, D-Calif., Kline's Democratic counterpart on the education and workforce committee, last week wrote a letter to Hayes suggesting any move to step down "will be the result of objectionable motives or improper influence." He asked Hayes to provide documents detailing any communication he had with people outside the board about his possible resignation.
"The open calls to resign, followed by the threats you allegedly have made, raise the specter of private requests as well," Miller wrote, describing the situation as "troubling."
"Threatening to shut down the board itself if fellow members make policy choices with which you disagree is, to my knowledge, unprecedented behavior from a member of the board," he wrote.
Asked about the upcoming meeting, a spokesman for Miller said "nobody knows" whether Hayes might follow through on his threats.
NLRB spokeswoman Nancy Cleeland also said the rest of the board is not sure what will happen, though the meeting and vote are still scheduled for Wednesday.
"We're not speculating on what might happen," she told FoxNews.com.
Meanwhile, Pearce has rejected Hayes' claims about the proposed rule on union elections. In a Nov. 21 letter to Hayes, Pearce wrote that Hayes had been "fully informed about and invited to participate in" the process. Further, he alleged that Hayes and his staff did not even inquire about the comment-review process until mid-November, a process that entailed sifting through more than 65,000 comments on the proposal. Plus Pearce claimed Hayes had declined to attend recent meetings.
"In short, you have not in any way been excluded from the process of deliberation concerning the proposed rules. Rather, you have refused to assist with that process in any respect and refused to engage in the normal give-and-take of deliberation of a multi-member board," Pearce wrote.
As for Hayes' claim that the vote would require three members, Pearce said that standard does not apply here. He urged Hayes to stay on with the board, and on Tuesday afternoon unveiled what he described as a "limited" proposal on union elections.
Hayes did not return a request for comment Tuesday from FoxNews.com.
Meanwhile, Kline is pushing a bill in Congress that would effectively nullify any attempt by the NLRB to shorten the election process. That bill is expected to hit the House floor Wednesday.
Kline spokesman Brian Newell said the original NLRB proposal could allow aspiring union leaders to hold an election in as few as 10 days, whereas the typical union election now takes more than 30 days to set up.
Americans for Limited Government President Bill Wilson on Tuesday issued a statement in support of the Kline bill, calling the NLRB proposal a bid to "institute snap elections on behalf of unions, shortening the amount of time businesses will have to make their case to their employees."
Wilson described the NLRB proposal being considered Wednesday as an "abusive power grab by the NRLB."
However, Pearce said Tuesday that the proposal up for consideration Wednesday would only apply to disputed elections that typically take more than 100 days to put together.