Kyl: Republicans Agree to Revenue Increases in Deficit Talks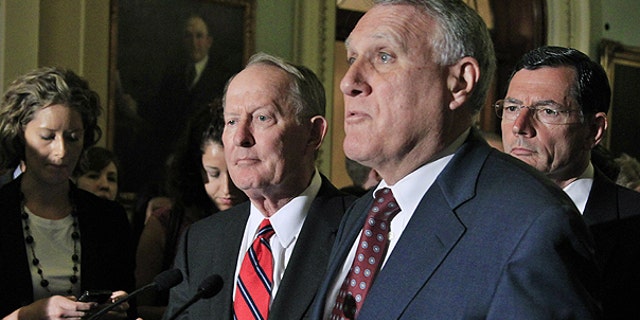 A top-ranking GOP Senator said Wednesday that Republicans have agreed to revenue increases as part of a deficit-reduction measure.
"If you add up all of the revenues that we Republicans have agreed to, it's between $150 billion and $200 billion," said Senate Minority Whip Jon Kyl, R-Ariz., during a speech on the Senate floor.
Kyl said two potential ways to bring that revenue to the government would be through increasing fees for government services or selling government property.
"If the government sells something and gets revenue from it, that's revenue," Kyl said. "If there is a user fee of some kind and we want to raise that to keep up with the times, that's revenue."
A top House Republican Wednesday also signaled new flexibility on White House demands to close wasteful or ineffective tax loopholes as a way to bridge differences with President Obama and congressional Democrats in talks on a plan to reduce the deficit and pave the way to increase the government's borrowing authority.
The administration says that if the borrowing authority is not increased by Aug. 2, the U.S. will face its first default ever, potentially throwing financial markets into turmoil, raising U.S. interest rates and threatening the economic recovery.
"If the president wants to talk loopholes, we'll be glad to talk loopholes," said House Republican Majority Leader Eric Cantor. Cantor added that any revenues raised from closing such loopholes "should be coupled with offsetting tax cuts somewhere else."
Cantor's comments reflected important, if nuanced, flexibility for Republicans. His earlier position was that closing loopholes should wait for a comprehensive effort to reform the tax code.
Cantor declined to specify what tax cuts should be financed by any new loophole-related revenues, but he declined to rule out using them to pay for renewing expiring tax cuts like a popular credit for new research and development that's popular with businesses.
The show of flexibility comes in advance of a White House meeting Thursday between Obama and top congressional leaders. Spokesman Jay Carney said Wednesday that Obama is confident that there are enough lawmakers from both parties to support a deal that would reduce the debt by more than $2 trillion over the next 10 years with spending cuts and tax increases.
"The president believes, we believe, that there are enough members of both parties in both houses who support the idea that a big deal has to be balanced and therefore include spending cuts in the tax code," Carney said, employing a phrase White House officials use to describe ending tax loopholes and tax subsidies for certain taxpayers and corporations.
The assertion reinforced and expanded on Obama's comments Tuesday that back-channel talks with congressional leaders last weekend produced new progress in advance of a White House session Thursday on deficit reduction. While suggesting progress, Carney said no final deal should be expected from Thursday's meeting.
The president is siding with the Republican leader of the House, Speaker John Boehner, in insisting that negotiators resist the temptation to "kick the can down the road" and settle for a makeshift, short-term solution to stave off a first-ever U.S. default next month.
At issue is the need to raise the government's so-called debt limit to avoid a default on its obligations to bondholders and government pension beneficiaries. Republicans want deficit cuts in the range of at least $2.4 trillion over 10 years to offset the amount of new government borrowing needed simply to avoid another vote before 2013.
Obama met with Boehner on Sunday, the first session since Republicans last month abandoned negotiations being led by Vice President Joe Biden. Carney on Wednesday declined to discuss that meeting, refusing even to acknowledge that it had occurred. He said the negotiations had a better chance of success if the details of the talks were kept under wraps.
The Biden talks had produced a series of tentative understandings on potential spending cuts totaling at least $1.6 trillion under administration math and $2 trillion or more under GOP math. But negotiators say a true agreement on those cuts -- to day-to-day agency operating budgets, defense, federal pensions and farm subsidies, among other things -- would require further sacrifice in the political priorities of Democrats and Republicans alike.
The Associated Press contributed to this report.