Nielsen denounces 'misinformation' about clashes at border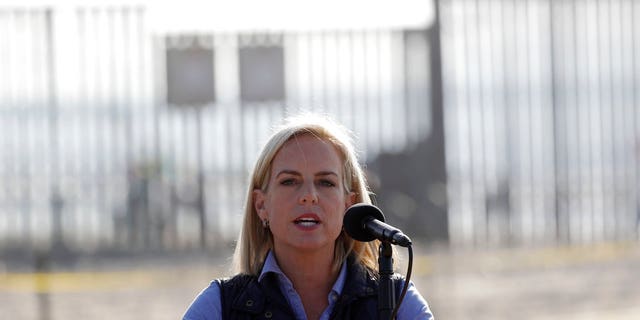 Department of Homeland Security Secretary Kirstjen Nielsen released a statement Monday evening to dispel "rumors and much of the misinformation" regarding Sunday's clash between border authorities and migrants at the San Ysidro Port of Entry in Calif.
Hundreds of migrants from the leading Central American caravan pushed past Mexican riot police Sunday afternoon to rush for the border. Some migrants appeared to throw rocks at U.S. authorities while border agents fired several rounds of tear gas.
HUNDREDS OF MIGRANTS TRY RUSHING TOWARD CALIFORNIA PORT OF ENTRY, AS TRUMP THREATENS TO CLOSE ENTIRE BORDER
The violence was "entirely predictable," Nielsen said, given the caravan's confrontation with Mexican authorities in recent weeks. She said the caravan, which comprises 8,500 people from Guatemala, Honduras and El Salvador, is now in Tijuana and Mexicali, with an additional caravan on the way.
The "overwhelming majority of these individuals are not eligible for asylum in the United States under our laws," she said.
Historically, only 10 percent of asylum seekers from those countries are not eligible for asylum.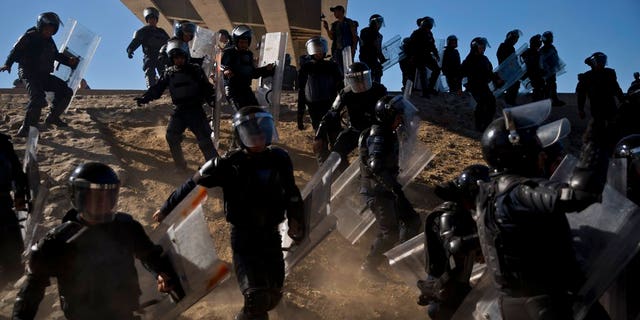 "They have all refused multiple opportunities to seek protection in Mexico with the UNHCR, the UN Refugee Agency. Seeking employment or family reunification are not grounds for asylum under our laws, or any international obligation. There are, however, legal ways to seek a job or to be reunited in the U.S.," her statement read.
Nielsen criticized some of the "predominately male" caravan members who reportedly used women and children as "human shields" when they confronted law enforcement.
HONDURAN CARAVAN MEMBER HURLED ROCKS AT BORDER PATROL AGENTS, SET TREE ON FIRE: CBP
She said Homeland Security has confirmed that more than 600 caravan members are convicted criminals, posing a "national security and public safety risk" to the U.S.
She concluded her statement by praising the Border Patrol Agents for their response – which she said yielded no injuries – and President Donald Trump for his decision to send the Department of Defense to the "border to bolster our ports of entry and provide force protection for Customs and Border Protection."
"[T]his Administration has been working nonstop to fix our immigration system to address the crisis at the border. We have proposed legislation and asked Congress to pass it. The President has repeatedly made clear what is needed to secure our border and negotiated in good faith. It is time for Congress to do its job," she wrote.