Key Republican Warns Kagan Is 'Dangerous'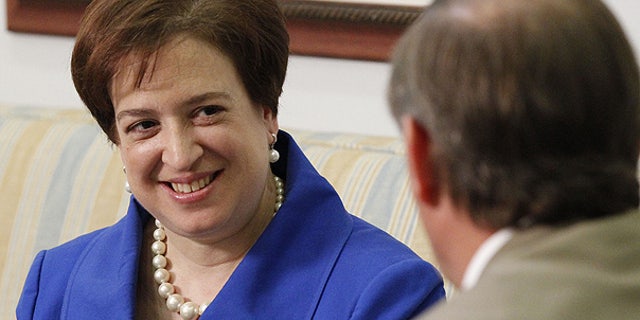 WASHINGTON -- Supreme Court nominee Elena Kagan picked up more GOP backing Wednesday in her drive toward near-certain confirmation next week, even as a top Republican lashed out at her as "dangerous."
Sen. Jeff Sessions of Alabama, the senior Republican on the Judiciary Committee, warned senators in unusually dire terms against voting for President Barack Obama's choice, saying, "Be careful about it, because I'm afraid that we have a dangerous, progressive, political-type nominee."
Sessions' words of caution -- he said they were primarily directed toward Democrats -- came just hours after Sen. Olympia Snowe of Maine became the fourth Republican to say she would break with her party to vote for Kagan, who's in line to succeed retired Justice John Paul Stevens.
Democrats already have more than enough votes to confirm her.
In a statement, Snowe said Kagan had met her standard for a justice, "with the strong intellect, respect for the rule of law, and understanding of the important but limited role of the Supreme Court that I believe is required." She said endorsements from leading lawyers, including prominent conservatives, had persuaded her that Kagan had the judicial temperament for the job.
Sessions, however, quoted Obama allies describing Kagan as someone who shares his political views, and argued she would be a liberal rubber stamp for Obama's policies.
"I don't think the American people are going to hold harmless those who vote to impose a legal progressive, activist legislator from the bench upon them," Sessions said.
Most Republicans are expected to oppose Kagan, but they have shown no inclination to mount a filibuster to block her confirmation vote. That leaves opponents with little recourse, other than to try to pressure Democrats from conservative states to oppose her based on her stances on cultural issues that motivate their constituents.
For instance, the National Rifle Association is opposing Kagan, calling her hostile to gun rights and telling senators it will punish them in its candidate ratings for supporting her.
There's no evidence that the tactic is working, however. Sen. Mark Begich, D-Alaska, who has an "A" rating from the NRA and hails from a state where voters cherish gun rights, said the group's rating is "part of the equation" but that he would make his own judgment on Kagan.
Begich, who said he hasn't decided how to vote, said this week that Kagan acknowledges recent Supreme Court rulings recognizing a personal right to own a gun as "precedent-setting, and that's important to me."
Snowe also said it was "critical" that Kagan during her confirmation hearings called the gun rulings "settled law" to be applied in the future.
Kagan, the 50-year-old former Harvard Law School dean, has served as Obama's solicitor general. Snowe is one of seven Republicans who backed her last year for that post. Three of them -- Sens. Tom Coburn of Oklahoma, Orrin Hatch of Utah and Jon Kyl of Arizona -- have said they will oppose her for the Supreme Court, while another three -- Maine Sens. Snowe and Susan Collins and Indiana Sen. Richard Lugar -- have announced plans to back her.
The last of the seven, retiring Sen. Judd Gregg of New Hampshire, has yet to announce his plans.
Republican Sen. Lindsey Graham of South Carolina has also said he will support Kagan. All four GOP senators who have said they will back Kagan so far also voted for Obama's first Supreme Court nominee, Justice Sonia Sotomayor.