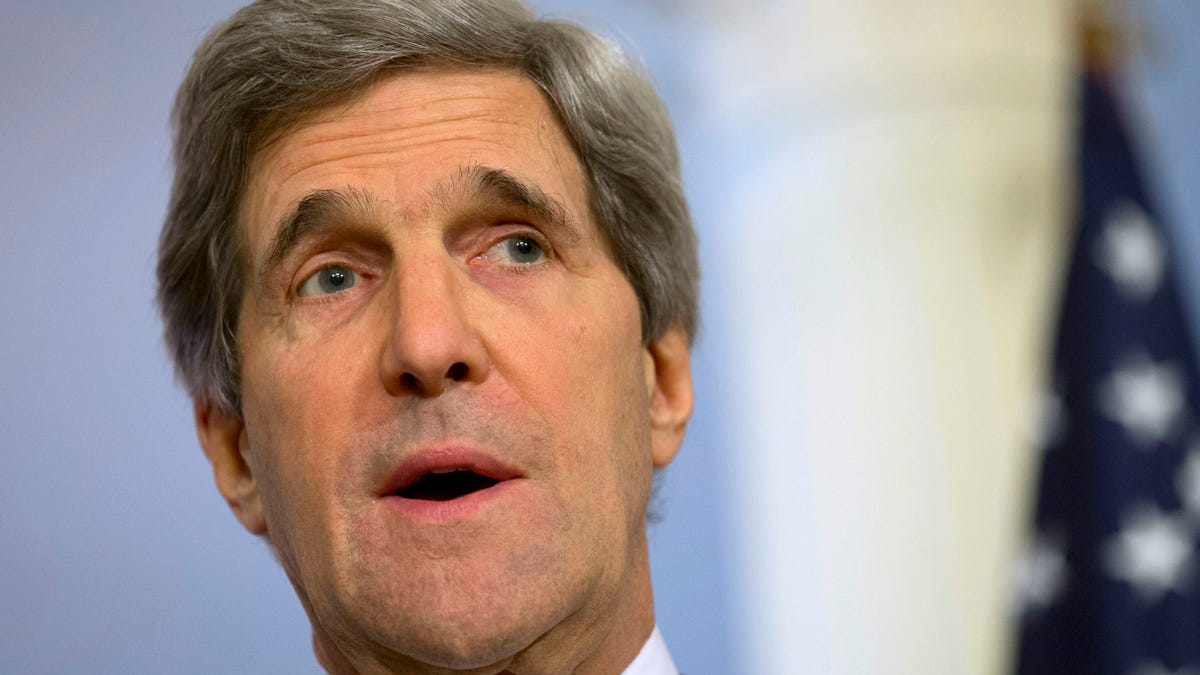 Secretary of State John Kerry and a top White House official claimed Sunday that the U.S. strategy to defeat the Islamic State is working – despite warnings from other corners of the Obama administration that the terror network is in fact spreading.
Following the purported deaths last week of two ISIS hostages and concerns about the U.S. needing to do more, Kerry told NBC's "Meet the Press" that the U.S.-led coalition was "on the road" to defeating the Islamic extremist group, also known as ISIS or ISIL, in Iraq and Syria.
He argued that coalition forces have recaptured 22 percent of the populated areas that ISIS once held in the region "without launching what we would call a major offensive."
The claim came just days after Lt. Gen. Vincent Stewart, director of the Defense Intelligence Agency, delivered a grim assessment of the group's evolution in testimony to the House Armed Services Committee. He described how the group was surfacing in North Africa.
"With affiliates in Algeria, Egypt, Libya, the group is beginning to assemble a growing international footprint that includes ungoverned and under governed areas," Stewart testified.
Defense secretary nominee Ashton Carter, who had his confirmation hearing Wednesday, also told Congress this past week he is aware of reports that ISIS may try to expand into Afghanistan.
Still, retired Gen. John Allen, the White House special envoy on the Islamic State, told ABC's "This Week" that the United States has accomplished its goal of devising a "comprehensive plan" and striking a "hard blow."
"I believe they have actually," said Allen, pointing to the northern Syria town of Kobani. Kurdish troops took control of the town several days ago after hundreds of coalition airstrikes on ISIS positions.
Kerry and Allen got some support for their argument from Jordanian Minister of Foreign Affairs Nasser Judeh.
Judeh told ABC later in the show that ISIS is "on the run," but that certain victory "will not be quick."
"They are not gone yet," he said. "The air campaign has degraded their capabilities on the ground. They still control territories. They still have access to Syria's cash and funds and sophisticated weaponry… . But there is no doubt we shall prevail."
Allen and Judeh's positive analysis was preceded Sunday by Lt. Gen. Michael Flynn, the former director of the U.S. Defense Intelligence Agency, who says the United States' overarching strategy for combating Islamic extremist groups is not working.
"The counterterrorism component works just fine to go after the high-value targets and key leaders," he told "Fox News Sunday." "But we need a much broader strategy that recognizes that we're facing not just this tactical problem of ISIS in Iraq and Syria. … I think what I'm saying is the strategy that we have is not working, and it's clearly not working."
He estimated the size of the enemy has doubled in the past 10 years and pointed to such hotspots as middle-central Asia, northern Africa and sub-Saharan Africa.
However, Flynn also made clear the responsibility to craft a comprehensive plan goes beyond the White House to Congress.
Flynn made his remarks as Congress prepares this week to consider whether to give Obama the authorization to use military force against Islamic State.
Some critics of the current administration plan -- essentially airstrikes in Iraq and Syria with U.S. troops helping train local militias -- want to send American combat troops into the region.
However, the so-called "boots on the ground" strategy appears unpopular for war-weary Americans.
And on Sunday, Texas GOP Sen. Ted Cruz, a potential 2016 White House candidate and ardent Obama administration critic, voiced opposition to sending U.S. troops overseas.
"I don't believe right now we need American boots on the ground. And the reason is, we have boots on the ground already, with the Kurds," he told ABC.
However, he also argued the U.S. needs to supply them with more weapons.