Kerry says 'genuine progress' made toward Iran nuclear deal, but 'gaps remain'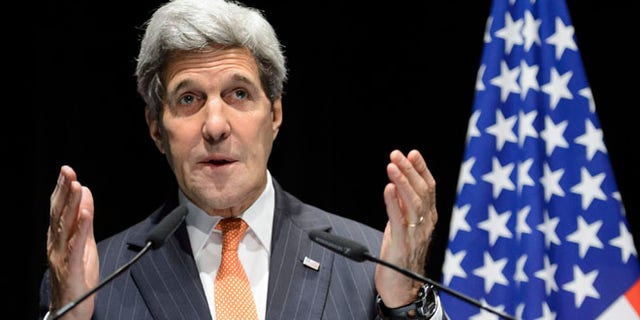 NEWYou can now listen to Fox News articles!
The United States and Iran said Saturday they've made progress toward reaching a nuclear agreement by a March 31 deadline. But Secretary of State John Kerry says "important gaps remain."
Kerry and Iran President Hassan Rouhani spoke at the conclusion of a week of talks in Switzerland. They will return for at least one more meeting before the preliminary deadline.
"Genuine progress," has been made, Kerry said.
Kerry also said he will stop in London later Saturday before returning to Washington to talk with France and United Kingdom leaders involved in the negotiations to "share ideas this evening on how to resolve remaining sticking points … to determine whether a deal is possible." He also said he has already spoken with China and Russia.
Germany is the other country involved in the talks, in which the world powers are trying to keep Iran for developing a nuclear weapon. Iran says its nuclear enrichment program is only for peaceful purposes.
"We are united in our goal, our approach, our resolve and determination to ensure Iran's program is entirely peaceful," Kerry said.
In Tehran, Iranian President Hassan Rouhani was more optimistic. "Achieving a deal is possible," he said. "There is nothing that can't be resolved."
Other negotiators offered both positive and negative assessments. Top Russian negotiator Sergey Ryabkov and Iran's atomic energy chief Ali Akbar Salehi said in recent days that technical work was nearly done. But French officials said the opposite, declaring the sides far from any agreement.
France, which raised last minute objections to an interim agreement reached with Iran in 2013, could threaten a deal again. It is particularly opposed to providing Iran with quick relief from international sanctions and wants a longer timeframe for restrictions on Iran's nuclear activity.
On Twitter Friday, France's ambassador to the U.S. called talk about needing a deal by March 31 a "bad tactic" that is "counterproductive and dangerous." Gerard Araud called it an "artificial deadline" and said negotiators should focus instead on the next phase -- reaching a complete agreement by the end of June.
Kerry said the U.S. wasn't rushing into a pact, stressing that the latest stab at a diplomatic settlement with Iran has gone on for 2 1/2 years. "We don't want just any deal," he said. "If we had, we could have announced something a long time ago."
The Republican-led Congress and other critics of the Obama administration's foreign policy have repeatedly argued that the U.S. should not rush into a bad deal and have insisted that Capitol Hill gets to vote on a final agreement.
The Senate Foreign Relations Committee said Thursday it will take a vote April 14 on bipartisan legislation giving Congress such review authority.
Congress has also considered imposing more sanctions on Iran, a move the administration opposes, saying it could jeopardize the negotiations.
"We want the right deal that would make the world, including the United States and our closest allies and partners, safer and more secure," Kerry said. "And that is our test."
The Associated Press contributed to this report.
.