Kerry nomination attracts no outcry, but his liberal record likely to draw scrutiny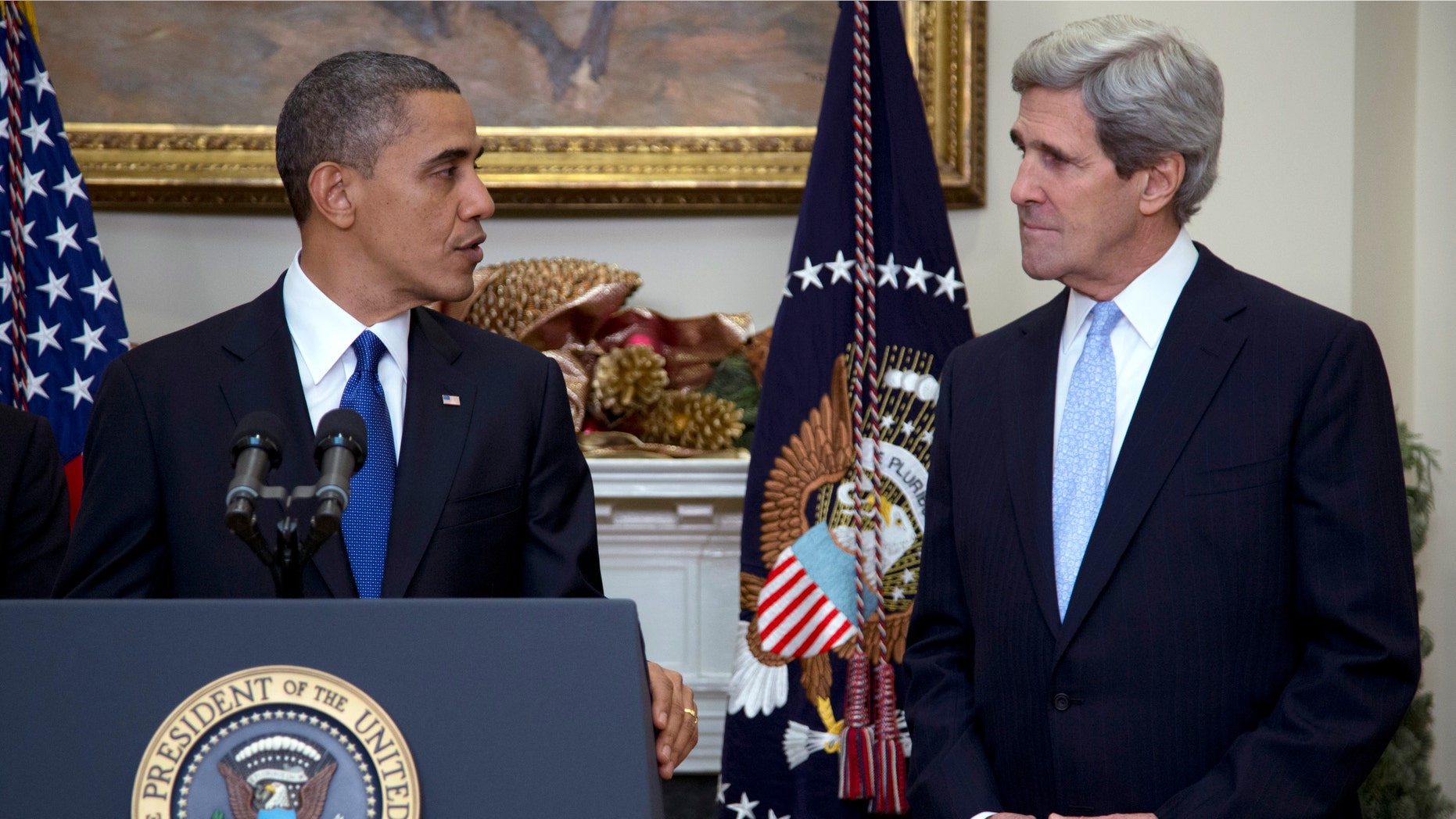 Sen. John Kerry appears to have bipartisan support for becoming the next secretary of state -- with a long history of public service that makes him one of Washington's most seasoned foreign policy experts and most liberal Democrats.
Kerry, chairman of the Senate Foreign Relations Committee, started garnering Republican support practically from the time U.S. Ambassador Susan Rice's potential nomination began unraveling last month and he emerged as President Obama's next likely pick.
Sens. John McCain, Ariz., and Lindsey Graham, S.C., Rice's harshest critics, both praised Kerry from the onset and continued this weekend to show support for his nomination.
Though Kerry is expected to sail through the Senate confirmation hearings, Graham and McCain have hinted the decorated Vietnam veteran will not get a free pass.
Graham called the 69-year-old Kerry a "solid choice."
McCain, also a Vietnam veteran, praise Kerry for serving the country with honor and distinction but said only that he looks forward to "considering" the nomination.
McCain also told Fox News that his decision will be based on whether he thinks Kerry has the ability to "carry out his responsibilities," not on their conflicting views, including Kerry saying in the early 1990s that President George H.W. Bush's Operation Desert Storm would fail.
Kerry, the son of a diplomat, is perhaps one of the most liberal voices in the Senate.
During his 27 years in the chamber, the 2004 Democratic presidential nominee has characterized climate change as a national security threat and has pushed for the reduction the nuclear weapons.
He won election in 1984 in part with a campaign that supported a nuclear freeze between Russia and the United States. And after being elected, Kerry unsuccessfully opposed President Reagan's plan to base U.S. cruise missiles and nuclear-tipped Pershing missiles in Europe. Reagan's decision to deploy the nuclear weapons is considered key in helping the country win the Cold War against Russia.
A few months after being elected in 1985, Kerry and Iowa Democratic Sen. Tom Harkin went to Nicaragua to meet with President Daniel Ortega, leader of the leftist Sandinista government that was opposed by the CIA-backed Contra rebels.
The senators brought back a cease-fire promise, prompting the Reagan administration to declare they had been "used" and to dismiss the offer as a "propaganda initiative" to influence pending funding for the rebels. Ortega reportedly took a $200 million Russia loan immediately after Congress voted down its aid package.
Kerry, who in 1971 denounced the Vietnam War in front of a Senate committee, appeared to flip flop on his stance regarding the war in Iraq.
In the aftermath of the Sept. 11, 2001, terror attacks, Kerry said he would vote to give the U.S. authority to use force to disarm Iraq leader Saddam Hussein of weapons of mass destruction. However, after the U.S. invaded Iraq and no weapons were found, Kerry criticized President George W. Bush, saying he misled the country.
Kerry was also among the early supporters of Syrian President Bashar al-Assad, arguing several years ago that he could help bring peace to the Middle East. However, Kerry has now joined Obama in saying al-Assad, accused of killing thousands of civilians opposed to his regime, should go.
He also was among the first Democratic lawmakers to call on Egyptian President Hosni Mubarak to step down as the revolution roiled the nation last year.
Critics of climate change immediately reacted to Kerry's nomination.
"Having a secretary of state who views the emission of a trace essential gas in the atmosphere – CO2 – as some sort of monster threat to national security or the equivalent the 9/11 terror attacks or the equivalent of old Soviet nuclear warheads, is a sad day in American history," said Marc Morano of the group Climate Depot. "Kerry is ignoring a large body of data and research that demolishes his beliefs. The American people deserve much better."
The Associated Press contributed to this report.