Kavanaugh confirmation: The latest developments on charges by Supreme Court nominee's accuser
The confirmation hearing for Supreme Court nominee Brett Kavanaugh was contentious, but still, the federal judge was expected to be confirmed by the Senate – until a psychology professor came forward to publicly accuse him of sexual assault.
Christine Blasey Ford has said Kavanaugh assaulted her while at a house party in the early 1980s, when they were teenagers. She said Kavanaugh held her on a bed, attempted to remove her clothes and held his hand over her mouth to prevent her from screaming.
Kavanaugh has denied the allegations.
After some back-and-forth between Republicans on the Senate Judiciary Committee and Ford's attorneys, both Ford and Kavanaugh appear set to testify before lawmakers Thursday morning.
As the details about the hearing have continued to change, here's an up-to-date look at what to expect from the much-anticipated hearing.
When is the hearing?
The Senate Judiciary Committee has scheduled a committee hearing continuation for Thursday, Sept. 27 at 10 a.m. It will be public.
The hearing will be held in the Dirksen Senate Office Building.
Who will testify?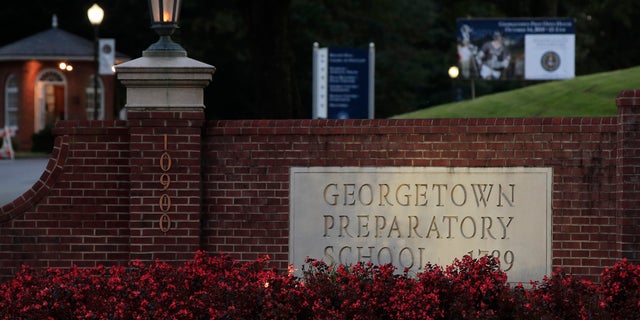 Both Kavanaugh and Ford will testify at the hearing. Ford is expected to tell lawmakers about her accusation: Kavanaugh allegedly pinned her to a bed, tried to remove her clothes and covered her mouth with his hand while at a house party in the early 1980s.
KEY PLAYERS IN THE KAVANAUGH, FORD SENATE HEARING
In her opening statement, which has already been released, Ford will testify that she was the most frightened when Kavanaugh allegedly covered her mouth to keep her from screaming. She said it "has had the most lasting impact on my life."
"It is not my responsibility to determine whether Mr. Kavanaugh deserves to sit on the Supreme Court. My responsibility is to tell the truth," she will testify.
Kavanaugh has vehemently denied the allegations and has said he wanted to testify to clear his name ever since the accusation came to light. He told Fox News' Martha MacCallum that he wants a "fair process where I can defend my integrity."
What is the format?
Judiciary Committee Chairman Chuck Grassley, R-Iowa, and Ranking Member Dianne Feinstein, D-Calif., will make opening statements.
Ford will testify first and will have the opportunity to give an opening statement without any time limit.
Then, senators will be allotted five minutes to ask questions. They can also defer to a designated counsel during this time.
After Ford is finished and has left the room, it will be Kavanaugh's turn. He, too, will be allowed to give an opening statement without time constraints. Senators will be allotted the same five minutes for questions.
Keep in mind that Kavanaugh's original hearing was derailed multiple times by protesters and Democratic senators.
What were some conditions?
Grassley wrangled with Ford's team ahead of the scheduled hearing over the terms of her appearance. He was able to grant some of her requests.
After originally being planned for Monday, the hearing was moved to Thursday. It will take place in a smaller room with only one camera and "limited press access." Ford was also guaranteed the ability to be able to testify without Kavanaugh in the room, "adequate breaks" and security.
However, the committee did not agree to other demands, including: making Kavanaugh testify first and only allowing senators to ask questions.
Who will ask the questions?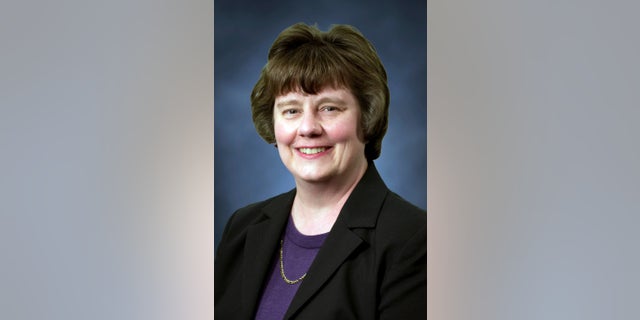 Senate Republicans have designated Rachel Mitchell, a decorated career sex crimes prosecutor with decades of experience, as outside counsel who can participate during the hearing.
The GOP side of the Judiciary Committee is made up of 11 men – which could send an unwanted message on live television against the backdrop of the #MeToo era.
KAVANAUGH'S ACCUSER WANTS FBI TO INVESTIGATE ASSAULT CLAIM: WHY THE BUREAU LIKELY WON'T
Senate Democrats will still be able to ask their own questions, if they so choose, and  some have said they intend to do so.
Will there be any witnesses?
Ford's lawyers repeatedly requested to pick witnesses for the hearing, but that was left up to the Judiciary Committee to determine who would be called. Specifically, her attorneys demanded Mark Judge – a friend of Kavanaugh whom Ford said was in the room when the alleged incident occurred – be subpoenaed and forced to testify as a witness.
Judge has already denied the allegations before the Judiciary Committee, according to lawmakers. Additionally, the Judiciary Committee "does not take witness requests from other witnesses," it said.
Who sits on the Judiciary Committee?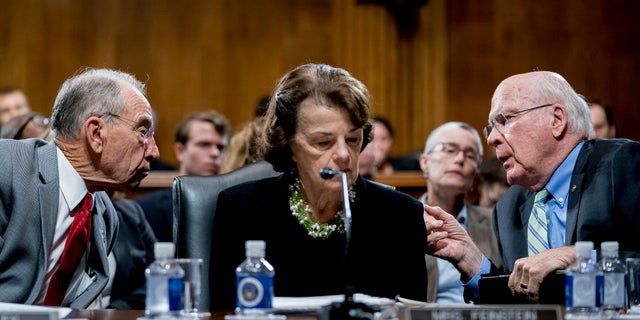 Grassley is the chairman of the committee. Feinstein is the ranking member of the committee.
The Republicans on the committee are: Sens. Orrin Hatch of Utah, Lindsey Graham of South Carolina, John Cornyn of Texas, Mike Lee of Utah, Ted Cruz of Texas, Ben Sasse of Nebraska, Jeff Flake of Arizona, Mike Crapo of Idaho, Thom Tillis of North Carolina and John Kennedy of Louisiana.
KAVANAUGH CONFIRMATION DERAILED BY SEXUAL MISCONDUCT ALLEGATIONS: A LIST OF HIS ACCUSERS
The Democrats on the committee are: Sens. Patrick Leahy of Vermont, Dick Durbin of Illinois, Sheldon Whitehouse of Rhode Island, Amy Klobuchar of Minnesota, Chris Coons of Delaware, Richard Blumenthal of Connecticut, Mazie Hirono of Hawaii, Cory Booker of New Jersey and Kamala Harris of California.
Anything else?
The Senate Judiciary Committee has scheduled a vote on Kavanaugh for Friday morning.
The typically recommends a Supreme Court nominee to the full Senate for a vote. The committee can give a favorable or unfavorable recommendation – or none at all.
And you can bet that President Trump will be watching. During a news conference the day before, he told reporters that Ford's testimony could prompt him to reverse course on his nominee: "It's possible that I'll hear that, and I'll say I'm changing my mind."
Fox News' Chad Pergram, Gregg Re, Brooke Singman and The Associated Press contributed to this report.