Kavanaugh becomes bogeyman in Dem gubernatorial races, as GOP alleges 'scare tactics'
MANCHESTER, N.H. – The morning after Justice Anthony Kennedy's blockbuster retirement announcement at the Supreme Court, Molly Kelly came out swinging.
"Roe v. Wade could be threatened," warned the New Hampshire Democratic gubernatorial candidate and former longtime state senator.
If President Trump's nominee to fill Kennedy's seat, Brett Kavanaugh, is confirmed, it's far from certain if the Supreme Court would move to overturn Roe v. Wade, the landmark 1973 decision that constitutionally protected a woman's right to have an abortion.
But the abortion debate once again has swept the country, as the battle over Kavanaugh's confirmation expands from Capitol Hill to state capitals – and especially this year's hard-fought gubernatorial races. That's because if Roe v. Wade were in any way undermined by a more conservative-tilted Supreme Court, the states would be responsible for crafting new abortion rules.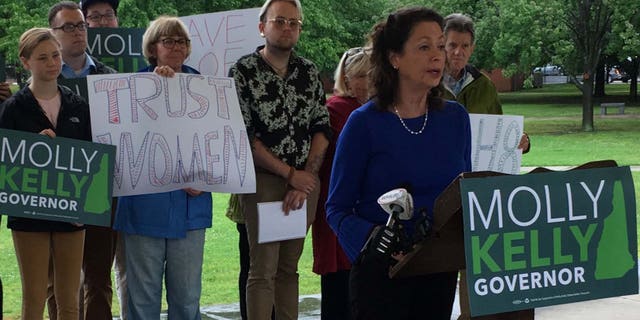 Democratic candidates are employing that scenario as a political warning on the campaign trail – as Republicans, in turn, accuse them of using "lazy scare tactics."
CLICK FOR FULL MIDTERM COVERAGE AND RACE RATINGS
In New Hampshire, Kelly vowed that if elected she'd "work with governors across the country to make sure that women's rights are protected." Her rival for the Democratic gubernatorial nomination, former Portsmouth mayor Steve Marchand, also highlighted the combustible issue in the days after Kennedy's announcement. The candidate unveiled three proposals – including a push for public funding of abortions – that he said would defend women's reproductive rights in New Hampshire.
In the ensuing weeks, both candidates campaigned repeatedly on abortion as they targeted the state's popular Republican incumbent, Gov. Chris Sununu.
New Hampshire is just one of the battleground states where Democrats have been spotlighting the issue in the gubernatorial showdowns. In many of those states, public polling indicates a majority of voters support abortion rights.
In Florida – where the GOP is defending an open seat as Gov. Rick Scott runs for the Senate – the only woman among the five Democratic gubernatorial candidates has been highlighting abortion for weeks. Former Rep. Gwen Graham, the daughter of former Gov. Bob Graham, tops the primary polls going into the state's late August primary.
It's a similar story in Iowa, Maine, Michigan, Nevada and Wisconsin, where Democrats likewise are battling to win Republican-held governorships. And abortion is a front-and-center campaign issue in Oregon, Pennsylvania and Rhode Island, where Democratic incumbents are running for re-election.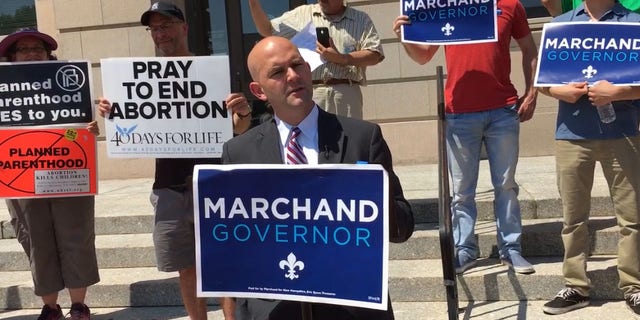 Worries about the possible overturn of Roe are fueling an already-energized Democratic base.
"Voters across the nation are realizing that a Democratic governor is the best line of defense against a federal government that's becoming increasingly hostile to women's rights and women's health," Democratic Governors Association Press Secretary Melissa Miller told Fox News.
"Moderates, progressives, independents and voters of all stripes want to elect leaders who will push back against the dangerous agenda coming out of the Trump White House that's threatening to take over the Supreme Court," she added. "And with 36 governors seats up for election this year, we have a huge opportunity to elect leaders who will do just that."
But that argument may not work in New Hampshire, where Sununu this summer has re-emphasized his support of abortion rights, even as he has since backed Kavanaugh.
"I am pro-choice. I support Roe v. Wade," the governor declared.
Sununu recently joined GOP governors from 29 other states in signing a letter to the Senate's Republican and Democratic leaders that expressed support for Kavanaugh and urged the Senate to move "expeditiously" to confirm him.
Sununu called the letter "symbolic" and explained that "I don't judge any single judge on a single-issue litmus test. It's about the Constitution, it's about whether a judge will uphold the Constitution on a variety of different issues."
New Hampshire's governor was quickly criticized by his two Democratic challengers, who questioned his abortion rights credentials.
"We all know that the nomination of Judge Kavanaugh is linked to the pursuit of Roe's overturn. Donald Trump has been very clear about that for a long time. If you are governor who willingly signs a letter like this, it is difficult to call yourself pro-choice," Marchand stated.
The Republican Governors Association believes such attacks won't work in the general election.
"Molly Kelly and Steve Marchand are trying to use the same lazy scare tactics on Kavanaugh's Supreme Court nomination in a desperate attempt to appeal to their liberal base," RGA spokesman John Burke told Fox News.
And Burke added that issues like the economy and job creation are the ones that will decide the November elections.
A leading political scientist in New Hampshire agreed.
"It's certainly going to be an issue that's important to Democrats," Southern New Hampshire University's Dean Spiliotes said. "Is it going to be the decisive issue in the fall campaign? I don't necessarily think so."