Kamala Harris' office allegedly rejected SCOTUS courtesy call: 'We want nothing to do with you'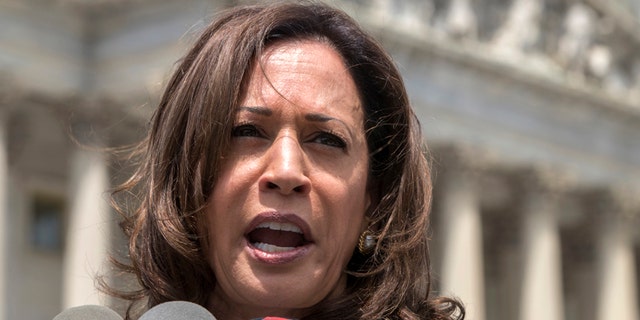 Sen. Kamala Harris' office bluntly rejected a courtesy call from the White House in the run-up to Monday's Supreme Court nomination, according to a senior White House aide.
According to the account, the Democratic California senator's office told White House Counsel Don McGahn, "We want nothing to do with you."
The senator's office has since denied saying that. Asked about the claim, her office confirmed that the senator's chief of staff, though not Harris, spoke with a McGahn aide -- but denied the quote.
But according to the White House, the brusque response came as McGahn reached out to each Senate Judiciary Committee member to discuss the Supreme Court confirmation process. Fox News is told Harris' office was the only one to reject the discussion.
The incident underscores the deeply partisan environment surrounding appeals court Judge Brett Kavanaugh's nomination.
Republican senators have largely coalesced around him, while many Democrats have vowed from the start to oppose the pick. Senate Minority Leader Chuck Schumer, D-N.Y., said he'll fight the nomination with "everything I have," warning Kavanaugh's presence on the court could threaten abortion rights and more.
Harris, similarly, tweeted that Kavanaugh "represents a direct and fundamental threat to the rights and health care of hundreds of millions of Americans," vowing to oppose his nomination.
Harris also is considered a potential 2020 Democratic presidential candidate.
It wasn't the only point of tension in the administration's outreach to Capitol Hill. Several key Democrats declined invitations Monday to attend the nomination announcement.
The charm offensive begins in earnest Tuesday, as Vice President Pence and McGahn escort Kavanaugh to Capitol Hill to meet with Senate Majority Leader Mitch McConnell, R-Ky., and later Senate Judiciary Committee Chairman Chuck Grassley, R-Iowa.
President Trump, departing Tuesday for Europe, touted the response his nominee has received.
"I will say also last night was an incredible evening. Brett Kavanaugh has gotten rave reviews—rave reviews—actually from both sides. I think it will be a beautiful thing to watch," he said.
Fox News' John Roberts, Chad Pergram and Brooke Singman contributed to this report.