Kagan Calls Gun Rights Decision 'Binding Precedent'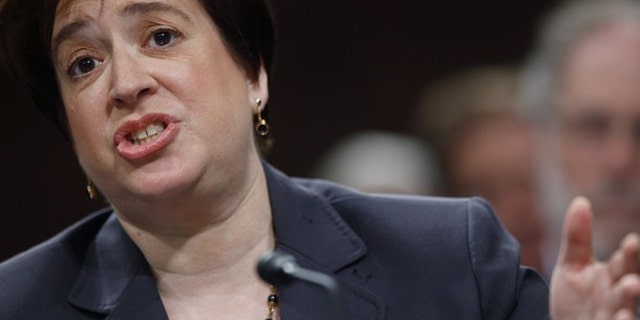 Supreme Court nominee Elena Kagan told her confirmation panel Tuesday that the landmark decision extending gun rights to all 50 states is "binding precedent," despite a senator's suggestion that the 5-4 ruling was on shaky ground.
As questioning of the nominee got underway on the second day of Kagan's hearing, Sen. Dianne Feinstein pressed her on the high court's Monday decision affirming the right to bear arms everywhere in the country and a similar 5-4 decision two years ago. Citing the plague of gang violence in her state, the California Democrat said "metropolitan states" have different problems than rural states and suggested the court's decision is challengeable.
"Why is a 5-4 decision -- in two quick cases -- why does it throw out literally decades of precedent?" Feinstein asked.
Kagan, in a to-the-point response, said a judge is obligated to respect prior decisions.
"Senator Feinstein, because the court decided them as they did -- and once the court has decided a case, it is binding precedent," Kagan answered.
The nominee said that unless the circumstances that led to a decision change or some other significant grounds can be found to challenge, "the operating presumption of our legal system is that a judge respects precedent. ... You assume that it's right and that it's valid going forward."
Kagan gave a similar response when grilled by Sen. Orrin Hatch, R-Utah, about a recent campaign finance decision which President Obama and other Democratic officials have criticized. Kagan called the decision "settled law."
Such answers could help to assuage Republicans' concerns that Kagan would advance her political views, which they claim to be liberal, on the high court. Little is known, however, about her personal views as she has never held a judicial post. She worked in the Clinton administration but on Tuesday dismissed some of her writings there as "talking points" for the White House and not her personal views. She is the solicitor general, but made clear it was her job to advocate on behalf of the federal government.
Kagan briefly addressed the issue of abortion Tuesday under questioning by Feinstein. Asked whether the health of the mother must be protected in any statute restricting abortion, Kagan said "women's life and women's health have to be protected" in abortion regulation based on past decisions of the court including Roe v. Wade.
The start of the hearing, though, was consumed by one instance in which Kagan did appear to express her personal views -- her decision as Harvard Law School dean to temporarily restrict military recruiter access on campus. Sen. Jeff Sessions, R-Ala., ranking Republican on the Senate Judiciary Committee, pressed her on the issue.
In response, Kagan insisted the Pentagon's recruiters had access to Harvard Law School students "every single day I was dean," adding that she believes military service is the most important way anyone can serve the country.
She has said she acted because the military's "don't ask, don't tell" policy, which bars openly gay men and women from serving, was a violation of the university's anti-discrimination rules. As an alternative, she encouraged a campus veterans group to facilitate the Pentagon's recruitment of students.
Sessions disputed Kagan's version of events, saying that for one recruiting season "you gave them (the Pentagon) the runaround. ... You've continued to persist with this view that somehow there was a loophole in the statute that Harvard didn't have to comply with."
Kagan gave no ground, countering that "military recruiting went up that year, not down," when Pentagon's representatives worked through the veterans office on campus.
She also sidestepped when Sessions, citing a characterization by a senior White House official, sought to label her as a "legal progressive."
"I honestly don't know what that label means," she said. "I've served in two Democratic administrations. ... You can tell something about me and my political views from that."
Sessions said afterward that he was "disappointed" in Kagan's responses.
The Associated Press contributed to this report.