Justice Department's New Rule on Border Gun Sales Gets Mixed Reviews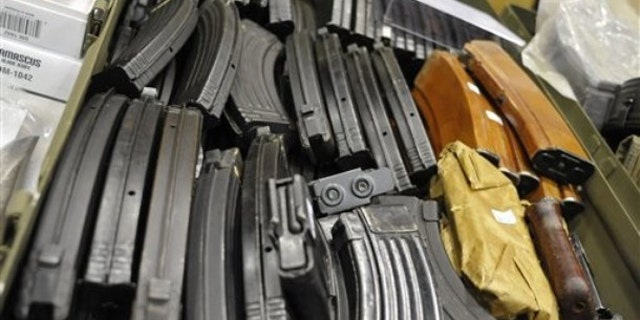 The Justice Department's new policy on requiring all gun shops in four Southwest border states to report frequent buyers of semi-automatic weapons is drawing both praise and criticism.
Dennis Henigan, acting president of the Brady Campaign to Prevent Gun Violence, is pleased with the new requirement.
"This new reporting rule will give law enforcement new capacity to interdict these deadly guns before they can be used against Mexican police and citizens."
But the National Rifle Association (NRA) said it plans to sue the administration over the rule.
"This is a blatant effort by the Obama administration and ATF to divert focus of Congress and the general public from their gross incompetence in the Fast and Furious scandal," NRA executive director Chris Cox said in a statement.
"This scheme will unjustly burden law-abiding retailers in border states," he said. "It will not affect drug cartels and it won't prevent violence along our borders."
When asked to respond to the imminent lawsuit, Justice officials declined but noted that there is already a policy in place that requires gun dealers to report multiple sales of handguns to a single individual within a short time period.
The Justice Department says the new rule is narrowly tailored. It requires federally-licensed gun dealers in Arizona, California, New Mexico and Texas to report multiple sales of certain semi-automatic weapons to a single buyer within a five-day period.
On Tuesday, White House Press Secretary Jay Carney said, "This targeted measure will improve the ability of the ATF to detect and disrupt the illegal weapons trafficking networks responsible for diverting firearms from lawful commerce to criminals and criminal organizations."
But skeptics see a pattern developing, accusing the administration of making an end-run around Congress by making changes to gun policy without ever involving lawmakers. The president is expected to issue an executive order related to gun control within weeks.
Sen. Charles Grassley, R-Iowa, said, "It's really gutsy on their part to think they can do something through executive order, when we've had two recent Supreme Court decisions in favor of the individual right to own guns."
Grassley has been busy, along with Rep. Darrell Issa, R-Calif., investigating the administration's role in Operation Fast and Furious. Under that program, the Bureau of Alcohol, Tobacco, Firearms and Explosives (ATF) allegedly allowed guns sold in the United States to wind up in the hands of Mexican drug cartel members. In light of that ongoing controversy, Grassley calls the new gun-sales reporting rule "hypocritical."
As for what the administration may propose next, Issa is not optimistic. "We have no expectation that this White House will be respectful of the Second Amendment," he said, adding, "We have deep concerns that, in fact, they're going to push it and dare Congress and the Supreme Court to stop them."