Julian Castro As HUD Secretary Has Political World Talking: A Latino Vs. Latino Presidential Ticket?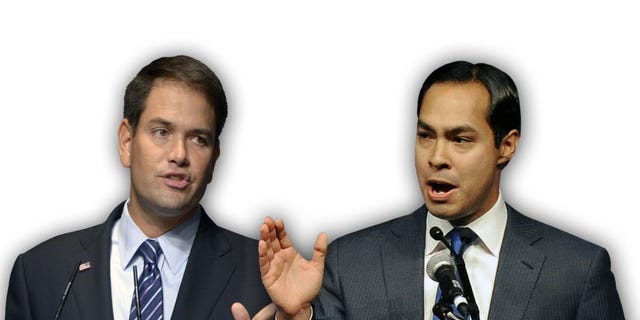 NEWYou can now listen to Fox News articles!
San Antonio Mayor Julian Castro's expected confirmation as Secretary of Housing and Urban Development already has the political world envisioning a 2016 race where the rising Democratic star is a vice presidential candidate, and someone like Sen. Marco Rubio is in the second or top slot on the GOP ticket.
If either party ends up with a Latino, or Latina (think: New Mexico Gov. Susana Martinez), that in itself would be historic, political experts say.
If both parties end up with a Hispanic candidate on the ticket – something many people believe is unlikely for various reasons, but still enjoy imagining – it would be remarkable and unprecedented, as far as a group that has been on the margins of political power suddenly commanding such clout.
"It would be historic in several ways," said Daniel Tichenor, a professor of political science at the University of Oregon. "It would be unprecedented, for either party, to have a prominent Latino or Latina on a ticket for president or vice president. And if it happens for both parties, that really would be historic."
A Latino on a presidential ticket would be the most telltale validation of Latino political power, Tichenor and others said.
"It's always been important symbolically for a racial or ethnic group, or gender," Tichenor said, noting that it would be akin to the barrier that President John F. Kennedy broke for Catholics, vice presidential candidate Geraldine Ferraro for women, and President Barack Obama for African Americans.
"It reflects the recognition of the power of a particular group at the ballot box," he said, "and this would be a significant indicator of the power of Latino voters, and how neither party can ignore it."
Castro, who is 39, burst onto the national scene when he became the first Hispanic chosen to deliver the keynote address at the Democratic National Convention in 2012. Many compared his breakthrough – from being known in limited political circles to becoming a national figure – to that of Obama's, who also rose to the political Major League after giving the keynote address at the Democratic National Convention in 2004.
Rubio, a conservative Republican who is 42, became known nationally despite being a junior U.S. senator from Florida. The son of Cuban immigrants was a favorite of Tea Party groups and – in no small part because of his eloquence and telegenic looks – became a fixture on many networks and cable stations. In 2012, he stayed highly visible on the campaign trail, stomping for former Massachusetts Gov. Mitt Romney, who was the GOP presidential candidate.
Romney had been said to have had Rubio on his short list for running mate, though he eventually selected Rep. Paul Ryan of Wisconsin.
But beyond Castro and Rubio, experts say, is the important fact that the bench, as far as formidable Latino political leaders, is getting deeper.
"The fact that we can look out there and see at least three Latinos with serious claims to perhaps being vice presidential or presidential candidates," said Luis Disipio, a political scientist at the University of California, "and if you look at [Sen.] Ted Cruz and Julian Castro and Marco Rubio, for example, you have a new generation of Latino leaders that have credentials that white candidates have had for a long time. That speaks to this new generation of future leaders."
Additionally, experts say, these new Latino political stars have achieved cross-cultural, cross-racial appeal, and have support in places not normally associated with easy, huge support for minority candidates.
"They're getting elected in places with very few Latinos, like [Raul] Labrador, the [Republican] governor of Idaho," Disipio said.
There is also Brian Sandoval, the Republican governor of Nevada, who was elected to office with little Latino voter support.
At issue, of course, is whether the Democratic presidential nominee – for now expected to be former Secretary of State Hillary Clinton – selects Julian Castro as her running mate.
His helming HUD – no easy agency to run, many agree – would go far toward giving him national experience, and Beltway bona fides, that he currently lacks.
As a Democrat, Castro's options for climbing the political ladder were severely constrained in Texas, where every statewide office is held by a Republican and Democrats haven't won a statewide race in 20 years. In elevating Castro to a Cabinet-level post, Obama gives Castro perhaps his best chance to establish his credibility nationally as Democrats seek to shore up a bench of promising candidates for future races.
"The national scene in Washington is where politicians go to cut their teeth for any sort of national aspirations," said Maria Cardona, a Democratic strategist who advised Hillary Rodham Clinton's 2008 presidential campaign. "This will give him an opportunity to show off what he can do."
What Castro would add to a Hillary Clinton presidential ticket would be youth, as well as a warmth that some critics say she lacks.
"Some people think that she doesn't engage the public very well," Disipio said.
"The other plus for Castro is that he's young, she needs a younger person on the ticket to bring vitality," he said.
But a negative, he added, is that Castro "wouldn't put Texas into play, and one thing you look for in a vice presidential nominee is that they come from a battleground state you need to win."
Leonardo Alcivar, who has worked on many GOP political campaigns, including that of Romney, has some reservations about Castro being able to realize enough successes at HUD to give him those national credentials.
But just the fact that both he and Rubio are in serious play for a top slot on the 2016 ticket, he said, is milestone enough for them as well as the Latino electorate.
"More important is their rise in the political universe," Alcivar said. "While these two leaders hold divergent views politically, they have a common, shared ability to bring backgrounds that [shape] their politics, but they're not informed or defined by their ethnicity."
"They are political leaders who also happen to be Latinos," Alcivar said.
That, Alcivar said, is a reflection of a changing U.S. society.
Finally, these experts generally believe that while Latinos on a presidential ticket would energize Latino voters, and drive a larger turnout in the community, it would not necessarily mean that Latinos will vote for a ticket just because someone from their ethnic group is on it.
"There's been a great deal of scholarly research that indicates having a co-ethnic on the ballot boosts turnout amongst Latinos," said Marisa Abrajano, a fellow at Brookings Institute. "While having a Latino on the ballot won't eliminate the turnout gap between Latinos and whites, we should expect Latino turnout to increase by several percentage points."
But ultimately, Latino voters have proven that their choice when voting is driven largely by a candidate's position on issues they care about, experts say.
"No one is going to pull the level for a Democratic nominee," Alcivar said, "just because Julian is on the ballot."
This report contains material from The Associated Press.