Jon Kyl to replace John McCain: 3 things to know about the former Arizona senator
Former Arizona senator Jon Kyl was tapped to replace Sen. John McCain, who recently lost his battle to an aggressive form of brain cancer.
Arizona Gov. Doug Ducey announced the news Tuesday, writing on Twitter that he is "deeply grateful to Senator Kyl for agreeing to succeed his friend and colleague of so many years."
Kyl will serve as a placeholder and is not expected to run in 2020 — the year voters will decide who will fill McCain's seat for the following two years. After that, the seat will be open for a full six-year term.
McCain's widow, Cindy, tweeted: "Jon Kyl is a dear friend of mine and John's. It's a great tribute to John that he is prepared to go back into public service to help the state of Arizona."
ARIZONA PRIMARIES FOCUS ON EDUCATION, IMMIGRATION: RACES TO WATCH
Kyl was a longtime Republican senator in Arizona, serving from 1995 to 2012 before retiring from Congress in 2013. He left as the second highest-ranking Republican senator.
Kyl, a longtime friend and colleague of McCain, wrote in The Weekly Standard following McCain's death that the former Vietnam war hero "faced his inevitable end with courage and grace."
In light of the news, here are three things to know about Kyl.
He's a practicing attorney
After retiring from Congress in 2013, Kyl, 76, joined the law firm Covington & Burling as part of its "expansion of its public policy and government affairs practice," Politico reported that same year.
According to his biography on the firm's website, Kyl "advises companies on domestic and international policies that influence U.S. and multinational businesses and assists corporate clients on tax, health care, defense, national security and intellectual property matters among others."
The same year he joined the firm, he told Politico he received "several offers" but "had [his] eye on Covington from day one."
"I think McCain would be very happy with the pick. Honors his legacy while putting some major horsepower for Arizona in the seat, at least for now."
"I had a serious law practice, and with the experience I gained in Congress, I think I have acquired the knowledge and judgment to help clients that reflects my legal training and experience in Congress," he told the publication.
Rather recently, in March, Kyl was one of the leading attorneys from the firm who helped scrap Broadcom Limited's hostile takeover of Qualcomm, Inc. The firm secured the deal after Trump blocked the proposed acquisition, citing national security reasons, the firm said in a statement.
Republicans are hopeful that he'll vote along party lines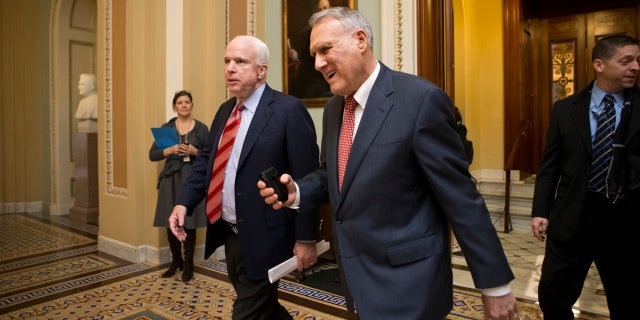 Unlike McCain — who opposed a partial repeal of former President Obama's health care law before he died, for example — Republicans are hopeful Kyl will be a "reliable partisan vote," The Associated Press reported.
"I think McCain would be very happy with the pick. Honors his legacy while putting some major horsepower for Arizona in the seat, at least for now," Doug Cole, a longtime Republican consultant and former McCain aide, told The Associated Press.
He's serving as Brett Kavanaugh's "sherpa"
In July, the former senator agreed to serve as President Trump's Supreme Court nominee Brett Kavanaugh's "sherpa" during his confirmation process.
TRUMP'S SUPREME COURT PICK NEEDS SENATE APPROVAL: A LOOK AT THE CONFIRMATION PROCESS
As "sherpa," or escort, Kyl "will be tasked with shepherding Trump's pick through the Senate, much in the same way former New Hampshire Sen. Kelly Ayotte helped to pave a path for Justice Neil Gorsuch last year," The National Law Journal previously reported.
This isn't the first time Kyl has served in this role. The National Law Journal also reported the former senator, who has a "deep knowledge of the Senate Judiciary Committee," previously served on the committee during "four of the last five Supreme Court justices' confirmation hearings."
In fact, The Arizona Republic reported Kyl also served as Attorney General Jeff Sessions' sherpa ahead of his confirmation hearing.
The Associated Press contributed to this report.