John Kerry tells Venezuela to respect rights, release political prisoners and ease shortages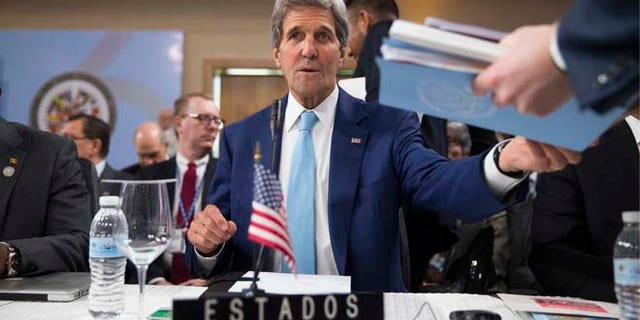 SANTO DOMINGO, Dominican Republic (AP) – U.S. Secretary of State John Kerry is calling for Venezuela to respect free expression, release political prisoners and alleviate spreading shortages as the troubled South American country plunges into economic crisis.
Kerry made the comments Tuesday in the Dominican Republic at a general assembly session of the Organization of American States. He said: "Venezuelans have the right to express their will in a peaceful and democratic manner."
Venezuelan Foreign Minister Delcy Rodriguez blasted Kerry as a bully after his opening statements. She says she felt like "the ruler of the world has spoken."
Venezuelan President Nicolas Maduro has blamed his socialist government's deepening problems on an "economic war" mounted by critics in league with Washington.
Maduro's opponents have launched a complex effort to recall him from office.