John Kelly faces pressure over handling of Rob Porter allegations
White House Chief of Staff John Kelly is facing continued scrutiny over his handling of domestic abuse accusations against a former senior aide.
A GOP source told Fox News that President Trump spoke to former chief of staff Reince Priebus about Kelly, amid the controversy.
The exact nature of the call is unclear. One source told Fox News it was "very likely" that Trump called to express his frustration with Kelly. The New York Times, which first reported on the call, reported that Kelly is "in trouble" and that Trump has asked advisers what they think about budget chief Mick Mulvaney as a replacement.
However, a source with knowledge of the Priebus call said that while they spoke, Trump did not complain to Priebus about his current chief of staff.

While seen as the figure most responsible for imposing order in a once-freewheeling West Wing, Kelly's stock took a hit this week after his handling of abuse allegations against then-staff secretary Rob Porter.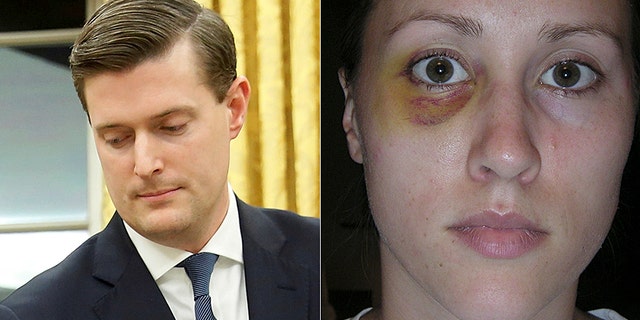 At first, Kelly called Porter a "man of true integrity and honor."
But within 24 hours, as images emerged of one of Porter's ex-wives with a black eye and questions were raised about what Kelly knew about the allegations and when, Porter resigned.
Porter has vehemently denied the accusations, calling the criticism a "smear campaign."
White House spokesman Raj Shah said that Kelly only became "fully aware" on Wednesday of the allegations that Porter abused both of his ex-wives and suggested Kelly had not seen the now-public images of ex-wife Colbie Holderness with an apparent black eye until this week.
"I'm not going to get into specifics of who may have known pieces of information. … We all became aware of the news reports that emerged Wednesday morning and the graphic images," Shah said.
Kelly also sent an email to White House staff making clear that the White House had a clear stance on domestic abuse.
"While we are all processing the shocking and troubling allegations made against a former White House staffer, I want you to know that we all take matters of domestic violence very seriously. Domestic violence is abhorrent and has no place in our society," Kelly wrote in the letter, obtained by Fox News.
Trump was asked about the Porter case on Friday and told reporters "it was very sad when we heard about it." He added that Porter said he was innocent and said "we absolutely wish him well."
"It's a tough time for him," Trump said.
Holderness told Fox News on Thursday that she got the black eye during a hotel-room fight when she and Porter were on vacation in Florence, Italy. Further, Holderness said she told her story to the FBI on Jan. 24, 2017 when she was interviewed as part of Porter's security clearance investigation.
For Kelly, the controversy came just days after he sparked outrage from illegal immigration activists and Democratic lawmakers for musing about why some illegal immigrants eligible for protection under the Obama-era Deferred Action for Childhood Arrivals program had not signed up for it. He quipped that some have been afraid to sign up and others might be seen as "too lazy to get off their asses."
By Friday, the leaks of anonymous criticism of Kelly to the media turned into a flood.
The Times reported that Kelly had known about the allegations against Porter since the fall. Anonymous White House sources told The Hill that Kelly had suffered a serious blow to his standing, speculating about his future.
"We'll see this as an inflection point when he is fired," one source told The Hill, attacking Kelly as "tone deaf and politically inept."
Vanity Fair reported that Ivanka Trump and Jared Kushner had been discussing possible replacements already. The outlet also reported that former campaign manager Corey Lewandowski had called Trump and urged him to fire Kelly.
But Lewandowski told Fox News' Shannon Bream: "I didn't speak to the president at all this week and so these stories are just false."
However, he told Fox News' Bill Hemmer Friday that there was "no question they could have handled it better."
"It seems like the process they were supposed to have in place failed. The checks and balances which should have been in place have failed," he said.
Democrats who already dislike Kelly have used the opening to hammer him.
One Virginia Democrat tweeted Thursday: "John Kelly's White House tolerates domestic violence."
However, there seems to be skepticism in some White House circles that Kelly could be the latest in a series of ousters at the White House. Axios reported that Kelly's ambivalence to the job in the first place may shift Trump's thinking.
"Trump is not going to fire him," a source close to the president told the outlet. "And does Trump have the stomach to do what he normally does when he's fed up with them? He usually makes their lives miserable, publicly humiliates them. But now he's up against somebody who doesn't care and would happily leave."
Fox News' John Roberts contributed to this report.