Joe Biden And Julian Castro Rekindle Speculation About 2016 Presidential Plans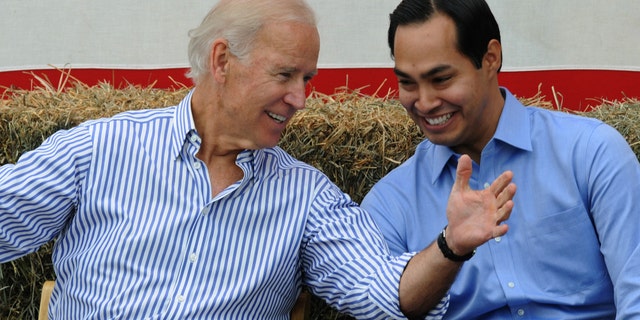 Will he or won't he?
No one knows for sure, for now, whether rising Democratic star Julian Castro, the mayor of San Antonio, will run for president in 2016.
But speculation intensified on Sunday when he appeared at the altar of presidential politics – Iowa – to tout his political party and to talk about 2016, though in somewhat vague terms.
Castro, 38, spoke about how he disagreed with Republicans that Americans should fend for themselves, and that government assistance was an unnecessary crutch.
"I believe in a different blueprint," Castro said at the event, Sen. Tom Harkin's annual steak picnic in Indianola, according to the San Antonio Express-News. "I believe in the blueprint of Roosevelt investing in the GI Bill so that millions of Americans could get a great higher education."ith his twin Joaquin there, watching him, Castro continued: "I believe in the blueprint of Johnson shepherding Medicare through Congress so that millions and millions of senior citizens could get the health care they needed. And I believe in the blueprint of President Obama and Vice President Biden extending health care to all Americans in the United States."
Castro held himself up as an example of someone who had benefited through government programs, and now was giving back.
Castro said party volunteers must keep working so that future generations have the opportunities afforded to him and his family. He said he was able to get a quality education through federal grants and loans.
Castro and his brother Joaquin, who is a U.S. congressman, were raised by a single mother and graduated from Stanford University.
Then they graduated from Harvard Law School. Julian Castro drew national attention when he became the first Latino to deliver the keynote speech at the Democratic National Convention last year.
"I can tell you this, the only reason I was able to reach my American Dream….was because I worked hard and my family worked hard," he said, according to the Des Moines Register.
"I reached my American Dream because…the American people invested in me," he said.
Vice President Joe Biden, also viewed as a potential 2016 presidential candidate, appeared with Castro at the picnic.
Castro spoke before Biden at the event, which draws Democrats with national political aspirations. He did not reference the 2016 presidential contest, except to say he is sure a Democrat will win.
In introducing Castro and Biden, Harkin said, according to the San Antonio Express News: "Mayor Castro is young, charismatic — one of our bright stars with new ideas, new energy, broadening the constituency of our party."
"Vice President Biden ... embodies the enormous experience and wisdom and sound judgment of our party, which we need in these perilous times. We need both — the new and the seasoned. And this is a great strength that we have as Democrats."
The Associated Press contributed to this report.
Follow us on twitter.com/foxnewslatino
Like us at facebook.com/foxnewslatino