Jewish Group Says Venezuela's Maduro Inciting Violence Against Jews Amid Gaza Conflict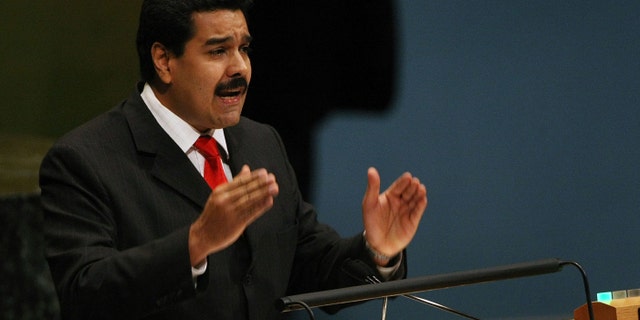 NEWYou can now listen to Fox News articles!
A major Jewish rights group has called out Venezuelan President Nicolás Maduro for what they allege is inciting fear and violence against Jews in the South American nation in the midst of a bloody war in the Gaza Strip.
B'nai B'rith International asked Maduro and other Venezuelan officials to cease making inflammatory remarks against Israel, including ones that accused Israel of "a war of extermination against the Palestinian people," and reportedly comparing Israel's incursion into the Gaza Strip to the Nazis at Auschwitz concentration camp.
While Maduro is a strong supporter of a Palestinian state, B'nai B'rith claims that the Venezuelan leader has gone too far and his remarks have sparked anti-Semitic graffiti in Caracas, attacks against Jews on social media and a Jewish newspaper's website being hacked.
"The comparison of Gaza to Auschwitz alone is a dangerous trope and an outrageous falsehood. When Maduro combines these explosive comments with his own state-media machine and a dangerous political agenda, it creates an alarming situation for the Jewish community in Venezuela," B'nai B'rith International Executive Vice President Daniel S. Mariaschin said in a statement. "B'nai B'rith expresses its solidarity with the Venezuelan Jewish community. We will continue to call attention to and monitor the hate-filled environment that Maduro is intent on fostering."
B'nai B'rith also criticized the Maduro government for ignoring the Israeli soldiers and civilians killed by rockets fried by the pro-Palestinian group Hamas and added that Maduro is perpetuating hatred against Jews in Venezuela.
"B'nai B'rith, and the Jewish community as a whole, has always been concerned with the Venezuelan government's incendiary statements and actions against Israel. But in recent weeks we've seen Maduro promoting a whole new level of hatred," B'nai B'rith International President Allan J. Jacobs said. "The climate he has created is dangerous to the Jews in his country and wholly out of line with a government's duty to protect its citizens."
Maduro may be the most vocal state leader when it comes to criticizing Israeli actions in Gaza, but there is growing anti-Israeli sentiment throughout Latin America as the death toll in the conflict between Israel and Hamas continues to mount. Nearly 1,900 Palestinians have been killed in the conflict – many of them civilians killed in air strikes - while Israel has lost 67 people, including three civilians.
Last weekend, thousands of Chileans took to the streets of the capital, Santiago, to protest Israel's operation in Gaza and urging President Michelle Bachelet to break off diplomatic relations with Israel.
"We are asking President Michelle Bachelet to expel Israel's ambassador, and to end ties with Israel. We want the world to know Chileans have stood against this Israeli massacre," said Mauricio Abu-Gosh, head of the Palestinian Association of Chile, according to the Jewish Voice.
Bolivian President Evo Morales last week labeled Israel a "terrorist state" and during a meeting on Tuesday of the regional trade bloc Mercosur, Argentina, Brazil, Uruguay and Venezuela – four of the bloc's five members – condemned "the disproportionate use of force by the Israeli army in the Gaza Strip, which in the majority affects civilians, including children and women."
This came a week after Brazil and Chile called out the use of force by Israel in Gaza, marking a sharp contrast from previous battles between Israeli and pro-Palestinian forces.
Chile, El Salvador and Peru have all called home their ambassadors following similar moves earlier in July by both Brazil and Ecuador.
Follow us on twitter.com/foxnewslatino
Like us at facebook.com/foxnewslatino