Jeb Bush on Burrito-gate: 'I don't go to Chipotle, I cook it at home"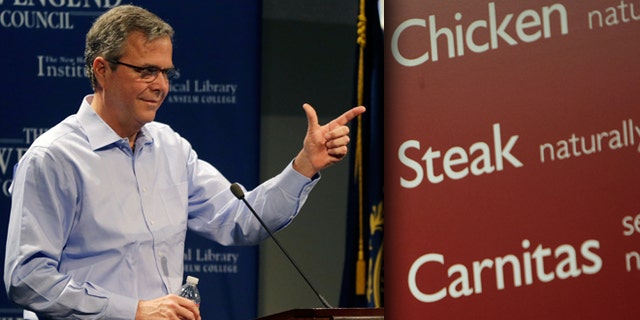 NEWYou can now listen to Fox News articles!
Burrito-gate is back.
At a Republican gathering in New Hampshire, the presumptive candidate for president, former Florida governor Jeb Bush, took a few swipes at Hillary Clinton and the media frenzy over her recent stop at a chain restaurant in Ohio.
Asked if he ever went to Chipotle Mexican Grill, Bush said, "I actually cook it at home. I don't need to go to Chipotle."
"Do I go there? Yeah, I go there. The one on U.S. 1. Drive my own car, park my own car, get out of my own car," he told people at the Snow Shoe Club in Concord. "Get Chipotle, take it home."
On Monday, Clinton, who is traveling to Iowa on a campaign bus, stopped at a Maumee, Ohio, Chipotle where, without being recognized, she ordered a chicken Burrito Bowl while wearing sunglasses.
The media has been feasting on the story ever since.
But the second time that Bush bragged about making a homemade version of the restaurant's fare, he used a plural pronoun, allowing for the possibility that his wife, Columba, might have something to do with it.
"We normally cook our own food, my own Mexican food at home. It's pretty good," he said.
Like us on Facebook
Follow us on Twitter & Instagram