Ivanka Trump's Olympic visit sparks speculation about media's reaction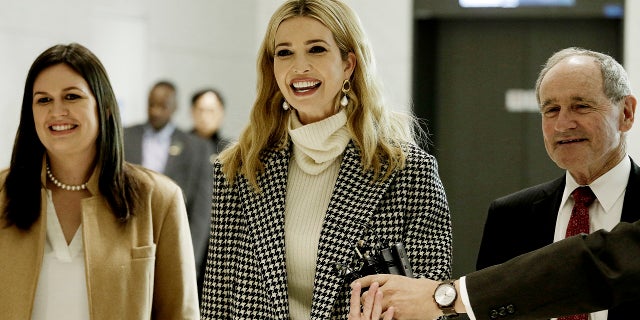 Ivanka Trump and the U.S. delegation arrived in South Korea on Friday to attend the closing ceremony of the Winter Olympics -- prompting some political watchers to speculate on what kind of media attention the daughter of President Donald Trump will receive.
Her arrival at the airport -- along with White House press secretary Sarah Sanders and others, was broadcast live on South Korean television. She said she was "very, very excited to attend the 2018 Winter Olympic Games (and) cheer for team USA."
During her visit, the U.S. president's daughter was expected to meet with South Korean President Moon Jae-in, just as Kim Yo Jong -- sister of North Korean dictator Kim Jong Un -- did earlier this month during her visit to the opening ceremony of the Olympics.
Kim Yo Jong drew fawning media attention as she cheered on her country's athletes, Business Insider reported. The younger sister of North Korea's leader is the country's head of propaganda.
"It's certainly possible that Ivanka will try to do for the United States what Kim Yo Jong did for North Korea," Mintaro Oba, a former U.S. diplomat who worked on North Korea policy, told the Guardian.
"Ivanka and Kim Yo Jong both derive their power and access from their family ties," Oba added, "and are skilled at getting positive media attention while representing leaders who provoke a lot of controversy."
Trump will dine with Moon at the Blue House in Seoul on Friday night, Reuters reported, citing an administration official.
Trump has no plans to meet with North Korean officials or get into "substantive discussions," the official said. Rather, the primary purpose of the trip is to cheer on Team USA, highlight American athletes, and "reaffirm" the U.S.-South Korean alliance.
"I am honored to lead the U.S. delegation to the closing ceremonies of the Pyeongchang 2018 Winter Olympics," Trump said in a statement obtained by Politico. "We look forward to congratulating Team USA and celebrating all that our athletes have achieved. Their talent, drive, grit and spirit embodies American excellence, and inspire us all."
Trump, a "winter sports enthusiast," will watch parts of the competition Saturday and Sunday, the official told Reuters.
The visit by the president's daughter sparked speculation that North Korea might send its own high-profile delegation to Friday's events, the Guardian reported.
White House press secretary Sarah Huckabee Sanders will join Trump to help cheer on all female athletes, Politico reported, citing an administration official.
Trump will depart from Seoul on Monday.
The Associated Press contributed to this report.