It's a Bird, It's a Plane... It's Rush Limbaugh?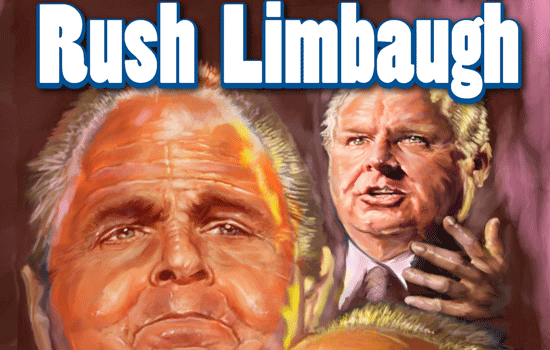 Here they come to save the day.
Seen as heroes to some and villains to others, Rush Limbaugh, Nancy Pelosi, Al Gore and Sonia Sotomayor are being immortalized in their own comic books.
The four political figures are joining the likes Sarah Palin, President Obama and a host of others whose animated incarnations already have starring in Bluewater's biography comics.
"These four individuals represent some of the most influential and historic figures of the 21st century," Bluewater President Darren Davis said. "Each has a uniquely compelling story that defines who they are today and how they got there."
Davis said the stories are not "puff pieces or hatchet jobs," but strive for balance.
"We understand that there are many that hold strong and passionate opinions, but Bluewater believes we have a responsibility to transcend the political rancor and give readers an honest accounting of these people's lives and accomplishments," he said.
Davis said the Sotomayor comic book has been requested for inclusion in the Supreme Court library archive.
Among the other political figures who have headlined the comics are Michelle Obama, Hillary Clinton, Condoleezza Rice, Colin Powell, George W. Bush, and Bill Clinton.
Jason Schultz, executive director of Bluewater, told FoxNews.com that there are no super heroes or villains in the stories.
"We don't uncover anything scandalous," he said. "We want to be as unbiased as possible."
The Michelle Obama story has sold the most copies, at 100,000 Schultz said. But a follow-up story examining her first year in office tanked, selling only 12,000 copies.
"It depends on the political landscape," Schultz said, explaining the disparity in sales. He said while the Obama comic book was a top seller last year, it would probably be less popular this year because his approval ratings have dropped.